After the universities complete the announcement of the admission criteria, it is possible to see the social block scores jump, at a high threshold, even close to absolute 30/30.
In the 10 highest standard subjects in the country this year, there are 7 majors enrolling in block C. The southern region has no majors or schools in this top 10.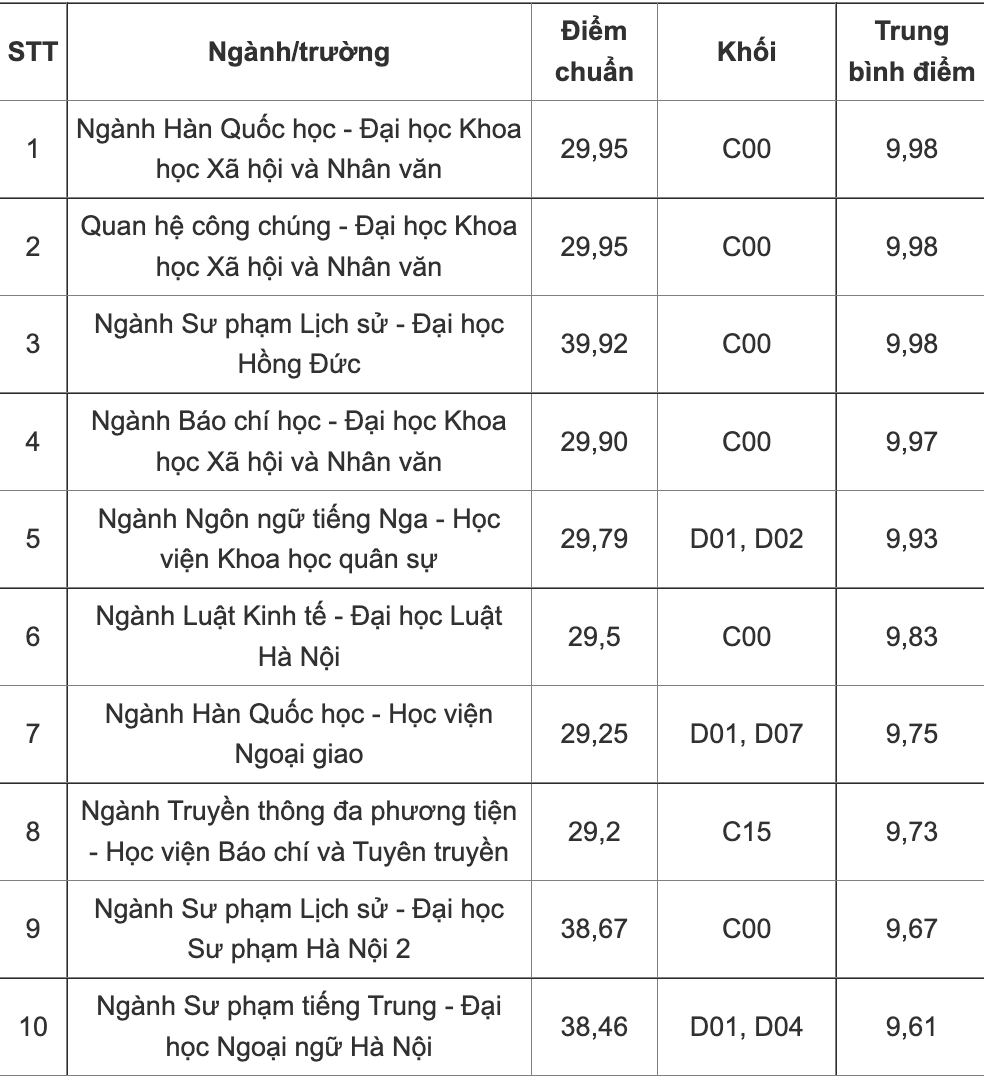 According to the assessment of schools, this year's C00 (Literature – History – Geography) combined admission majors have increased most of the standard scores because the scores on the high school graduation exam in History have skyrocketed compared to previous years. For the first time in many years, the scores of the high school graduation exam in History subject to the right pass the 5-point mark.
History Pedagogy, Hong Duc University is one of the three highest standard subjects in the country. Mr. Bui Van Dung, the school's principal, said that this year's high-quality training disciplines are calculated on a 40-point scale, with the score of the key subject of that industry doubled. The two high-quality pedagogy of Literature and History are duplicated in main subjects.
The high score is due to the small number of schools for these disciplines, while the application file is large. "According to the school's list of matriculation points, no candidate has achieved 3 points of 10, most of them are candidates with priority points, so they have a score of 39.92", Mr. Dung explained.
Dr. Nguyen Duc Nghia, former deputy director of the Vietnam National University, Ho Chi Minh City, said that the C00-group entrance exams of these schools this year increased sharply because of the average score of the graduation exam in the subjects of Literature and Calendar. History and Geography both increased compared to previous years.
In which, History subject achieved the average score higher than 5. The whole country had 38,718 candidates with 7 points in this exam. The number of candidates with paralysis scores is only 83. The number of students scoring 10 is 1,779, an increase of more than 6 times compared to 2021 (266 students).
According to Mr. Nghia, the increase in the benchmark scores of the C00 majors is also due to a number of resonating factors such as the small number of industries in this complex; The criteria for admission based on the C00 combination test scores decreased due to the transfer of criteria to other methods (while the number of candidates applying for this combination exam this year may increase).