"The two grandchildren and a group of Vietnamese people have escaped, have now returned to the area opposite the Moc Bai – Tay Ninh border gate and are waiting to work with Cambodian authorities to return home" – Ms. Truong Thi Hue. Born in 1972, living in Ea Kao commune, Buon Ma Thuot city, Dak Lak province) called to notify reporters this morning (September 19).
Ms. Truong Thi Hue is the mother of Mr. Phan Van Manh (SN 1993) – who was tricked into being sold to Cambodia for the past 10 months.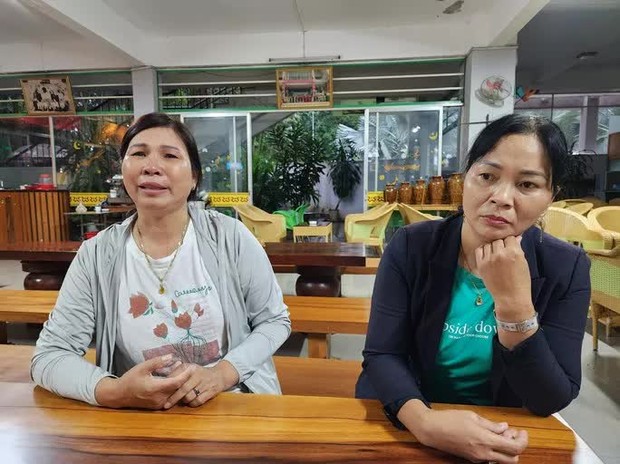 Mrs. Dang Thi Ha burst into tears when she talked about her children
Talking to a reporter of Nguoi Lao Dong Newspaper a few days ago, Ms. Truong Thi Hue said that on November 19, 2021, while working as a driver in Binh Duong province, Manh believed the subjects that she went to Cambodia to do light work. average salary from 23 million VND to 30 million VND/month.
However, on December 3, 2021, Manh called another person to inform his mother that he had been tricked into selling to Cambodia, hoping that the family would submit an application to the authorities to find a way to save the child. After that, Ms. Hue reported the incident to the authorities of Dak Lak province.
According to Ms. Hue, after going to Cambodia, about 5 to 7 days, taking advantage of the time when the guards were sleeping, Manh secretly called her mother once. Over the phone, Manh said that many Vietnamese people were detained in a closed building, all activities and work were in this building and were not allowed to go out.
Here, foreign subjects work from early morning to midnight. The main job is to get on the computer to steal bank accounts, social networks to appropriate money. At first, the subjects assigned to Manh a month had to appropriate about 300 million VND, then the amount gradually increased to 1 billion VND, 1.2 billion VND/month. Those who did not meet the target were beaten, starved, and even sold to another company.
"Every time she called back, Manh asked her mother to continue working with the authorities to rescue her. At the same time, she told her mother not to text or call Manh because if she was discovered, the subjects claimed they would give her a message. I went to the "island" for the past 10 months, every night I hold the phone waiting for news of my son," said Mrs. Hue, choking.
The fourth statue, Mrs. Dang Thi Ha (SN 1972, living in Khanh Xuan ward, Buon Ma Thuot city) whose son is Mr. Phan Van Dieu (SN 1994) was also sold along with Mr. Manh's group.
Mrs. Ha choked up and said it took Dieu often to call her mother once to report that she was forced to work from 15 to 17 hours a day. Working continuously on the computer, many days I am too tired to fall asleep, anyone who goes to work 1 minute late is also beaten. The Vietnamese group here also considered escaping, but the building had a strict alarm system and guard so it was impossible to escape. Once, the group prepared a rope to climb down from the upper floor to escape but discovered the alarm system. Fortunately, the wire was destroyed in time, if it is not detected, we do not know what will happen.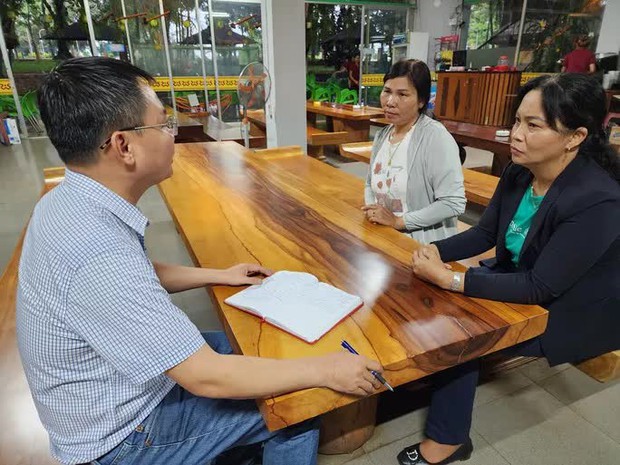 Two mothers talk to reporters about their children being tricked into being sold to Cambodia
"Dieu also informed that she asked her mother to prepare 100 million dong to redeem, but waited forever, there was no chance to redeem. During the past 10 months, I couldn't sleep at night, I could only hold my phone and wait for my son to call back. I hope the Vietnamese authorities will coordinate with the Cambodian side to rescue my children as well as the Vietnamese people who have been trafficked here," said Mrs. Ha with tears in her eyes.
Get out, mom!
A few days ago, the two mothers wanted the press to report the case so that the Vietnamese authorities could grasp it and warn that no one else was being scammed. At that time, the two young men still could not escape, but according to the two mothers, if anyone was discovered to report to the authorities, they would be killed, so they did not dare to report the incident.
On the morning of September 19, Ms. Truong Thi Hue said that yesterday, Cambodian functional forces had conducted a check in some areas with Vietnamese people. At this time, the boss here was afraid, so he took Manh's group to hide in another house. Taking advantage of the chaos, Manh's group asked the Vietnamese living nearby for assistance, giving money to the security guards so that they would ignore the Vietnamese group's escape. Manh also announced that his mother borrowed 60 million dong to pay the bribe for the security guard.
"At 9pm last night, Manh called to say that he had escaped, Mom, waiting to catch the car down to the border gate. This morning, Manh called to inform him that he was in the area opposite Moc Bai border gate, waiting to work with the agency. Cambodian function to return home" – Mrs. Hue said happily.