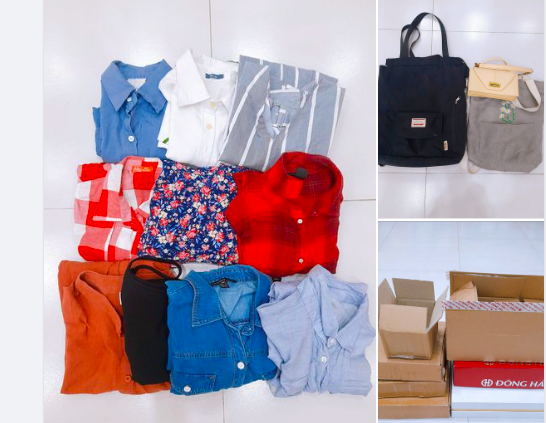 My house is mostly old and children's furniture. They grow as fast as blowing, so the clothes are tight, not torn or worn. I washed it carefully, then neatly folded it into a basket, put it in the closet, and waited to see who had small children to ask for.
I give old gifts, the recipients are happy too
The recipient is always happy, because after years of being affected by the COVID-19 pandemic, life is much more difficult. Shirts, pants, wool hats, socks or a warm shirt, a belt for a small child sitting on a motorbike are all necessary, and very expensive, items that many parents have to calculate and consider. Keep it carefully for long-term use. The price of each piece is close to that of an adult's item.
Someone in my neighborhood told me that they had old things belonging to two four-year-old twins, or a big girl studying in primary school, to give them to them. Because they observe all year round, they are always clean and tidy and the utensils are always durable. They also ask because of a superstition to ask the astral of healthy, agile, active children for their children. And also because those items have been "experienced" so as not to cause skin allergies by dyes, they fit their children's shape more, sometimes a bit wide…
I also go to ask for old things, send thank you gifts, maintain the routine from the time of grandparents
I am also a person who goes to begging for old things for my children all year round. I also told my cousins ​​on both sides of the family that if I had old things, I would save them for me, because I also watched those children grow. There are items that are toys that I have been promoted by dairy companies, or suitable dishes such as fruits grown around me, such as jackfruit, oranges, queen guava, Taiwanese guava, mangosteen…, I give it back as a return.
Whether life is affluent, or there has never been a recent COVID-19 pandemic, I still maintain that routine from my parents. Teach your children to value their own luck more than others. Practice for your children to observe, exchange and keep those deep feelings – those are the feelings of the family, the neighborhood. Just like giving is receiving back the virtue of loving people, loving yourself in all circumstances.
On these occasions, I also practice for my children to send gifts and lucky money to those who have served me, such as the uncles and aunts who clean the community. I clearly understand what my grandparents taught me when I was still alive: it is more precious to give children a healthy lifestyle, to share, to love than to have any material possessions. It also helps them avoid all risks and pitfalls in life. Because they have been trained to see the truth about a person, a phenomenon.