The kite creates a "revolution" to reduce emissions
"Seawing", a giant parafoil kite 250m² wide, is tested at sea for the first time. It successfully towed the Ville de Bordeaux, a 21,528-ton cargo ship, according to p Interesting Engineering.
"We are proud to have a solution that can help ships reduce emissions right now. It also accelerates the decarbonization of the maritime industry in the years to come," said Vincent Bernatets, CEO of Airseas.
He also said the company has worked with a number of large shippers and installed several Seawing propulsion systems for cargo ships.
Currently, Airseas has completed the installation of the first Seawing system for customer "K" line (Kawasaki Kisen Kaisha, Ltd).
The system was installed on a Capesize bulk carrier in December 2022. This is the first of five K Line ships equipped with Seawing.
The 210,000 dwt LNG-powered bulk carrier and built at the Nihon Shipyard will be the second vessel to feature Seawing. Installation will take place after the ship is delivered in 2024.
What is Seawing Giant Kite Technology?
Seawing combines kite technology with an automated flight control system created by the aerospace industry to capture wind energy. The system reduces the ships' emissions and fuel consumption by an average of 20%, according to the company.
Seawing technology is bolted to the vessel and takes up little space on deck. It can be placed on most ships, is not restricted by height restrictions and does not interfere with cargo operations.
A stationary kite or sail has only 1/10 of the drag force compared to Seawing, which flies flexibly at more than 100 km/h on a figure 8 orbit. The kite flies 200 meters high in the air to catch the winds. stronger, more stable.
According to the International Windship Association, by the end of 2023 there will be 50 wind-powered ships.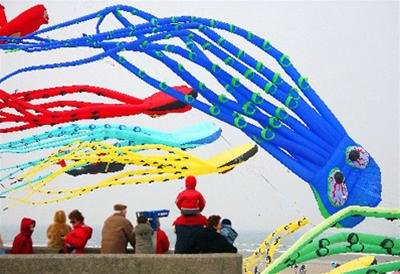 21st International Kite Festival