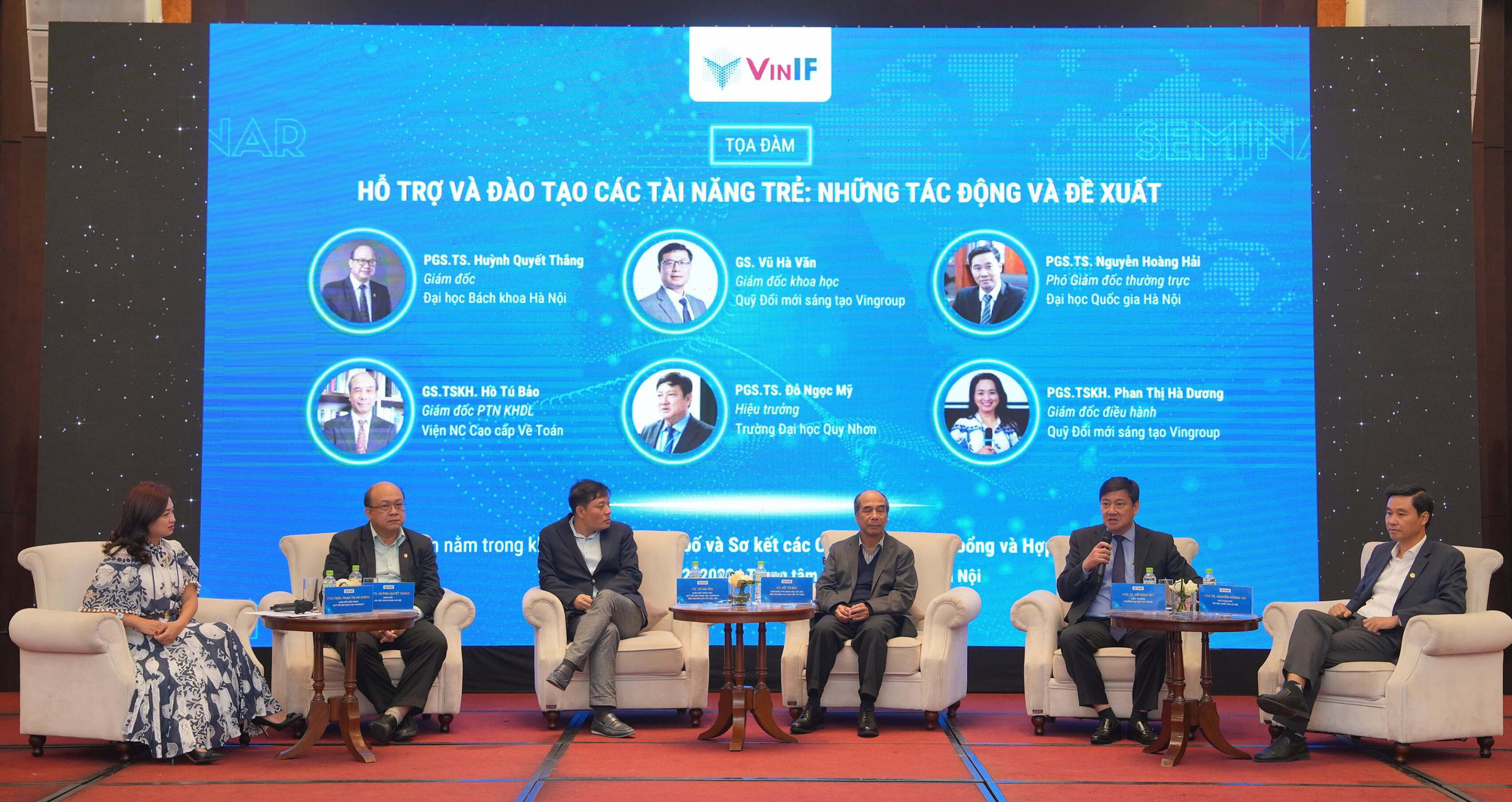 Seminar on Supporting and Training young talents: Impacts and proposals organized by VINIF – Photo: D.H.
They are all excellent young people who are empowered to become the core, contributing to the development of a research culture of international standards for Vietnamese science.
Training ecosystem – connect – share
"In the first year, I had articles published in international journals and initially developed an application product of the study, which is a tool to assess the feet of diabetic patients for Vietnamese people." , PhD student Huynh Le Thai Bao (Under 30 Forbes Vietnam 2022) shared about the results obtained after receiving a PhD scholarship from VINIF.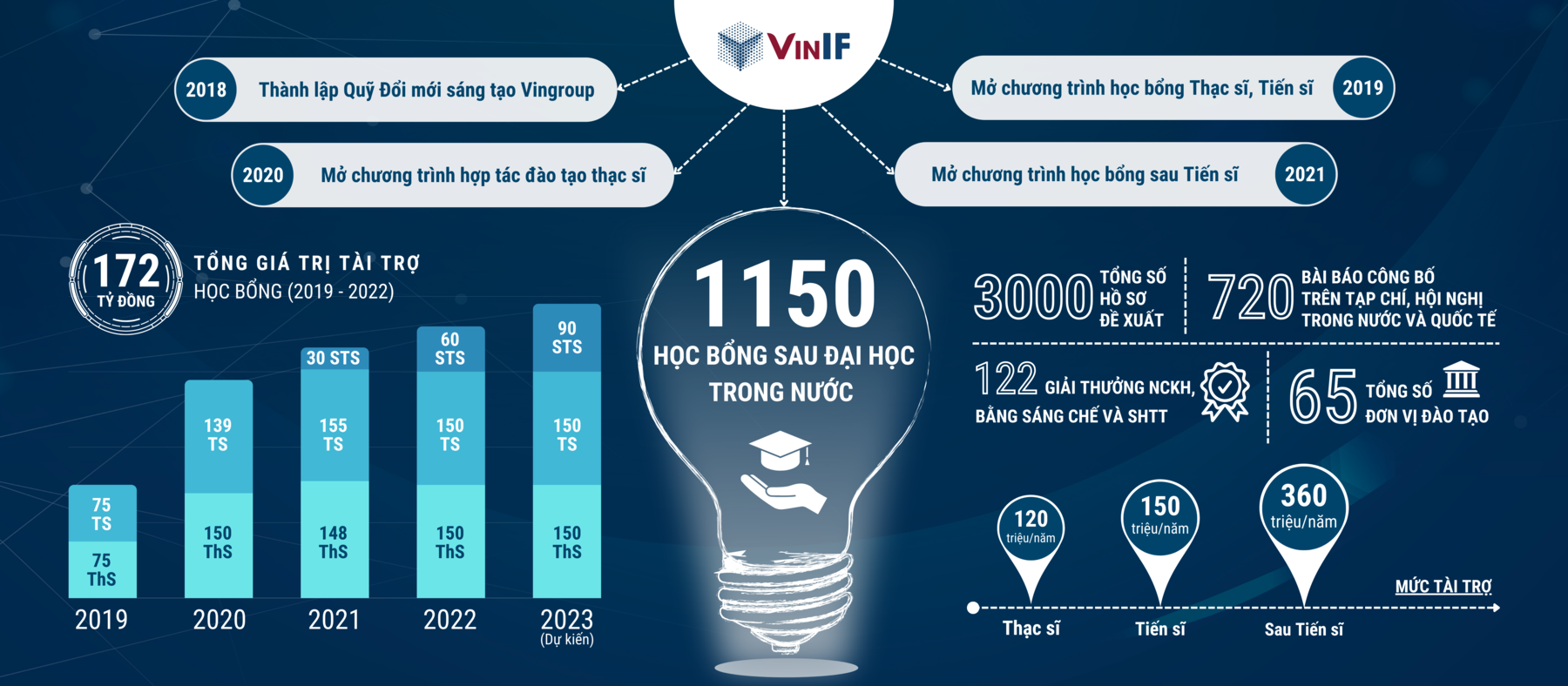 VINIF's scholarship programs have recorded outstanding numbers in four years of implementation – Photo: D.H.
Thai Bao is one of 150 typical PhD students to receive PhD scholarships from VINIF Foundation in 2022. With the product of the research work, Thai Bao has received 1 national second prize, 1 second prize and 1 third prize. area at the Specialized Conference of Endocrinology and Diabetes.
Over the past four years, more than 1,000 scientists have received scholarships from VINIF such as Thai Bao. Not only providing financial support, VINIF also established VINIF Alumni Club to connect and create an academic exchange environment for young people who have received scholarships, contributing to the formation of a research and training community. – connect – share, approach international standards.
According to Prof. Vu Ha Van, Scientific Director of VINIF, asking questions can only be obtained through discussions, criticisms, and analysis to the very end of the argument.
"And the main discussion is to make complex issues clear. That's why the Foundation established the VINIF Alumni Club – where young scientists can question, exchange and collide. academic," said Professor Vu Ha Van.
In parallel with connecting young scientists, the Foundation also supports domestic universities to develop many key academic disciplines.
In 2020, VINIF pioneered the implementation of the Master of Data Science Program of Sponsorship and Cooperation in order to support financial and technological resources for training institutions, and at the same time to help graduate students with favorable conditions. study and research at an international level.
"The support in terms of facilities, scholarships awarded to the right people and internationalization factors have created the attraction and resilience of the Master's program in cooperation between VINIF and Hanoi University of Science and Technology", Assoc. Huynh Quyet Thang, director of Hanoi University of Science and Technology, affirmed.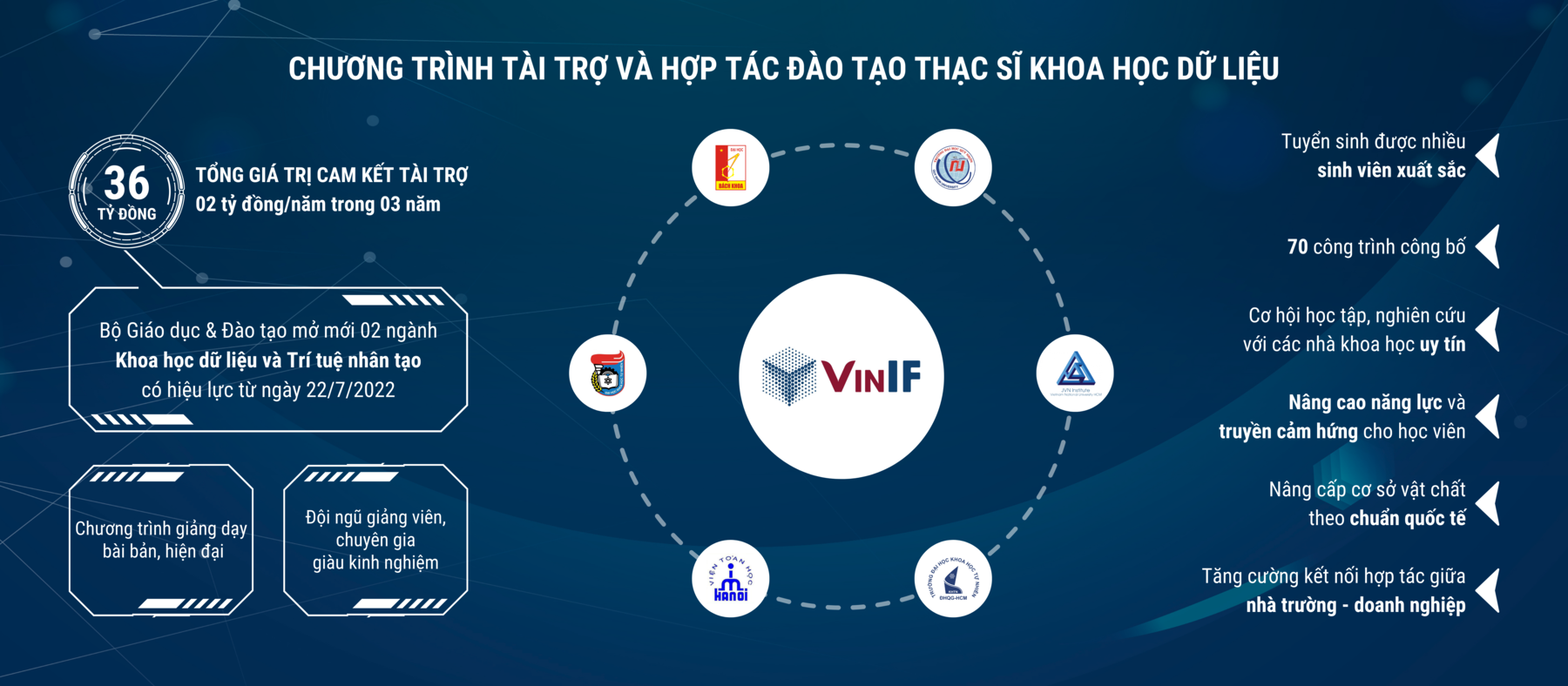 VINIF's Master of Data Science Grant and Cooperation Program has achieved impressive results after two years of implementation – Photo: D.H.
In particular, with the promotion of the fund, two branches of Data Science and Artificial Intelligence have been confirmed as the right direction in building Vietnam's science and technology human resources when becoming two new industries. in the list of training at undergraduate, master's and doctoral levels of the Ministry of Education and Training from 2022.
According to Assoc. Prof. Dr. Do Ngoc My, Rector of Quy Nhon University, one of 6 cases of cooperation in training Master of Data Science with VINIF, in order to open a major, one of the mandatory requirements is to have coordination. cooperation and cooperation with enterprises.
"So, with the companion of VINIF, we can not only open the Master of Applied Data Science but also attract many students for other bachelor's, master's and doctoral programs. ", Dr. Ngoc My shared.
Developing high-quality human resources for the country
Since its inception, VINIF has continuously opened new grant programs to create the most favorable conditions for young scientists to devote themselves to research and personal development.
In 2019, the fund launched the Master and Doctoral Scholarship Program in the country. In 2020, the Foundation pioneered the implementation of the Master of Data Science training and sponsorship program.
In 2021, VINIF is the first private institution to launch a post-doctoral fellowship program (30 scholarships at VND 30 million/month), to attract young PhD students to conduct research in Vietnam.
In 2022 VINIF continues to increase the number of post-doctoral scholarships to 60 and is expected to be 90 in 2023.
After 4 years of accompanying young scientists, VINIF Foundation has sponsored 1,150 graduate scholarships with a total value of VND 172 billion for excellent masters, doctoral students and doctoral students.
These are all excellent young scientists, selected by VINIF's scientific council through rigorous and serious evaluation rounds.
"They are the core and the spark for the next generation, aiming to contribute to the construction and development of a creative and professional scientific research culture that meets international standards," Professor Vu Ha Van said. price.
The birth of VINIF with different thinking and vision is considered a new driving force for Vietnamese science. Professor Ho Tu Bao, who has worked for more than 20 years at the Japan Advanced Institute of Science and Technology (JAIST), thinks that the scholarship is a meaningful "reward" that society gives to capable and talented people. elite.
"Scholarships from private funds like VINIF are a lever for young people to go after their toddler steps on the path of scientific research," he said.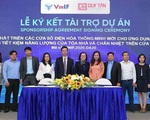 Duy Tan University's project receives funding from VinIF