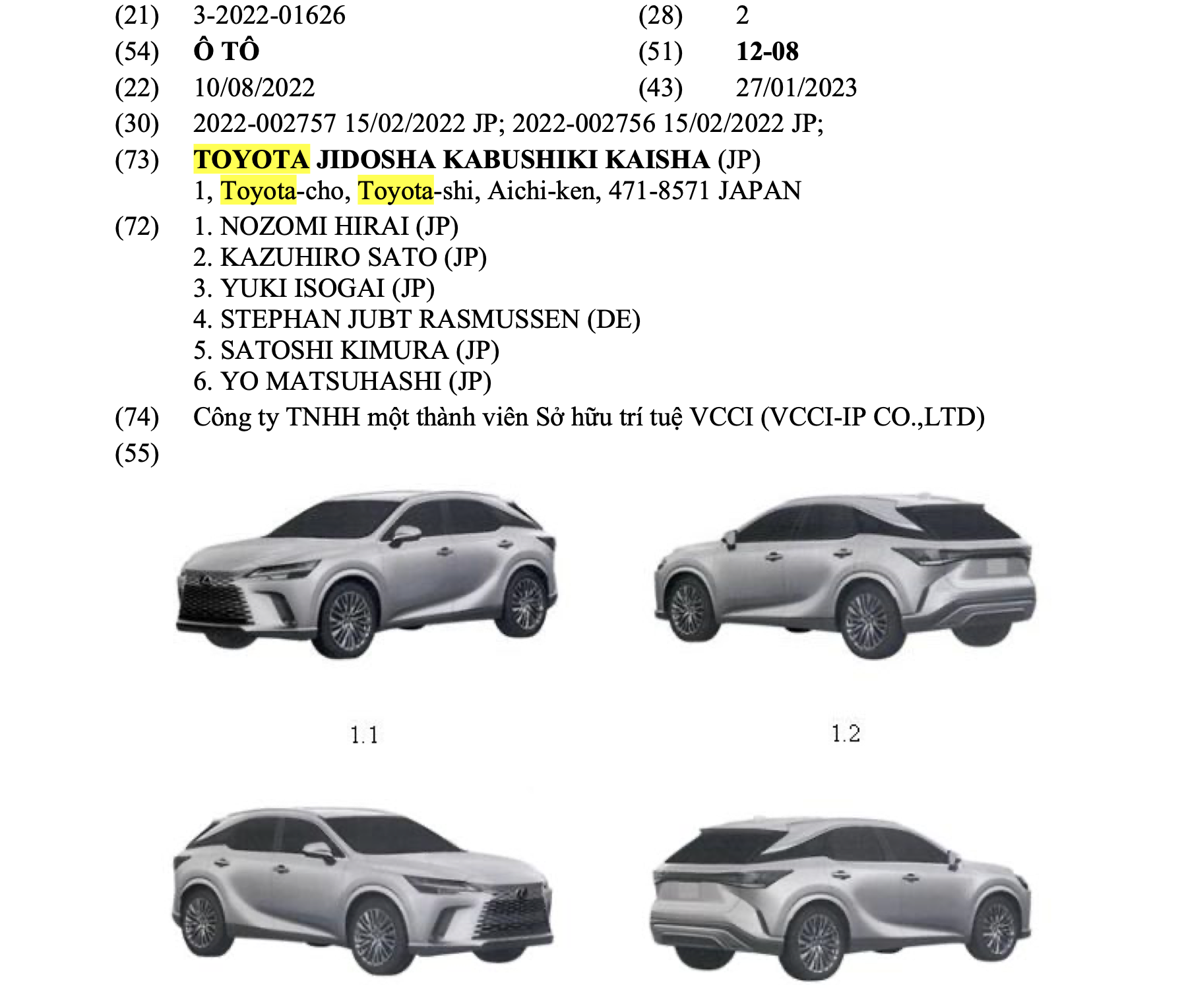 In the latest notice of the National Office of Intellectual Property of Vietnam, Lexus RX 2023 has been registered by Toyota Corporation. Previously, some sales consultants said that this car line will soon be available to users in the first quarter of this year.
Lexus RX 2023 launched the US market in June with many changes in design and engine compared to the previous generation. In particular, this model has a Plug-in Hybrid version. The bodywork creates accents with bold cuts. The grille, taillights, and front lights are redesigned.
The cabin space also has many new points, designed towards the driver. The dashboard is equipped with a 14-inch touch screen. Depending on the configuration of the version, the car can use a 12-speaker or 21-speaker Mark Levinson audio system. In addition, this SUV has LED cabin lights, ventilated front seats, power folding rear seats. The RX 2023 is equipped with the Lexus Safety Sense 3.0 safety system.
In the US market, the Lexus RX 2023 has the option of a 2.4L I4 engine, with a capacity of 275 horsepower and 429Nm of torque. The most advanced version of the RX 500h F Sport Performance uses a hybrid engine, a 2.4L I4 engine combined with an electric motor for a total capacity of 367 horsepower, 550Nm of torque, 8-speed automatic transmission. The Japanese company has removed the V6 engine on this model.
Meanwhile, the current generation RX in Vietnam has 4 versions including RX300, RX350L, RX350 and RX450h. Vehicles using 2.0 and 3.5 V6 engines. Currently, there is no detailed information about the RX 2023 versions that will be sold in Vietnam. At the end of 2022, the SUV line was introduced in the Thai market.
First marketed in 1998, the RX is one of the world's best-selling Lexus models. The US is one of the markets that recorded the best sales of this car. Hybrid versions of the RX are the best-selling of Lexus' green models, with sales in the hundreds of thousands since launch. Meanwhile, the overall sales of the whole RX series since the market launch has reached more than 2 million units.