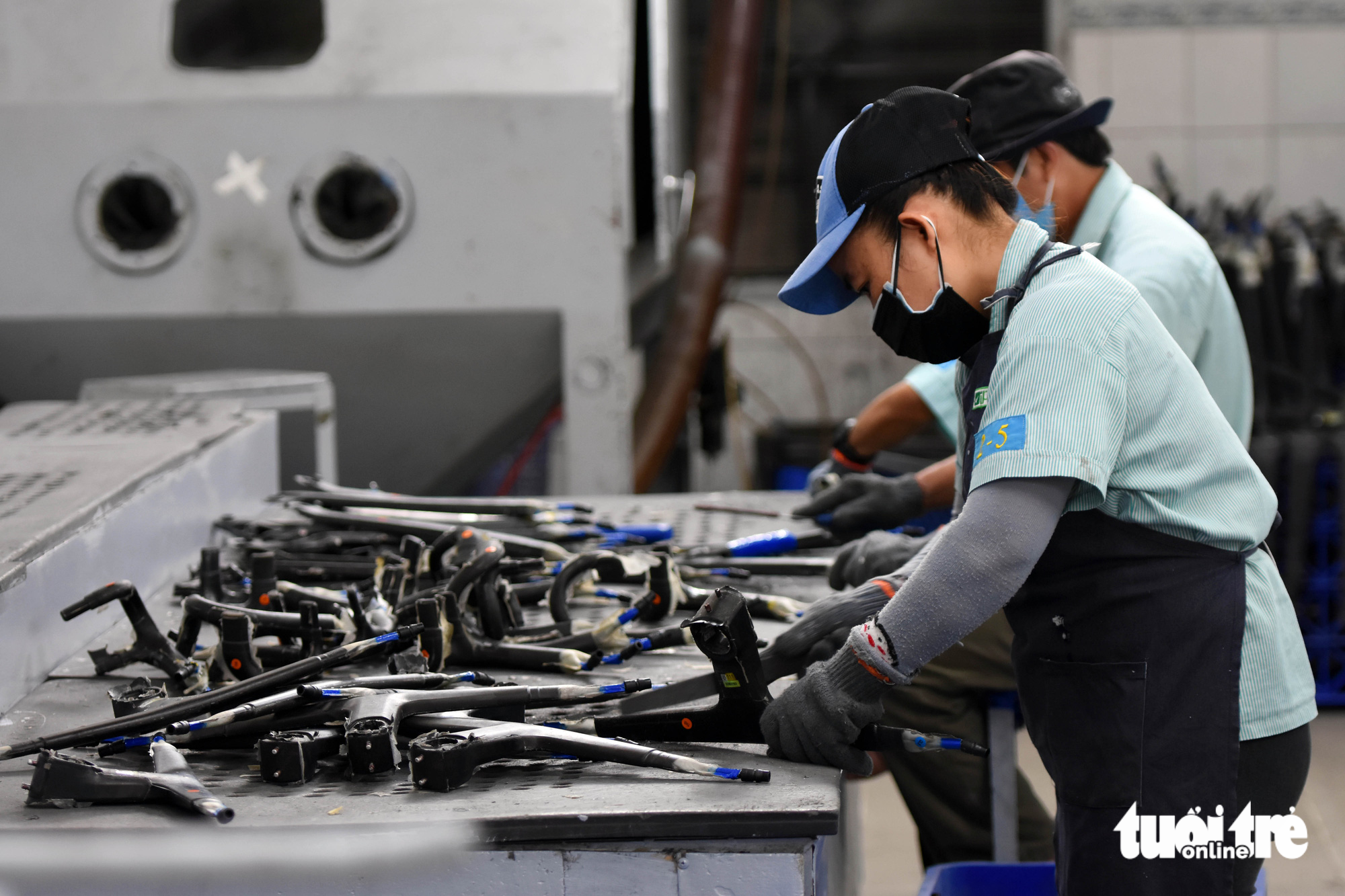 As noted, enterprises that use a lot of labor such as Changshin, Taekwang, Pouchen… all returned to work from January 9 with a very high rate, reaching 93-99%. Employees who have not returned to work are largely on leave.
High rate of workers returning to work
Mr. Dinh Sy Phuc, union chairman of Taekwang Vina Joint Stock Company (Bien Hoa 2 Industrial Park, Bien Hoa City), said that on the first working day, 99% of the total more than 35,000 employees returned. work after Tet holiday.
Like every year, the company prepared more than 7 billion VND to give lucky money to employees on the first working day of the year. Representatives of the board of directors and trade unions shared to the factories to visit, wish Tet and give lucky money directly to workers.
"This is a gift at the beginning of the year with the meaning of luck and happiness for the whole year that the union and the company want to send to all employees," Mr. Phuc shared.
At Changshin Vietnam Co., Ltd (Vinh Cuu district), 98% of the company's 39,000 employees returned to the factory to work with excitement and joy after the long Tet holiday.
On the first day of work, each employee is given a gift of 200,000 VND by the company and union. "Although the amount is not large, everyone is very happy, showing the company's interest in our workers," said Ms. Thu Hang, a worker at Changshin Company.
Meanwhile, some small businesses started working earlier. Mr. Ly Xe Ba, president of the union of Cu Thanh Co., Ltd. (Long Thanh district), said that the company started working from January 27 (the 6th of the Lunar New Year), to January 30, over 95% of the total number of employees. 3,100 workers have returned to work at the company.
Regarding the workers who have not yet worked, Mr. Ly Xe Ba said that because they are busy applying for leave or maternity leave. "The rate of going to work is almost equivalent to normal days, so the production is still maintained stably, without affecting the production activities of the company," said Mr. Ly Xe Ba.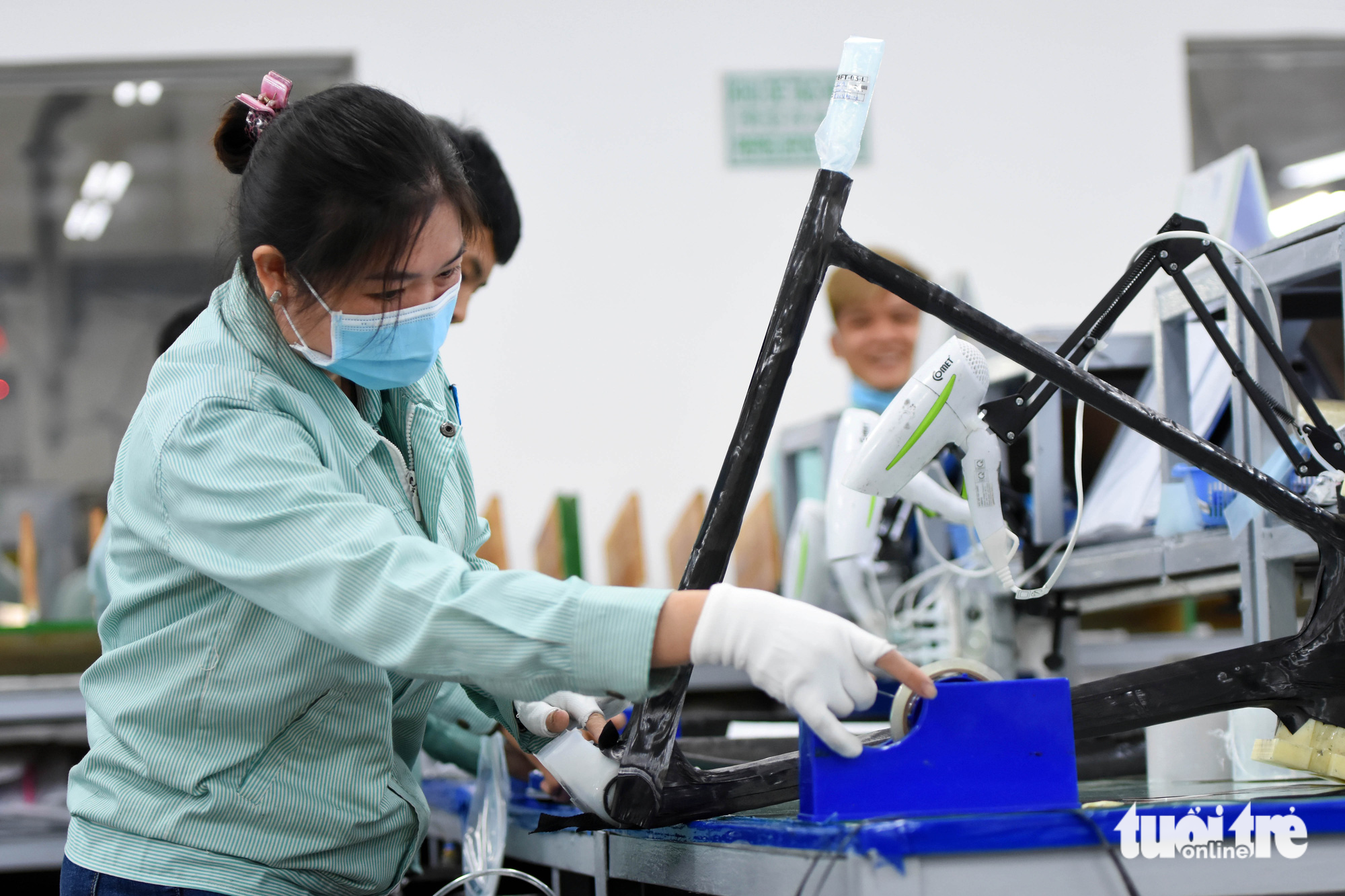 Businesses continue to face difficulties
According to a report of the Dong Nai Department of Labor, War Invalids and Social Affairs, from June 2022 up to now, under the negative impact of the world situation, the supply of raw materials and the export of goods have been affected. Inflation in Europe and North America forced people to tighten their consumption… Thereby negatively affected the production and sales of orders of enterprises.
Survey results of 284 enterprises in the area, with 227 enterprises reducing orders, decreasing revenue, reducing production scale (accounting for 80%); 135 enterprises lack capital (accounting for 47.5%); 114 enterprises lack imported raw materials (accounting for 40%); 110 enterprises have manufactured goods that cannot be exported (accounting for 38.7%)…
Also during this time, according to the Social Insurance of Dong Nai province, the province had about 40,000 employees at 2,962 enterprises quit their jobs. Enterprises must agree to arrange annual holidays for more than 150,000 employees, reduce working hours for about 48,000 employees, pay stoppage wages for 8,800 employees, and agree to suspend contracts with 5,000 employees.
Faced with the above difficulties, the Department of Labor, War Invalids and Social Affairs of Dong Nai province is advising the Provincial People's Committee to issue a decision to support workers who have lost their jobs, and suspended the performance of labor contracts due to difficulties in enterprises. in the area with a total cost of about 75 billion VND.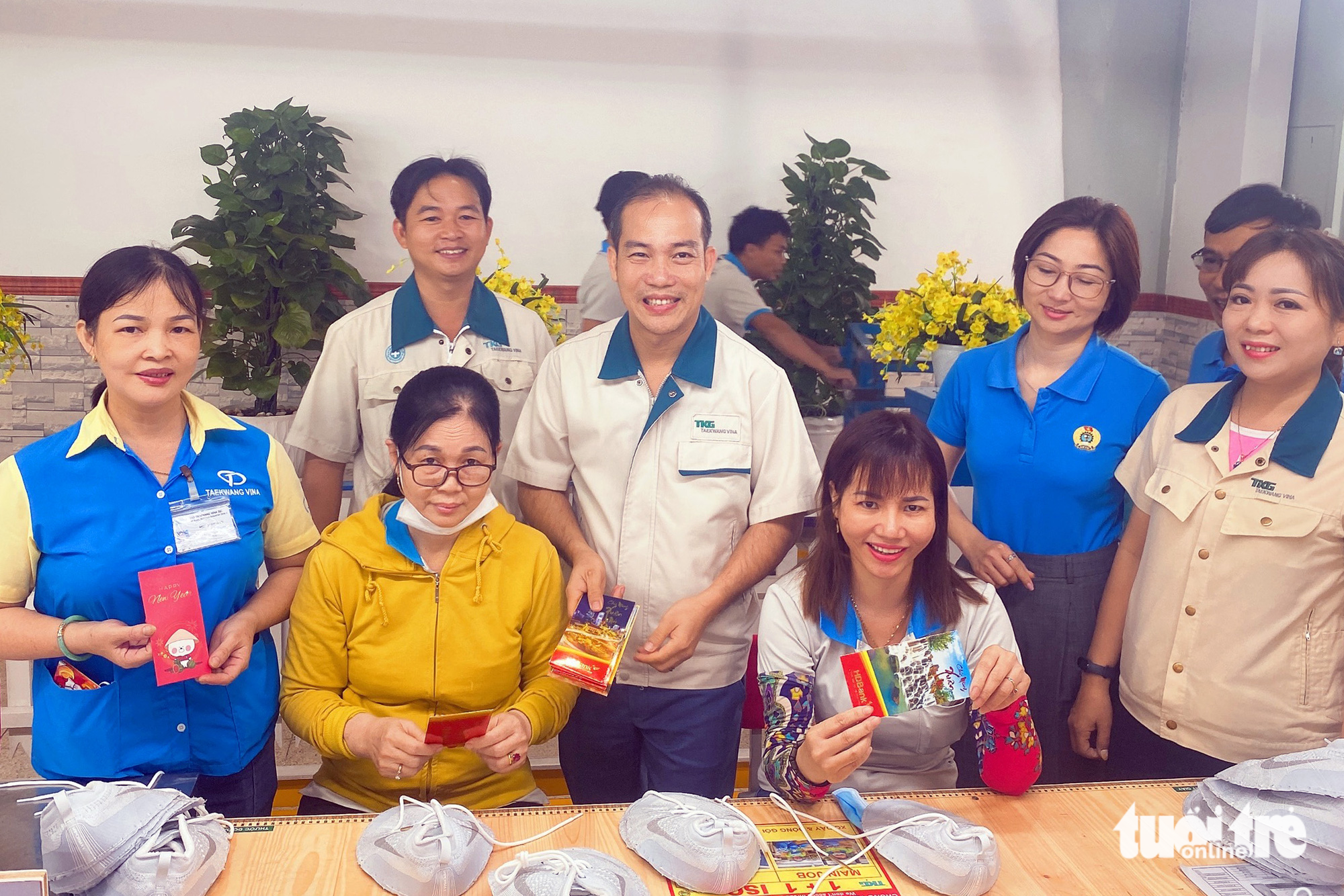 3,386 businesses give Tet bonuses to employees
According to the Dong Nai Department of Labor, War Invalids and Social Affairs, despite many difficulties, businesses in the area still strive to maintain the 2023 Lunar New Year bonus policy for employees.
As of January 19, the province had 3,386 reports on Tet bonus plans for employees. In which, about 80% of enterprises give Tet bonus at the same level of one month's salary; 15% of enterprises develop a plan according to the results of year-end assessment and grading of employees, ranging from 1-2 months' salary; about 5% of enterprises have the average bonus in the enterprise for more than 2 months…
In addition to Tet bonuses, businesses also pay attention and coordinate with grassroots trade unions to organize activities to take care of employees such as: year-end party, trade union gifts (from 150,000-300,000 VND/unit), coordination and support. bus tickets to transport employees.