Dr. Nguyen Trung Nguyen, Director of the Anti-Poison Center, Bach Mai Hospital (Hanoi) said that in recent days, the hospital has continuously received cases of alcohol poisoning, in which many young people have been kissed. deep anesthesia, severe brain damage, acute renal failure, hypoglycemia, gastrointestinal bleeding, rhabdomyolysis… after drink alcohol .
Most recently, a 30-year-old male patient, in Bac Ninh province, was admitted to the hospital in a state of vomiting, with a state of slurred speech, weak hands… after a New Year's Eve party. The scan results showed that the patient had cerebral infarction on both sides.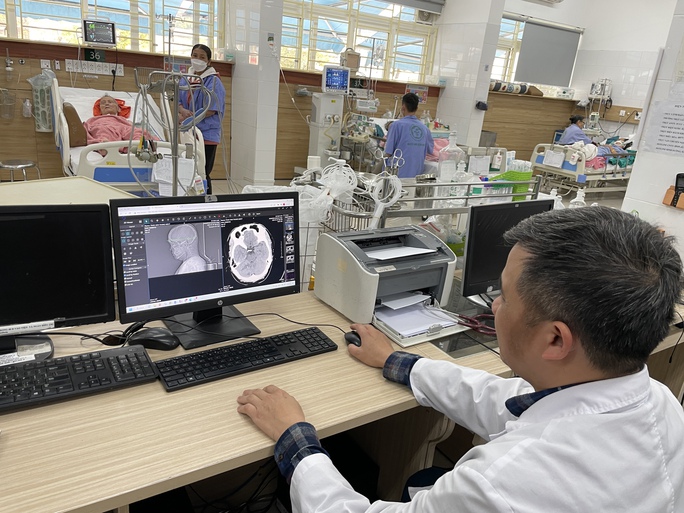 Image of brain damage of young male patients after drinking
"The cause is that the patient drank too much alcohol, vomited a lot, leading to dehydration, concentrated blood and clogged arteries. This case of cerebral infarction was caused by drinking too much alcohol, not a normal cerebrovascular accident. The alcohol that the patient drinks is also normal alcohol, ethanol alcohol, not the toxic alcohol that contains methanol," said Dr. Nguyen.
At this point, after nearly 2 days of treatment, the patient has improved but his body is still very weak and cannot speak normally.
Being actively treated at the Poison Control Center is a 36-year-old male patient (in Lao Cai province). After many years of living and working in Ben Tre, this year he had the opportunity to return to his hometown to celebrate Tet. Happy to meet friends and relatives, he drank a lot of alcohol.
After drinking "to the wharf" a few days ago, he was lying on the ground, in a coma, and was taken to a provincial hospital for emergency treatment by his family. A day later, the patient was transferred to the Poison Control Center, Bach Mai Hospital. The treating doctor said that the process of being drunk, he lay motionless for a long time, causing muscle compression and damage (rhabdomyolysis) thereby producing substances that cause kidney obstruction, leading to kidney failure requiring dialysis. blood must be filtered.
According to Dr. Nguyen, many people still subjectively think that drinking real wine, good wine … is "okay", but even ordinary alcohol if drinking a lot can also be dangerous to life. These cases often drink alcohol without eating, skip meals, leading to hypoglycemia. There are cases of being admitted to the hospital in a condition where blood sugar is almost zero.
"Many people drink a lot of alcohol but don't eat, causing "false satiety", that is, a feeling of fullness but empty stomach, no energy. After drinking alcohol, people often continue to skip meals and go to sleep. Meanwhile, when families see a drunken person sleeping, they often do not wake up, do not wake up to eat. This causes the patient's blood sugar to drop deeply, leading to unconsciousness, brain damage…." Doctor Nguyen explained.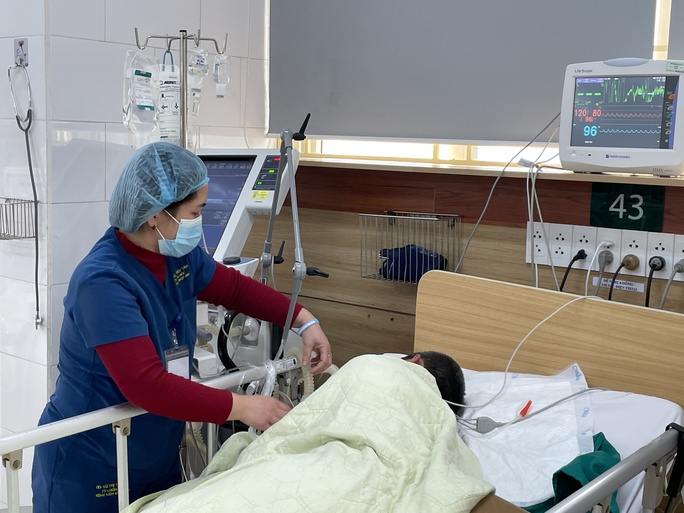 Doctors warn of increased alcohol poisoning after Lunar New Year
Most recently, a 25-year-old man was admitted to the hospital in a state of lethargy, lethargy, and hypoglycemia. Through investigation, the patient previously drank alcohol while fasting. Returning home, this young man continued to doze off and skip meals. The family thought the patient was asleep, so they did not wake him. When relatives discovered abnormalities and brought them to the hospital, the patient almost fell into a coma, brain damage.
Doctors warn that usually after the Lunar New Year, the number of hospital admissions due to alcohol will increase due to the increased demand for alcohol in New Year parties or festivals. To avoid this situation, people limit the use of alcohol. In case of drinking, you should choose alcohol of clear origin, and before and while drinking, you should eat starchy dishes to avoid hypoglycemia.
In case of drunkenness, if you oversleep, your loved ones need to actively wake them up, give them diluted porridge, drink juice, etc. to avoid hypoglycemia. If the patient is not awake for a long time or cannot eat or drink or vomit, it should be taken immediately to a medical facility for timely treatment.