Speaking at the Chey Institute for Advanced Study in Seoul during a visit to South Korea on January 30, Stoltenberg said that China "poses a challenge to NATO's values, interests and security". Therefore, the issue of China is more focused on the agenda of the bloc.
In response, Chinese Foreign Ministry spokesman Mao Ning said that Beijing is a cooperative partner of all countries, not a threat to any country's interests and security. On the contrary, according to Ms. Mao Ninh, it is NATO that is causing concern because of its growing interest in areas outside the scope of the bloc's activities.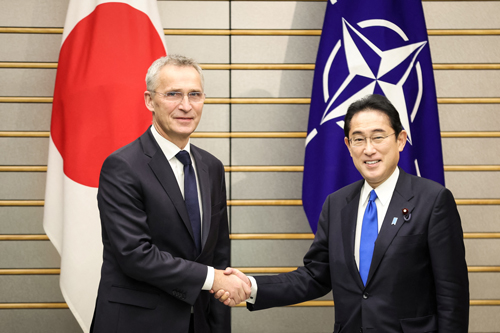 Japanese Prime Minister Kishida Fumio (right) receives NATO Secretary General Jens Stoltenberg in Tokyo on January 31. Photo: REUTERS
During the same trip, Stoltenberg also criticized North Korea's nuclear and missile programs, which prompted a strong response from Pyongyang. North Korea's Foreign Ministry published an article titled: "Is the NATO secretary general's trip aimed at promoting the establishment of an Asian version of NATO?" and content to warn South Korea, Japan, and NATO about efforts to strengthen East-West cooperation.
The article said that Stoltenberg's trip was a prelude to confrontation and war because it brought the risk of "a new cold war" to the Asia-Pacific region.
According to the station German wave (Germany), Jim Townsend, a former deputy assistant secretary of defense for Europe and NATO under President Barack Obama, said that Stoltenberg's visit to Asia took place at an important time and aimed to "reassure the security" Asian partners.
According to Townsend, the Russia-Ukraine conflict has affected Asian countries and the close relationship between Beijing and Moscow is a matter of concern. The visit also shows that NATO and its Asian partners are willing to work together and seek stronger relationships to counter the influence of China, North Korea and Russia on the continent.
Spring Mai