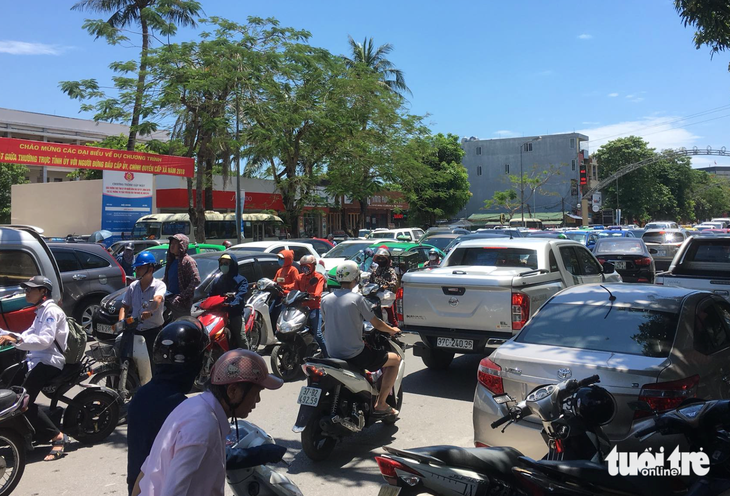 Above are the feedbacks from readers around the story of Nghe An people entering the 'top province' to buy cars, Youth Online have reflected.
Buying a car for travel and saving money
It is a fact that the climate and weather in some provinces in the North, including Nghe An, are harsher than in the South, so buying a car for travel is a very legitimate need of many households. family.
Regarding this, reader Nguyen Trong Thuy wrote: "I have a sister-in-law who works as a preschool teacher with a salary of about 6-7 million VND/month, but also tries to borrow money to buy a car. She said because it rains often in the countryside, It's cold and hard to go to work, so you should be equipped."
In addition, reader Le Pho wrote: "The harsh climate of Nghe An – Ha Tinh is also a reason why people in this area buy cars. In the summer, go to the car to turn on the air conditioner to reduce heat, in the winter, go in the car. The other reason is that this house sees that the other house has a convenient car to avoid the wind and sun, so try to buy it "!
Knowing if the rice can be picked up and spent properly, you read the nick name Tent added: "Dan Nghe is "saving, not spending petty expenses, but very invested in houses and means." That is the tradition. tradition from ages ago".
According to this reader, buying a car as a means of transport does not mean that people have enough to eat, but with "the character of the Nghe people, even with the average income, they still save for ten years, If they contribute hundreds of millions each year, they will have a house. After the house, they save for 5 years to buy a car. So, if they have a low income, they can buy a house and get a car because of their personality."
In a more realistic analysis, reader Le Minh wrote: "Try to do a math problem, there are 4 people in a family, instead of every morning and afternoon, the couple divides the children to go to school, I buy a car. for the whole family to go together, which is both safe and convenient."
Should be happy for economic development
Explaining the reason why people's houses are racing to buy cars, many people say that for whatever purpose, but one thing is for sure, the poor do not buy them, buyers are mainly those who have money. economic conditions.
Regarding this, reader Le Duc Dong wrote: "I returned to visit my hometown after nine years and saw that Nghe An has made great strides in all aspects. The roads are better. More vehicles, convenient to get around, reasonable price (from Vinh to Anh Son, 4-seat car is only 120,000 VND/person; the car runs about 90 minutes)".
Comparing with other provinces and cities, this reader does the math: "Meanwhile, from Can Tho airport to Can Tho bus station, taking a taxi is 250,000 VND; from Can Tho to Soc Trang is 125,000 (about 60 miles). km)".
And from there, reader Le Duc Dong concludes: "It is a good thing because the economy here is developing. Once there are many private cars, traveling is also easier, available anytime, anywhere and anywhere. There are cars operating every hour."
Adding a practical perspective, reader Khuong Vo wrote: "If people's income improves, they will think about buying a car. And if you borrow a bank loan to buy a car, it proves that income must be guaranteed. very good and stable, the bank can approve the loan".
From the above reasons, reader Khuong Vo suggested: "It is also necessary to review which households have escaped poverty and near-poor, so they should remove them to make room for those in real difficulty, create social justice, and provide timely support to those in need. The recent COVID-19 epidemic has also revealed many inadequacies."
Agreeing with the fact that you should review the reality to have a more objective view, the reader nick name Coc wrote: "If it is said that children and grandchildren go to work abroad to send money to buy cars, you cannot watch Art An is a poor province anymore. Poor province policies cannot be applied to this place, but to other poor mountainous provinces.