Technology giant Google (USA) is testing a number of chat products with artificial intelligence (AI) and looking to integrate them into its service in the future.
According to the station CNBC On January 31, Google developed a chatbot, called Apprentice Bard, in an attempt to compete with rival ChatGPT that is causing fever in the world. Apprentice Bard uses Google's LaMDA conversation technology and is quite similar to ChatGPT.
The employee enters a question in the dialog box and receives a written answer, and then gives feedback on the answer. Apprentice Bard's answer may include new events taking place, the ChatGPT feature is not yet available. According to Engadget, ChatGPT currently has limited knowledge of what happens after 2021.
In the face of ChatGPT's appeal, the LaMDA team was asked to prioritize developing a potential competitor. Apprentice Bard is considered an alternative to Meena, an intelligent chatbot that was circulated internally before being discontinued.
Another product being tested is a search page that can use the question-answer format. CNBC cited internal documents and several sources as saying that Google's board of directors has asked employees for feedback on these products in recent weeks.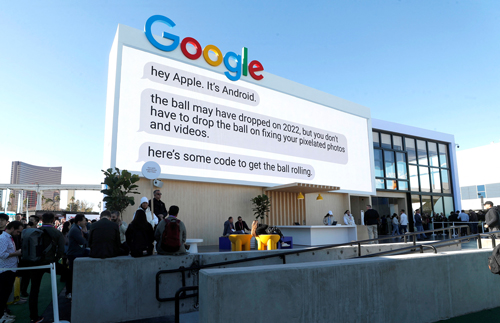 Google's booth at the Consumer Electronics Show (CES) 2023 in Las Vegas, Nevada, USA on January 6. Photo: REUTERS
The move comes at a time when Google internally is concerned about the company's competitiveness in the field of AI, especially after ChatGPT went into operation in November 2022. This is a super AI tool developed by OpenAI, a startup based in San Francisco – USA and backed by Microsoft.
Initially, Jeff Dean, Google's head of AI, emphasized that the company was concerned about its reputation being affected by the risk of providing false information, so it took a more cautious approach than "a small startup company". ". Still, Mr. Dean and Mr. Sundar Pichai, Google's CEO, also hinted at launching similar products this year.
Google claims to be a pioneer in the field of AI, but it is unclear whether these tests will be included in the company's upcoming products.
Before that, according to the newspaper The New York TimesGoogle is said to be preparing to launch at least 20 AI-integrated products and a chatbot for the search engine this year, some of which are expected to debut at its annual developer conference in May. .
Meanwhile, according to Reuters, Microsoft has poured $1 billion into OpenAI and plans to invest more. The technology company also wants to integrate OpenAI's image creation engine into the Bing search service to increase competition with Google.
Not to be outdone, Baidu (China) Company is planning to launch an AI chatbot service similar to ChatGPT in March. Reuters news agency, citing unnamed sources, said that Baidu intends to offer the service as a standalone application and gradually integrate it into its search engine. The Beijing-based company is investing heavily in AI technology, including cloud computing, chips and autonomous vehicles, to diversify its revenue streams.
ChatGPT's technology works by learning from massive data about answering questions in a human-like way. While the chatbots used in China currently focus on social interaction, ChatGPT is capable of performing more diverse tasks, like programming or writing a thesis.