The agreement was reached during the visit to the Philippines by US Secretary of Defense Llyod Austin. Speaking in Manila on February 2, Austin affirmed that the United States and the Philippines remained committed to strengthening defense ties to counter armed attacks.
Thus, the US can now rotate troops and station defense equipment at 9 bases in the Philippines. Mr. Austin did not disclose the locations of the four new bases, only saying they were located in "strategic areas of the Philippines". Prior to this new agreement, the US spent $82 million to upgrade infrastructure at the original five EDCA bases.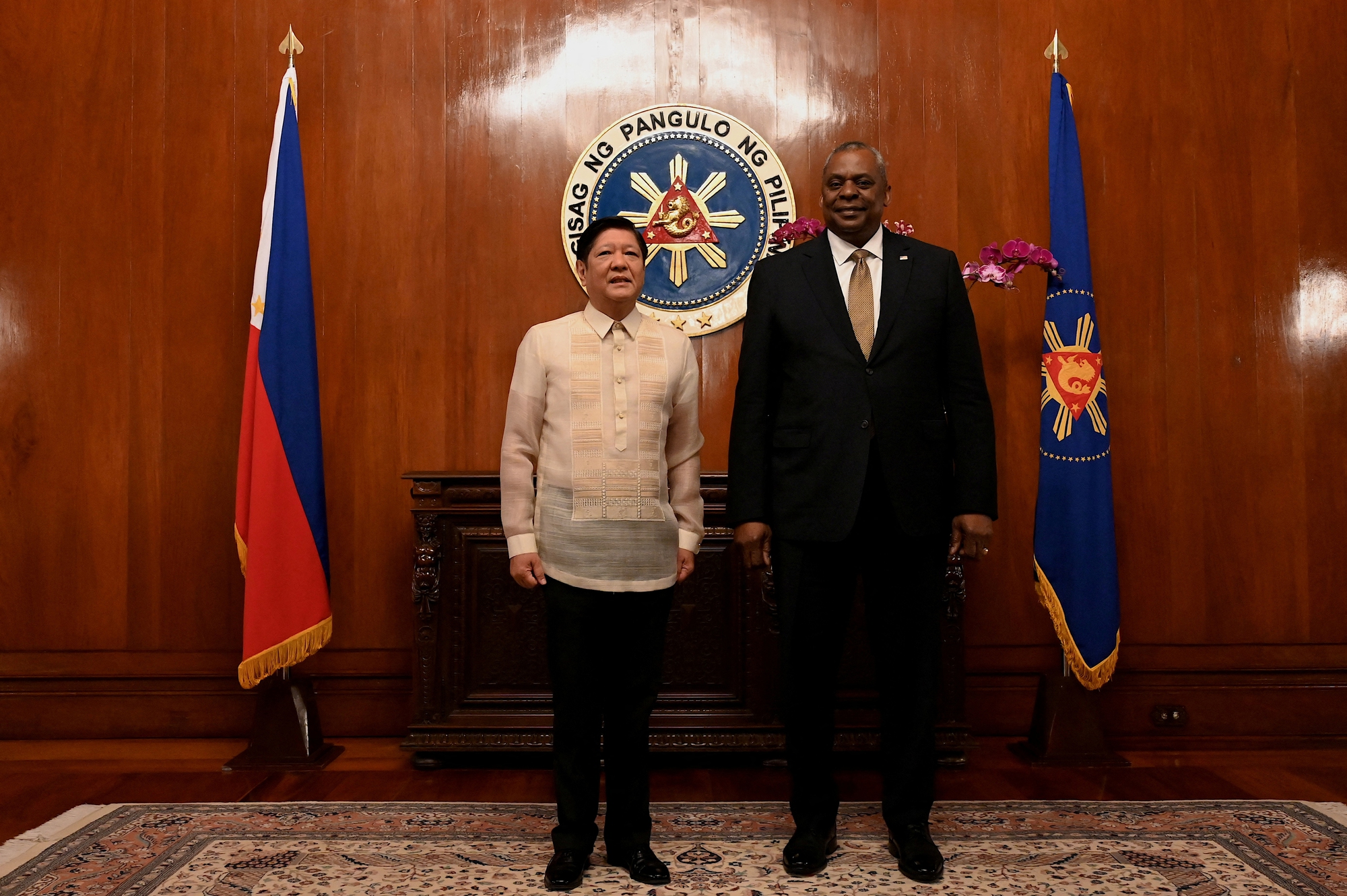 US Defense Secretary Lloyd Austin was joined by Philippine President Ferdinand Marcos Jr. welcome on 2-2. Photo: REUTERS
In addition to expanding the EDCA, the US also announced support for the Philippines to modernize its military. Recently, the two countries agreed to hold more than 500 joint activities this year, including the annual Balikatan exercise (April 24-27), involving 16,000 Philippine and US troops. The upcoming Balikatan will include "live-fire drills to test new US and Philippine weapons systems", according to the Philippine news agency.
The February 2 announcement extends a string of high-level US military agreements in the Indo-Pacific region, including plans to share defense technology with India and contemplate the deployment of military units. new marines to the Japanese islands.
The US Marines also opened a new base on the strategic island of Guam last week. Called Camp Blaz, it will be the force's first new base in 70 years and will host 5,000 troops a day.
As for the Philippines, the country is expected to sign many agreements to strengthen cooperation in defense, infrastructure development … when President Ferdinand Marcos Jr. visit Tokyo, Japan from February 8 to 12.
During a press conference on February 1, Neal Imperial, assistant secretary of the Philippine Department of Foreign Affairs, said that President Marcos Jr. and the host country's Prime Minister Fumio Kishida will witness the signing of at least 7 important bilateral agreements in various fields such as infrastructure development, defense, agriculture, information technology and telecommunications.
Sheet Straits Times The agreements include provisions for humanitarian and disaster assistance as well as a memorandum of understanding for Japan's $3 billion in loans for two major rail projects in the Philippines.