The move by the Ukrainian authorities was described by the Ukrainian media as part of an investigation into financial crimes.
David Arakhamia, leader of the Servant of the People (SP) Party in Ukraine, confirmed that the home of billionaire Igor Kolomoiskiy as well as the house of former Interior Minister Arsen Avakov had been searched, but did not give a reason for the operation. this move.
When asked about the search, Mr. Kolomoiskiy did not comment. Mr Kolomoiskiy has previously denied any wrongdoing.
The Security Service of Ukraine (SBU) later said the raid was linked to a $1 billion fraud case at the Ukrtatnafta oil company and the Ukrnafta refinery, companies that Kolomoiskiy once owned. part.
A photo of the SBU searching the home of Mr. Igor Kolomoiskiy went viral on the internet. Photo: NV Business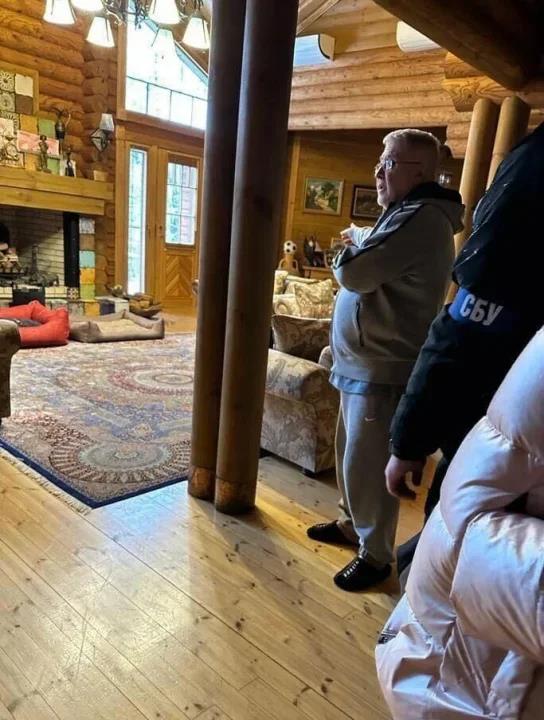 Reuters could not immediately verify the authenticity of the photos. Photo: NV Business
Photos circulating on social media showed Mr. Kolomoiskiy, wearing a tracksuit, observing in front of at least one SBU officer inside a large wooden house. However, the news agency Reuters The authenticity of the photos could not be immediately verified.
Mr. Kolomoiskiy, one of Ukraine's richest people and a one-time ally of President Zelensky. He strongly supported Mr. Zelenskyy's election campaign in 2019. However, after Mr. Kolomoiskiy was sanctioned by the US in 2021 for crimes related to large-scale bank fraud, President Zelensky stripped the billionaire's Ukrainian citizenship in 2022.
Also on February 1, former Ukraine Interior Minister Arsen Avakov said his home was searched by security officials to investigate the purchase of Airbus helicopters. An Airbus helicopter crashed on January 18, killing 14 people. The late Ukraine Interior Minister Denys Monastyrskyi and other top officials from the ministry were also among the dead.
According to the news agency ReutersSeparate raids were carried out at the Tax Office and the home of a former interior minister, two days before Kiev held a summit with the European Union (EU).
Ukraine is trying to show that it is working to crack down on chronic corruption in its country. Kiev sees the upcoming summit as key to its hopes of joining the bloc. Ukraine will hold a summit with the EU on February 3.
Ukraine also began a political reshuffle, in which more than a dozen officials were laid off or fired.
Recently, Mr. Zelensky pledged to do more to ensure the clean operation of the government, especially the Ministry of Defense.