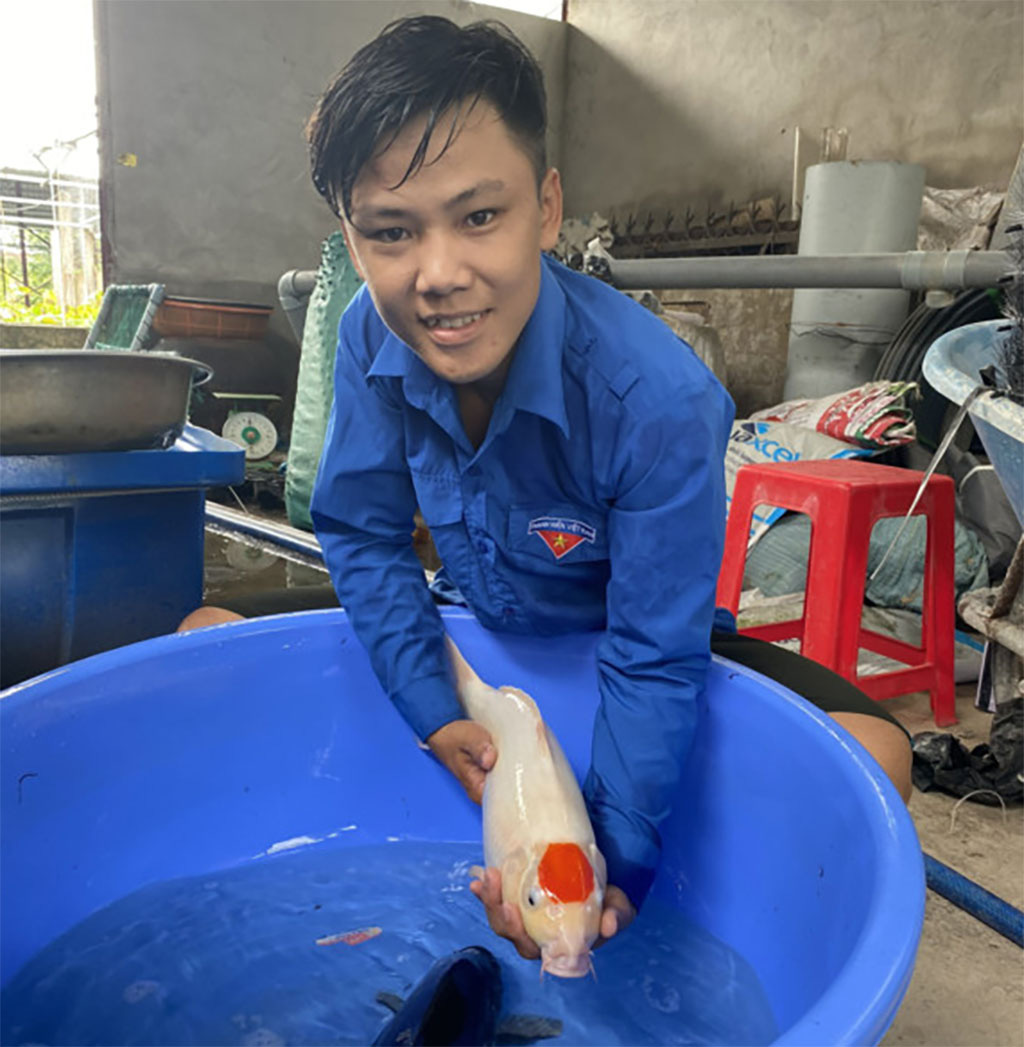 Tan Cong house in Binh Loi commune, Binh Chanh district (HCMC) previously raised and supplied fish meat to the market (pangasius, catfish, snakehead fish, persimmon…). From the day I switched to raising ornamental fish and experimenting with Japanese koi fish, my income was much higher.
Application of biotechnology
At the beginning of koi farming, the scale of the Cong family's fish farm was also small to explore the market. Binh Chanh's rapid urbanization has partly affected the environment and also affected the fish farming industry.
"Technology with koi farming is also quite demanding and I have many times to "go to the field" to temporarily build like today," Cong said.
After graduating from high school, he began to learn and then participated in many technical transfer and consulting programs on koi farming organized by Doan Binh Loi Commune in the locality.
Cong researched online to learn about koi farming models in other localities and tried it out at home ponds. When he volunteered for military service, the secrets he learned, Cong passed on to his family, but the results were not as expected.
Determined to do a good job, after completing his military service, he went to the Department of Agriculture and Rural Development to learn about the application of techniques, biotechnology, water treatment, improvement of the farming environment and nutritional supplements. new fish varieties.
Along with technology, when raising koi fish takes many manual stages, it is necessary to regularly check the water source, the food is just enough, but giving too much will affect the water source. customer demand," Cong shared.
The results of the application of new techniques and technologies are clearly visible. His fish farm doubled its revenue. Using semi-natural methods, pure farming and no use of stimulants, the batches of fingerlings from Cong's fish farm have been sold with good quality. From several hundred million, the annual income has increased from 1.2 to 1.5 billion dong.
Having raised Japanese carp, Cong used his own experience in pressing koi seed and achieved a high rate.
Not to mention, thanks to the more purebred, the koi fish from the Cong farm adapts well to the environment, is chosen by many customers in the provinces and begins to have export orders to foreign countries.
Farmer's Young Party Member
Although he was busy with many things, he still made time to participate in the local movement. As a member of the Executive Committee of the Commune, he often shares ideas and organizes activities to accompany local youth doing business.
Cong's fish farm becomes a place to visit and experience for young people. The lessons learned, Cong is always willing to share with his fellow farmers and those who want to learn to raise koi fish.
Having a koi farm available, he accepts to provide ornamental plants, implements the project of a rockery in combination with raising koi fish. At the same time, also receive maintenance services, take care of fish and works when customers need it.
Many of the projects he received have been present in a number of provinces and cities across the country, especially creating landscapes for garden villas, cafes or offices with large yards.
Right at the beginning of the new year, Cong has embarked on an eco-tourism site to exploit the potential of the koi fish farm and the river space of Binh Loi commune, which will create more jobs for local young people when they are young. completed project.
Recently, Attack was admitted to the Party. "I am very proud to be a member of the Party and try to do a good job in the economy so that I can share more with young people with the same passion for ornamental fish farming, especially koi fish," Cong shared.
Rural youth are good at doing business
After many years of working, the young farmer said that the purebred koi fish raised in Binh Loi commune has bright red colors and sharp patterns compared to purebred koi in other places, so it is very popular with customers. .
His family's farm now provides stable jobs for local workers and dozens of other workers when it comes to the harvest, especially during Tet.
Nguyen Pham Tan Cong is one of nine examples honored by the Ho Chi Minh City Youth Union "Rural youth doing good business" in 2022.
Secretary of the Ho Chi Minh City Youth Union Phan Thi Thanh Phuong said that rural youths have been contributing to enriching themselves and their families, gradually contributing to changing the face of rural areas, bringing rural areas to the city. Ho Chi Minh City developed.
"You guys are proof of your will and desire to get rich and succeed in your own homeland," Phuong said.