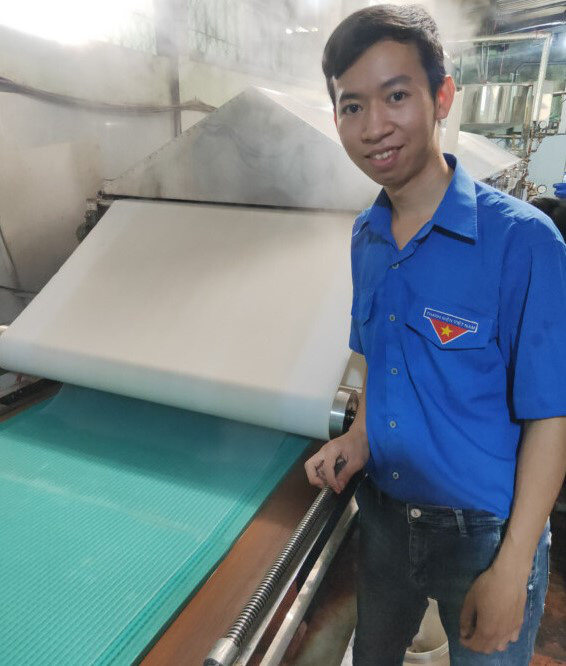 "Instead of going east to west, I chose to return to my hometown, find a way to make new rice paper on the old familiar background, create jobs for people, and also contribute to improving the region's economy. ", Tai shared.
Must change the way to make rice paper
Born in "rice paper village" Phu Hoa Dong (Cu Chi district, Ho Chi Minh City), Tai grew up familiar with the smell of flour, the heat of the red cake oven and the family's layers of drying racks. and surrounding neighbors. The profession of making rice paper for generations is "passed down from father to son" in this commune.
But from his life to his father's life, Tai got used to the hard work of making cakes entirely by hand, drying also depends on God. On sunny days, it still helps, in the rainy season, almost every house has to rest because they don't have a place to dry. Not farming, but also "watching the sky, looking at the earth, watching the rain, looking at the sun" is very fierce!
At the end of high school, Huu Tai did not take over immediately, but entered the university with the determination to find a new way of making his family's traditional profession, his bakery had to give a better output, but it couldn't be done manually forever. .
While studying and learning from other rice paper-making households in the commune, Tai thinks that applying automation technology will make a great contribution to the production process, from baking to drying without waiting. rain or shine.
Counting back and forth and finding it completely feasible, Tai shared with his parents the idea of ​​​​renovating the rice paper oven. His theory is that automatic technology must be applied to production to increase output much.
When the family was completely supportive, it was time for Tai to convince his parents to take out an investment loan. So the new production model has been operated at the Tai family's rice paper oven since 2018.
"Because of the previous manual production, there were times when there was not enough goods to supply to the market. Since the installation of the continuous coating and drying system, the output has tripled, without worrying about the lack of orders from customers. The bakery also creates jobs for nearly 20 regular workers, with more stable income," Tai said.
New thinking
Boldly changing the new production model has brought great productivity, which means changing the economic source of the family. But not only that, that decision to change also replaces the long-standing traditional way of doing things through the direction of modern production, automation, reducing dependence on the weather, and especially helping to reassure about safety. Food Hygiene.
Changing the production line, Tai invested in the sales channel. In addition to selling to traditional merchants, he exploited more distribution channels, online sales, and apps, and it was quite effective when orders increased, attracting a larger number of customers.
The Tai facility also processes rice paper products for export to a number of countries. He raised the desire to set up a company, build his family's own brand of rice paper, and have the potential to export to other countries.
"I know that to export needs to be on a larger scale. Therefore, I am calculating, accessing more preferential capital, preparing related issues, striving so that the rice paper I make is not consumed. only in the country and qualified to reach other markets", Tai said about the upcoming goal.
This place is also a meeting place for young people to come to learn experiences, learn about how to transform production, business, and develop rural industries through the application of technical and technological advances with the criteria of protecting the environment. environmental protection and new rural construction.
Tai boasted: "I'm always ready to share what I've been through to help you learn, reduce failures and be able to succeed faster. My stumble is partly a lesson for you in the future. business and career process".
Despite being so busy, Tai has been a secretary of the hamlet branch for many years, often organizing social activities, summer volunteering and many other programs such as waste recycling festival, sports festival – folk games. , gratitude activities for heroic Vietnamese mothers, lighting candles in gratitude for martyrs…
In May 2022, Finance officially became a party member after a journey of striving. "I always remind myself to live and work worthy of the qualities of a party member," Tai said.
More new products
The numbers have helped Tai be confident in his new direction when the total revenue since applying the new model has reached more than 7.6 billion VND/year.
In which, profit increased to 40 million dong per month compared to 12 million dong previously. Output also tripled after applying automatic production lines, and more than doubled the number of regular workers to ensure the production process.
Huu Tai said that he is preparing to realize the project of producing more products such as noodle soup, vermicelli, pho … also with automatic equipment lines in the near future.
"The market has a demand for noodles, vermicelli and dry pho, so I'm looking to expand production and diversify products to best meet market demand. And certainly when the project comes into operation. will help create more jobs for more local workers," Tai calculated.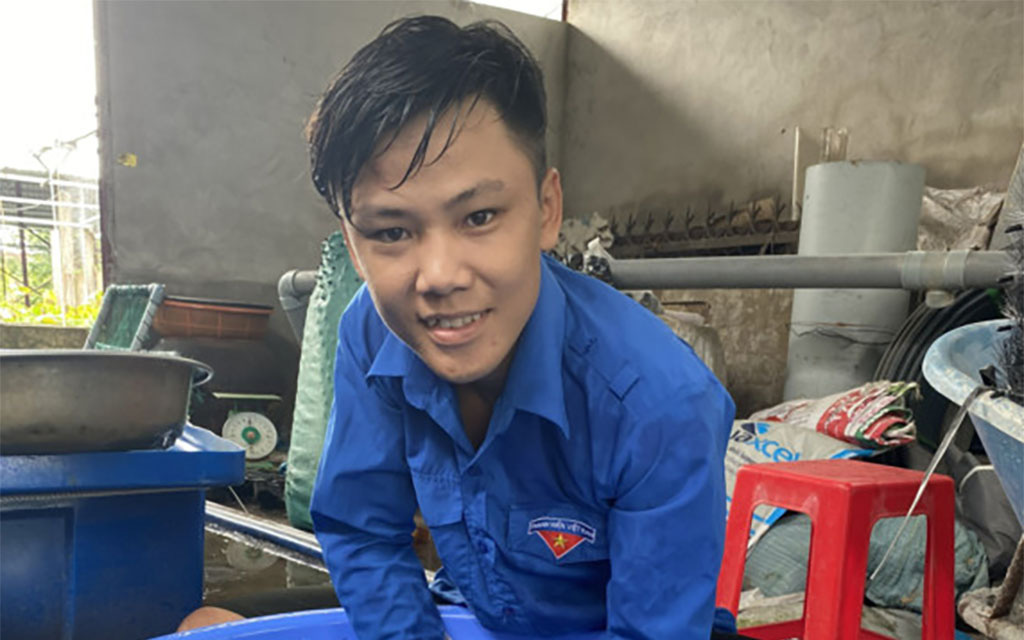 Young farmer's koi farm