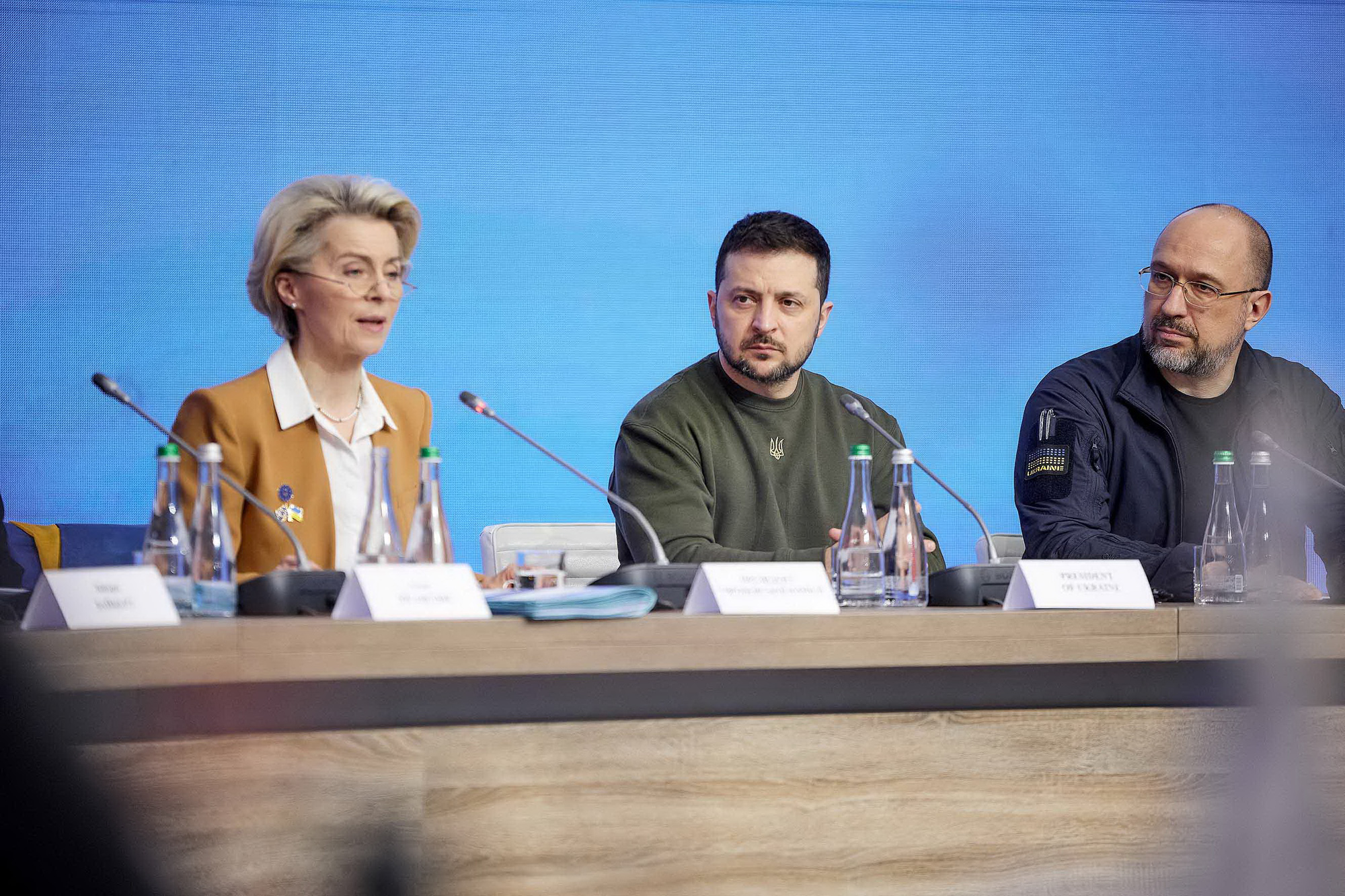 On February 3, European Council President Charles Michel and European Commission President Ursula von der Leyen led a delegation of 15 EU commissioners to Kiev, where they met with President Volodymyr Zelensky at the Summit EU-Ukraine summit.
Discuss 5 topics
This is the first summit between the two sides since Russia launched a "special military operation" in Ukraine in February 2022. Therefore, EU leaders see this as an opportunity to highlight the solidarity of this bloc in fulfilling Europe's commitments to Ukraine, as well as sending a tough message to Russia.
In Kiev, the leaders of the EU and Ukraine will discuss at least five prominent topics, which can be grouped into two main issues: a review of what is involved in the current Ukraine-Russia military conflict, and plans for the future. plan for the future of Ukraine.
Shortly before the meeting in Kiev, the Council of Europe approved measures to provide military assistance to Ukraine under the European Peace Mechanism (EPF).
These measures include a seventh support package worth $500 million, plus $45 million for training and education efforts for Ukraine.
On February 2, European Commission President Ursula von der Leyen also pledged a 10th package of sanctions against Russia.
Along with military and political commitments, the most mentioned issue in the press at this event was Ukraine's accession to the EU. In June last year, Ukraine was awarded EU candidate status, and the Ukrainian leadership hopes to speed up the process of joining the bloc.
Ukrainian President Volodymyr Zelensky said on February 2: "I believe that Ukraine deserves to start negotiations for EU membership this year. Only when a strong Ukraine and a strong EU stand together will we have a can protect the life we ​​hold dear."
In fact, Ukraine's desire to join the EU soon is being judged difficult to come true. Cases like Serbia, Montenegro or Turkey all have to wait many years.
Ukraine's biggest obstacle to joining the EU today is corruption. Before the event in Kiev, President Zelensky announced a series of corruption crackdowns, and von der Leyen said that Ukraine "is making remarkable strides in meeting our recommendations".
The European Commission leader also confirmed that the EU is seeking to provide Ukraine with a way to access the EU market. It is expected that this spring the European Commission will have an assessment report on Ukraine's compliance with EU conditions.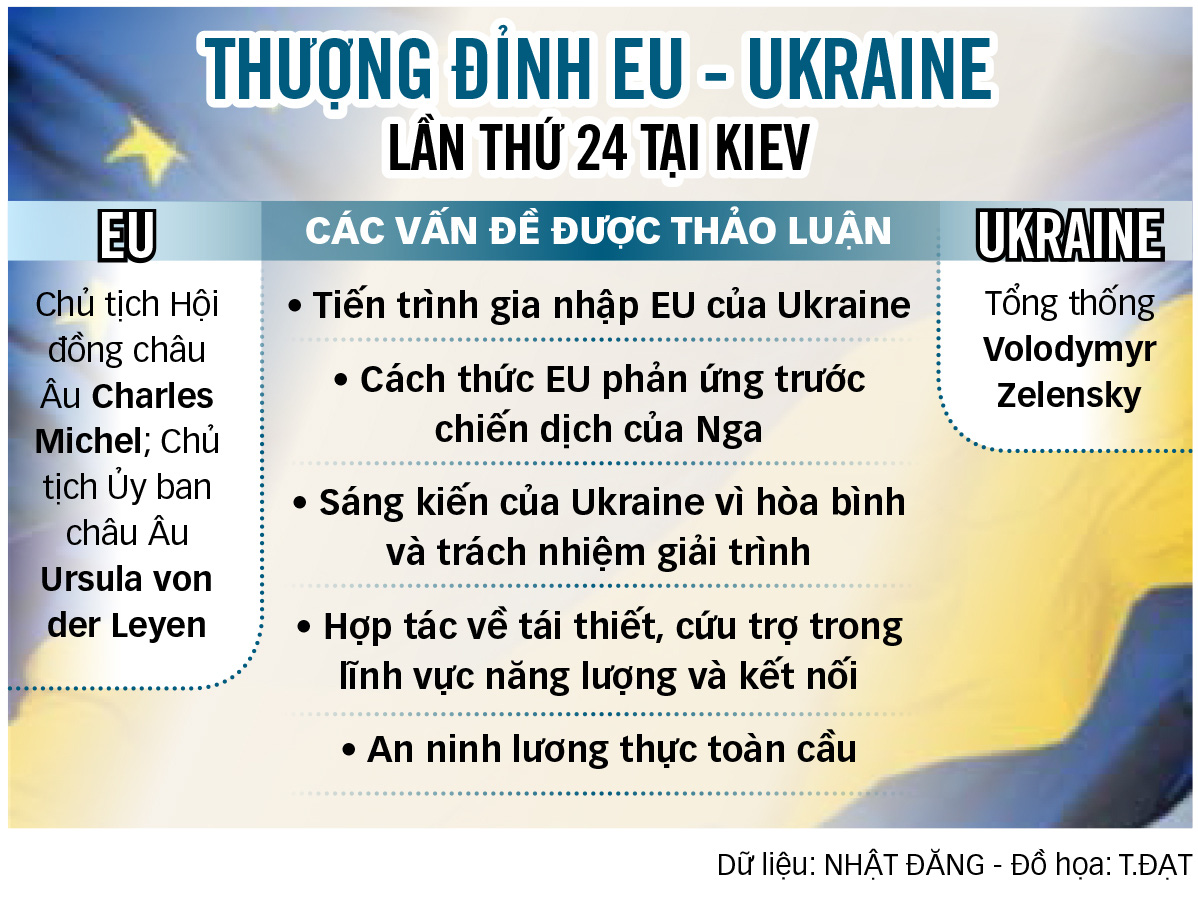 The EU makes no promises
The difficulty of joining the EU reflects the current differences between Ukraine and the EU and its member states.
Ukraine has a lot to want from Europe, for example fighter jets, a legal mechanism to hold Russia accountable for the conflict, or a difficult plan to confiscate Russian assets to rebuild Ukraine. .
According to the Washington Post, the "European dream" is still far away for Ukraine as the EU delegation did not make any concrete promises about Kiev's demands. The wartime summit was instead symbolic, and outlined Ukraine's reform goals to help it become more "integrated" into Europe in the future.
Before the important meetings in Kiev took place, the EU-Ukraine joint statement document showed that the EU side only praised Ukraine's reform efforts and avoided using overly optimistic language about the prospect of joining the EU.
EU leaders are also said to have struggled to get individual members' consensus on the wording of the joint statement.
Fundamentally, EU countries' views on how to respond to the conflict in Ukraine (and how it ends) are still very different.
This explains why the summit event in Kiev is not the best time for Ukraine to find commitment from member states on issues such as warplanes, weapons or other aid.
In other words, although the EU has reacted "surprisingly" in support of Ukraine in political terms, it has not been able to have a common response in military or other areas.
So far, Ukraine has largely relied on persuading the United States and its allies to get weapons on the battlefield.
Overall, Europe's biggest message this time, as written on its official website, is that the EU will continue to support Ukraine for as long as necessary.