" This is just the first match, we don't want this result because Hanoi FC's goal is to win. Today, we didn't play well and Viettel played quite well. In the second half, we let them have a lot of possession and defended poorly ", coach Bozidar Bandovic shared after Hanoi FC's 1-1 draw against Viettel.
Hanoi FC's winning streak against Viettel stopped at number 4. Although there was a goal led by Cong Van Quyet on the penalty spot in the second half, the capital team let the opponent equalize 1-1 in the minutes. after Danh Trung's goal. This draw makes Viettel and Hanoi FC only in the middle of the table after round 1.
Coach Bandovic emphasized that the players do not always play well, but said that the team's performance needs to be improved.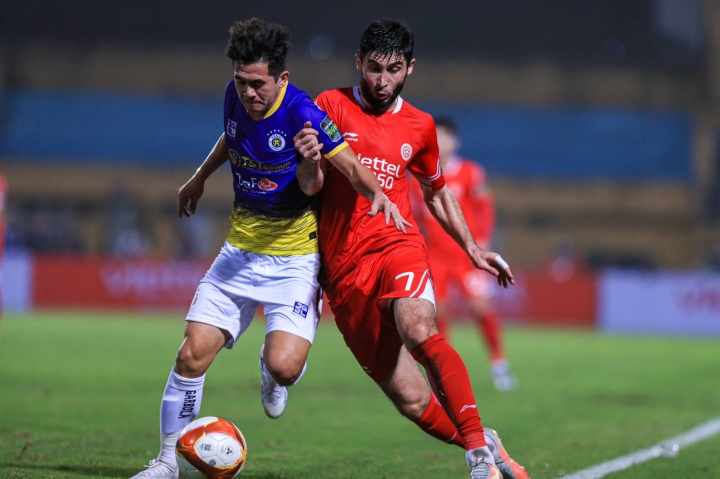 Hanoi FC was held to a draw by Viettel.
" I don't have the habit of evaluating individual players, because they also have good matches and bad matches. Today, the whole team played heavily and thought and decided in each situation very slowly ", coach Bandovic added.
Former coach Buriram United insists that Marco needs more time to integrate. The Brazilian midfielder was assigned the role of rhythm control in this match and has not left an impression.
" Marco needs more time to integrate. We will support him so that he can integrate well in the future ", Mr. Bandovic evaluated his students.
In the second round, Hanoi FC returned to the home ground to welcome the new recruit of Hanoi Police – the team that won Binh Dinh 5 goals without removing it in the opening match. Coach Bandovic highly appreciated the opponent, but emphasized that Hanoi FC will not change the goal of victory.
" In the next match, we will meet the Hanoi Police, it is a difficult match when the opponent is very strong. Even so, Hanoi's goal is still victory ", Coach Bandovic concluded.