Directly tagging the bank/institution in a public Twitter post is one of the fastest ways to get an official response to your issue. However, the vulnerability of this method is being used by crooks to conduct scams.
As reported by Bleeping Computer, a new phishing campaign is ramping up on Twitter, targeting bank customers by taking advantage of the "Quote Tweet" feature. your comments as shown below).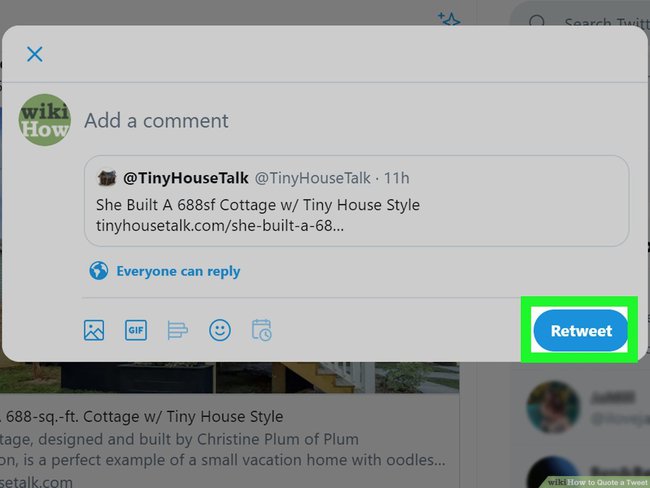 What makes this scam campaign different is that it only targets customers who comment on the official Twitter pages of banks to complain about the service or ask for help with a problem.
Unfortunately, instead of getting an answer from the bank, these customers get a response from the scammers through the "Quote Tweet" feature. From here, crooks will trick them into calling a fake helpline.
If a customer calls a fake line, the scammers on the other end will try to lure them into providing sensitive information.
Inundated with Twitter accounts pretending to be banks
If you decide to tag your bank's Twitter account in your Twitter posts, you should be on the lookout for responses coming from unverified Twitter accounts that may be impersonating bank support staff.
It is true that there are times when banks will reply to customer tweets with their own Twitter account, instead of using the main account. However, in the case we're talking about here, it's purely fake Twitter accounts.
BleepingComputer journalist Ax Sharma tagged Axis Bank (India) account in a Twitter post, after which she received a response in the form of "Quote-Tweet" from an account claiming to be the bank's. Axis.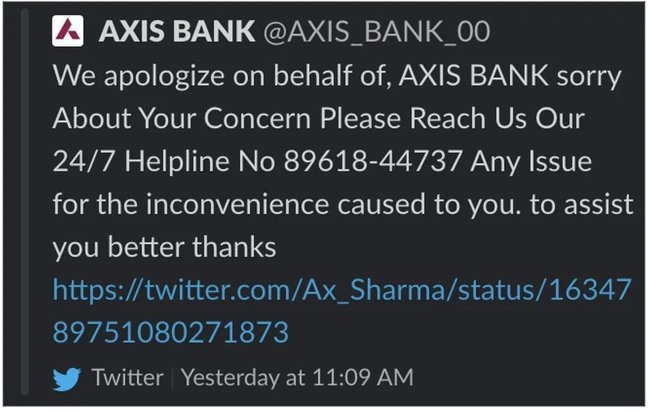 Fake Axis Bank account to trick customers.
It is suspicious that this account has no followers, and there is no "green check" to prove the account is authenticated. However, as we mentioned above, some banks/institutions will sometimes use their own Twitter accounts to deal with customer complaints.
As users are now increasingly wary of links to unfamiliar websites, the scammers behind this campaign decided to use phone numbers to avoid causing suspicion.
Fortunately, in Sharma's case, an Axis bank employee commented below the fake account's post and informed her that the response did not come from an official representative of the bank.
The bank's staff also advised Sharma to "immediately stop all interactions with fake accounts and do not share any information with them".
How to recognize fake Twitter account?
Although the fake account in Sharma's case has been banned, the scammers behind this campaign were able to easily sign up for another account and again target the banks' customers on Twitter.
So, to avoid scams like this, you need to know some signs to help identify fake accounts.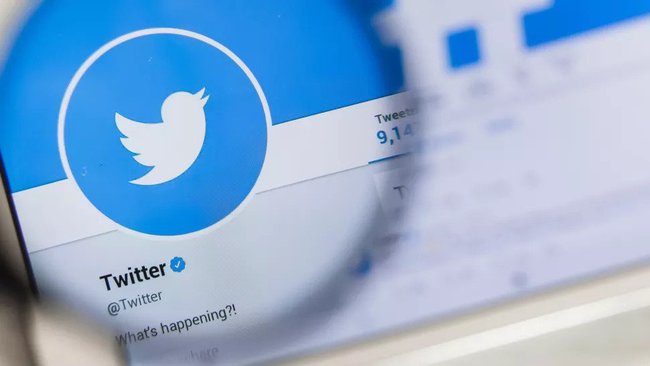 Beware of Twitter accounts posing as banks.
According to Bleeping Computer, the crooks behind this and similar scam campaigns often set up accounts that mimic official bank accounts but add a few digits to the end of their names to distinguish their accounts. Example AXIS_BANK_00.
When you need to determine if a Twitter account is real or fake, you should look at their profile first, because real users often have real profile pictures, relatively complete profile information, and other profiles. original post, instead of just retweeting someone else's post.
Next, you need to check if this account is verified or not. While Twitter's Blue check mark was previously difficult to obtain, the launch of a new version of Twitter Blue, with a paid subscription service, has paved the way for fake accounts to emerge easily. more legally.
Twitter has also rolled out a new color code that adds a gray checkmark for government officials' accounts, as well as a yellow checkmark for companies.
You need to be careful when using Twitter, or other social networking platforms, because scammers are always looking for ways to exploit vulnerabilities to steal your money or personal information. If a Twitter post contains unrealistically good content, the account behind it is probably a fake account.