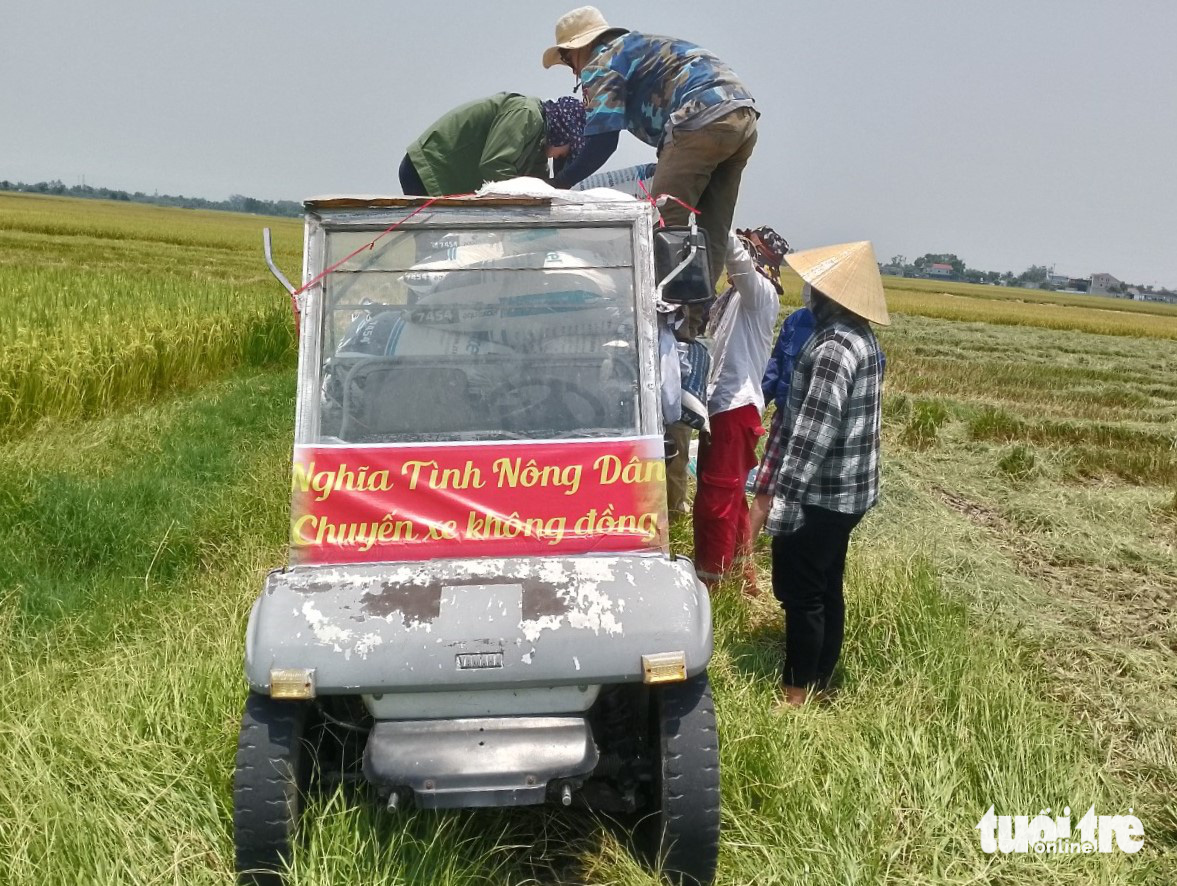 A group of young people from Tung Loc commune used a tricycle to go to the fields to bring people rice – Photo: HA
Currently, Mr. Nguyen Van Tao (President of Tung Loc Commune Farmers Association, Can Loc District, Ha Tinh Province) and nearly a dozen other young people and farmers work hard to help people in the commune harvest the spring rice harvest in 2023.
Despite the scorching sun of summer days, Mr. Tao is still working enthusiastically day and night to deliver rice grains from the fields to people's homes soon.
Mr. Tao said that a few days ago, the rice fields in Tung Loc commune turned yellow in preparation for harvest. In the commune, many households are elderly on their own or have children to work far away, it will be very difficult to harvest the harvest, so he and a group of young people from the commune came up with the idea of ​​implementing a program of free bus trips and rice transport from the countryside to people's homes.
"The rice, after being harvested, is packed in very heavy bags. The elderly and weak in health can hardly be taken home. So we came up with the idea of ​​a free bus to help people transport rice from the fields to their homes," said Mr. So.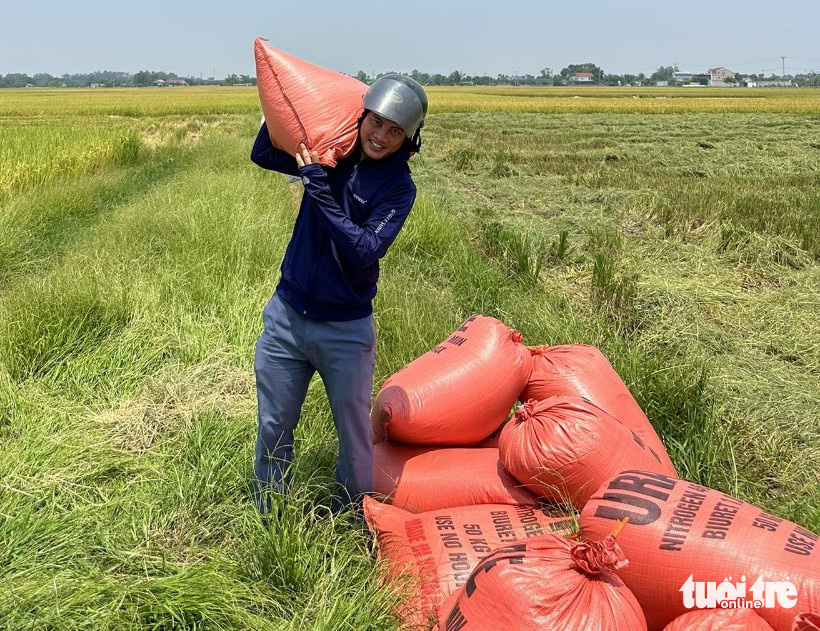 Mr. Nguyen Van Tao harvests rice to support people in the countryside – Photo: HA
The idea of ​​Mr. Tao was quickly accepted by her group of friends, initially with around 4 people participating in the program. His group made a list of people who needed support, using a small tricycle used to transport rice and harvesters to where people in his group loaded rice onto trucks and took it home to families. .
Tao's group's "0-dong car ride" program started on May 17 and so far has carried out more than 40 rice trips for people weighing around 20 tons.
Mr. Tao confided that in the past two days, his group organized this program and people responded, so the number of members who voluntarily joined the group is around 10 people so far.
They are members of farmers' unions or commune youth, all working together with the desire to help those in need finish their crops soon.
Every day the group of Mr. Tao worked from 8am until the harvester stopped working, there was a time when his group worked until 10pm to go home.
After each trip to transport rice to people, Mr. Tao was highly appreciated by people. In return, they bring artifacts from the local population, such as bunches of vegetables and eggs, to support Mr. Tao to enhance the flavor of every meal after a long day at work.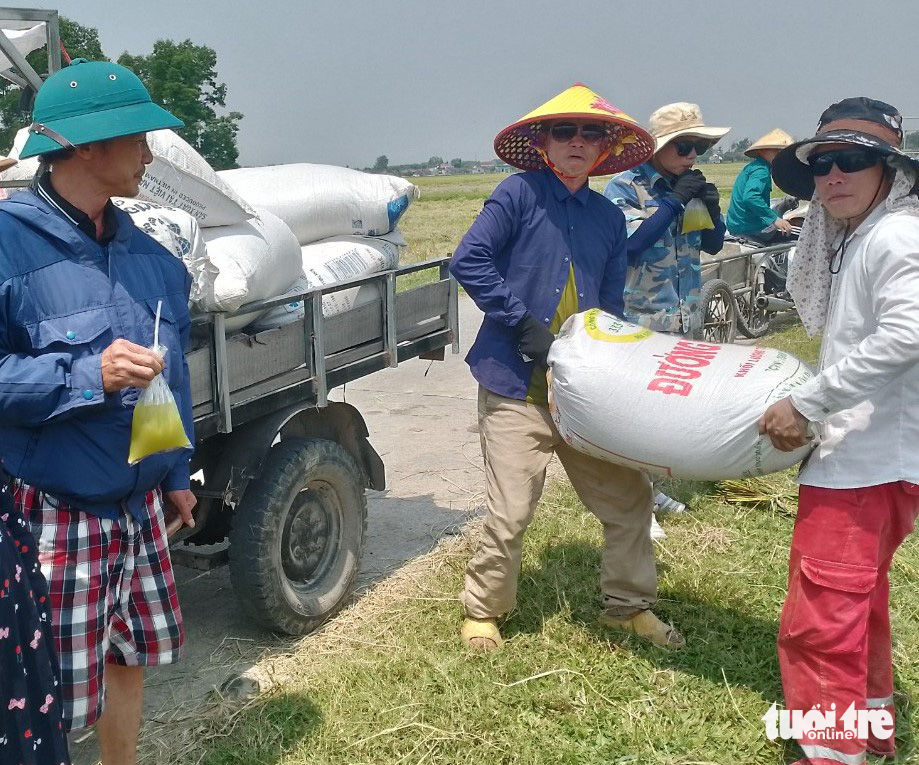 The weather in summer days in Ha Tinh is harsh, but the group of people who participate in the "0-dong tour" do not care about supporting people – Photo: HA
"Once, after each shipment of rice, people gave money to the group, but I understand that you shouldn't touch people's money. Because the objective of the program is to help and support the elderly and people with difficulties in harvesting. Many families are very grateful to give vegetables and eggs, we would like to accept them to improve the brothers' meals after working sessions "- shared Mr. Tao.
According to Mr. Tao, the "0-dong car ride" program was just implemented, but it quickly spread and received people's encouragement. Mr. Tao hopes to maintain this program in the new seasons, which is the inspiration for many people support programs to be implemented.
Mr. Nguyen Chi Tung – Chairman of the People's Committee of Tung Loc Commune, Can Loc District – said the "0-dong car ride" by the local youth group and farmers' association has practical significance in supporting dozens of families in harvesting of the vintage.