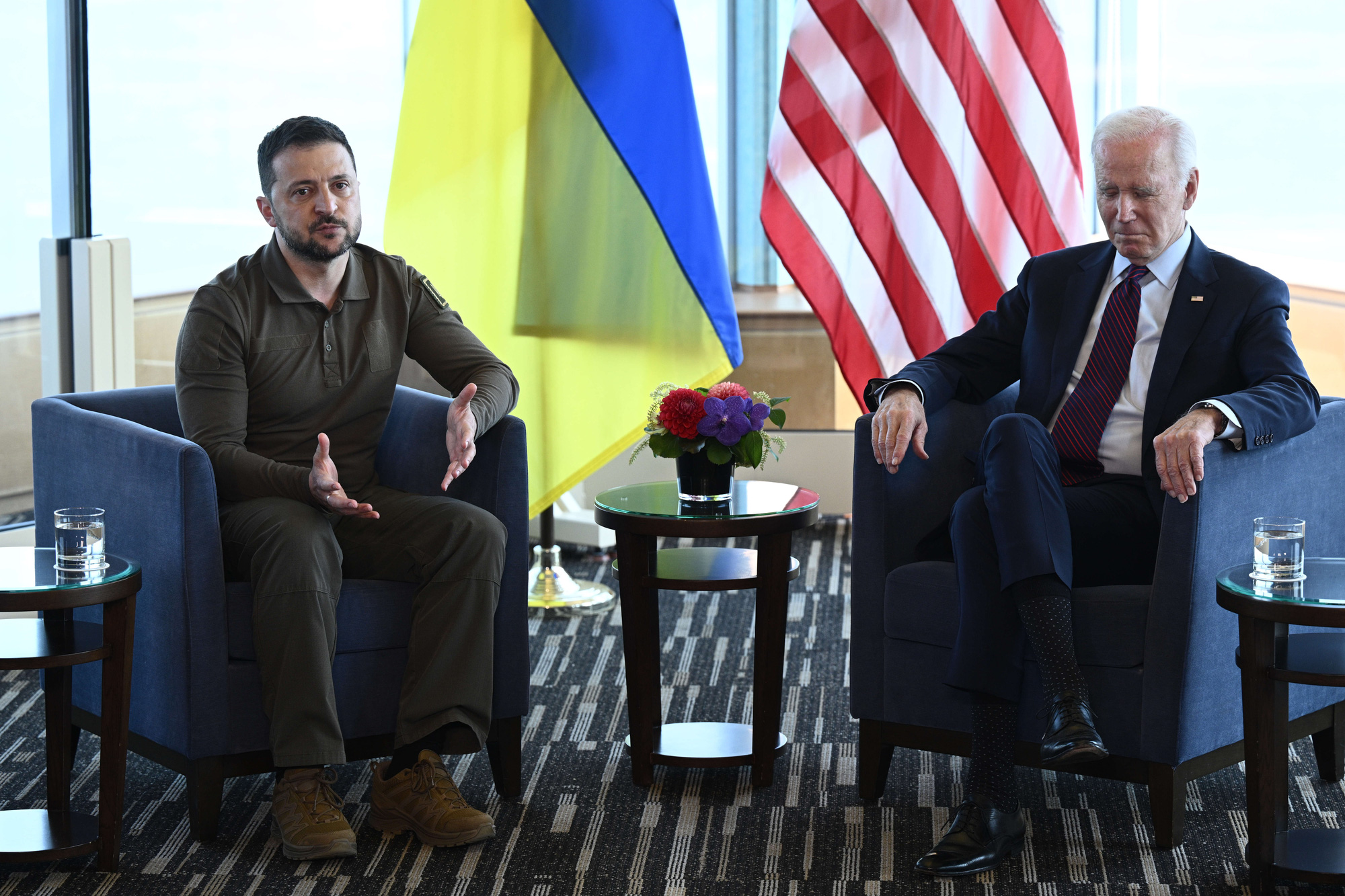 Bilateral meeting between the President of the United States, Joe Biden (right), and the President of Ukraine, Volodymyr Zelensky, in Hiroshima (Japan), on May 21 – Photo: AFP
According to Reuters news agency, on May 21, when asked by the press whether Ukrainian forces still controlled Bakhmut or whether Russia had taken the city, President Zelensky responded ambiguously: "I don't think so. You have to understand. that there was nothing left. Today, this city is only in our hearts."
Zelensky's statement was made on the eve of a meeting between him and US President Joe Biden, when both were participating in the G7 Summit in Hiroshima (Japan).
After President Zelensky's statement could be understood as "tacitly admitting" the loss of Bakhmut to the Russian army, Mr. Sergii Nykyforo, spokesman for Zelensky, immediately corrected himself.
"Reporter's question: Did the Russians take Bakhmut? The President then replied: I don't think so. In this context, the president denied that (Russia) occupied Bakhmut," Reuters news agency quoted Nykyforo's Ukrainian Facebook post.
Earlier, Yevgeny Prigozhin, head of Russia's Wagner mercenary group, said in a video posted on May 20: "Today, at noon, Bakhmut was completely occupied. We took everything in the city, from house to house."
A few hours later, the Ministry of Defense of Russia confirmed this information.
In the opposite direction, even before Zelensky's recent statement, the Ukrainian side continued to deny the loss of Bakhmut.
Ukrainian military spokesman Serhiy Cherevatyi told Reuters news agency: "This information is not true. Our units are still fighting in Bakhmut," claiming that Prigozhin wanted to leave Bakhmut, so he claimed to have captured the city.
The fighting in Bakhmut, which has lasted more than nine and a half months, is the bloodiest war in Ukraine since Russia launched its "special military operation" in February 2022.
While Ukrainians see Bakhmut as a symbol of tenacious resistance, for Russia, control of the city is symbolic and politically significant.
US announces new aid package for Ukraine
On May 21, President Joe Biden announced a new aid package for Ukraine, including ammunition, artillery and military vehicles.
Biden also assured his Ukrainian counterpart that Washington is doing everything possible to strengthen Kiev's defense capabilities against Russia.