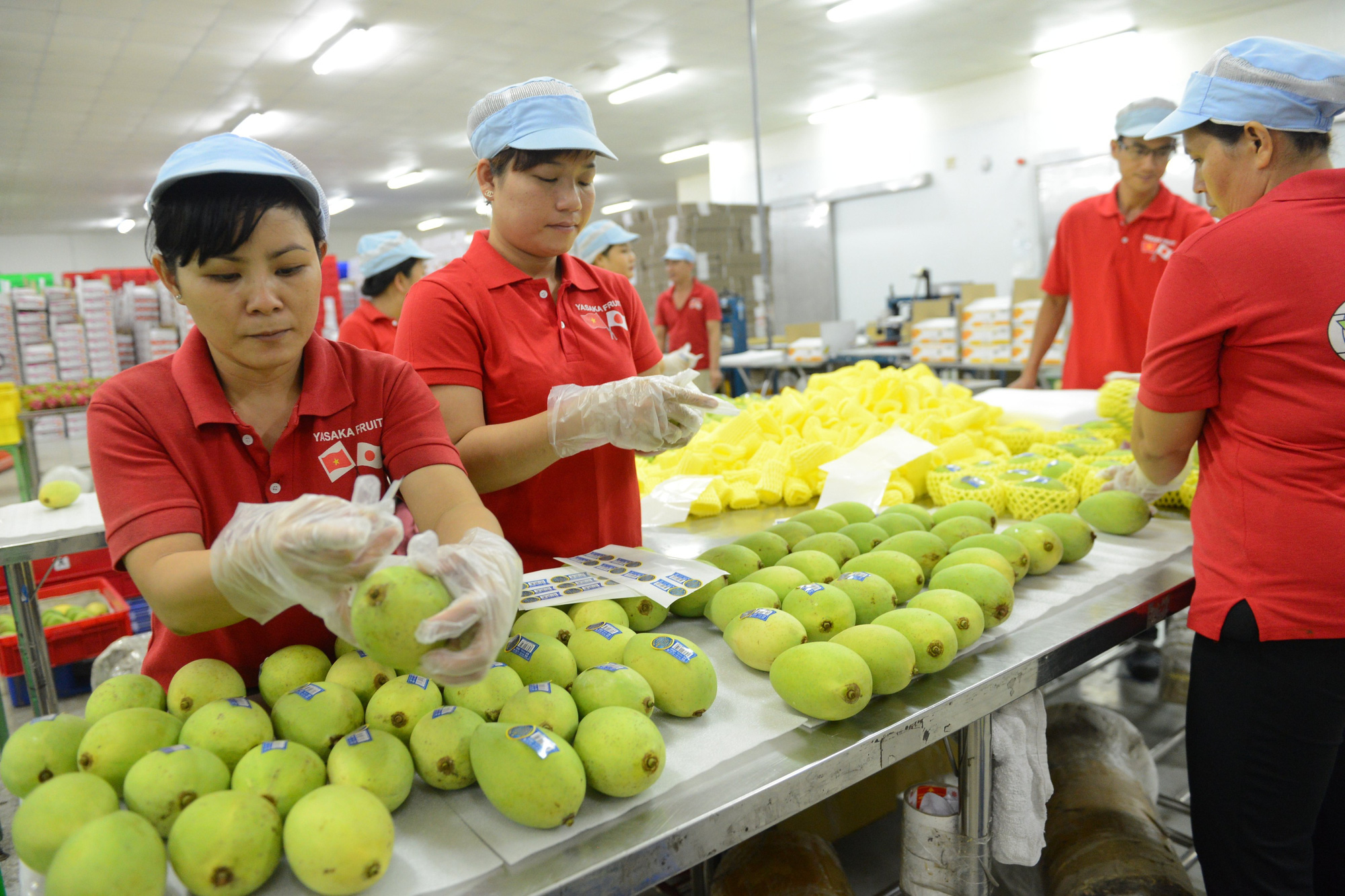 Processing and packaging of fruits for export at Yasaka Fruit Processing Co., Ltd., Binh Duong Province – Photo: Q.DINH
Australia and Canada are markets with high standards of quality, labeling and food safety. Therefore, for Vietnamese agricultural products to be able to compete in such markets, great efforts are often required by both Vietnamese companies and supporting agencies, including the factor of increasing brand awareness.
"Canada – I Bet It Was"
Mr. Jeffrey Lang, senior market development specialist at the Canadian Department of Agriculture, shared with Tuoi Tre that he is very fond of Vietnamese coffee. "As a Canadian consumer, when I think of imports from Vietnam, I think of coffee and seafood," said Lang.
However, this expert admitted that the printing of Vietnamese agricultural products in Canada is still very small, and Canada also faces similar challenges in the Vietnamese market. "I think Vietnam has a wide variety of food and seafood products. But what Vietnam needs to do is to carry out media campaigns to publicize the diversity that Vietnam has," emphasized Mr. Lang.
The Government of Canada launched the "Canada – Ca La Da" program (Canada, I bet it's extremely good!) earlier this month to promote its agricultural products to Vietnamese consumers through e-commerce channels. Mr. Lang suggested that Vietnam could organize similar programs to promote its agricultural products in other markets, including Canada.
Introducing a new product in an unknown market is not an easy task. Vietnam can learn from the experience of international friends to bring its agricultural products to new markets.
Usually, few people know that Canada also has many other quality products besides maple syrup. A representative of Queen Food, a Vietnamese importing company that participates in "Canada – Ca La Da", admitted that it took a long time to change the habits of consumers who already thought about everything: ginseng is all native to Asian countries.
According to Queen Food, the Vietnamese and Canadian governments have created favorable conditions for business cooperation between companies on both sides. From the beginning, when dealing with ginseng companies in Canada, this company received support from the Canadian Embassy and the Department of Agriculture. In addition, the Canadian Ginseng Association always updates timely documents, images and news for companies to document in the product communication process.
Passionfruit and Grapefruit Coming to Australia
According to the Institute of Policy and Strategy for Agriculture and Rural Development (Ministry of Agriculture and Rural Development), in 2022, agricultural, forestry and fisheries exports from Vietnam to Australia will reach US$ 845 million. Vietnam has 4 types of fresh fruit exported to the Australian market: mango, longan, lychee and dragon fruit.
"We will continue to make efforts to bring Vietnamese agricultural products to Australia," Australian Ambassador Andrew Goledzinowski in Vietnam responded to Tuoi Tre, and said that agriculture is a huge area of ​​cooperation between the two countries.
At the Taste of Australia gala on May 19, Mr. Goledzinowski said that in addition to the above fresh fruit, Australia is supporting Vietnam to bring grapefruit and passion fruit to the Australian market.
Always enjoy Vietnamese passion fruit every morning, the Australian ambassador believes that Vietnam has one of the best passion fruit products in the world. "When this fruit is brought to Australia, I think it will make a big difference thanks to word of mouth. People will start talking about Vietnamese products and will start looking for them when shopping," said Ambassador Goledzinowski.
The Australian ambassador said the good relationship between Australia and Vietnam is creating a good environment for the two sides to promote trade cooperation. "I think Vietnam has a very high reputation in Australia at the moment. We have many high profile trips to Vietnam to learn more about this country and strengthen our relationship. I think all of this will contribute to creating a good reputation for Vietnamese (products agriculture) in Australia", he emphasized.
Support for Vietnamese farmers
In the area of ​​agricultural products, Mr. Behzad Babakhani, Consul General of Canada in Ho Chi Minh City, said that Canada currently has many programs to provide expertise to Vietnamese exporters.
"We actually have projects in the Mekong Delta and some farms export to Canada and some other countries. Canada also provides technology, know-how and experience to help farmers grow dragon fruit or grapes, exports from Vietnam" , he said.
Ambassador Goledzinowski said that Australia currently has a team of experts to help Vietnam's agricultural industry develop more high-tech methods to bring produce to market and then export.
Promotion on digital platforms
The Government of Canada is looking at new opportunities for Canadian products through digitalization globally as well as in Vietnam. An important step forward for 2023 is the agricultural product promotion campaign "Canada – Fish La Da" in cooperation with the Shopee platform.
Determined to thrive on a digital platform, Canada also collaborates with Vietnamese culinary influencers to create secrets and special recipes for Vietnamese family meals using Canada's finest clean ingredients.
According to Mr. Jeffrey Lang, the Canadian side conducted a survey on awareness of Canadian products in the Vietnamese market prior to launching the campaign and will conduct further research afterwards to properly assess the effectiveness of the campaign.