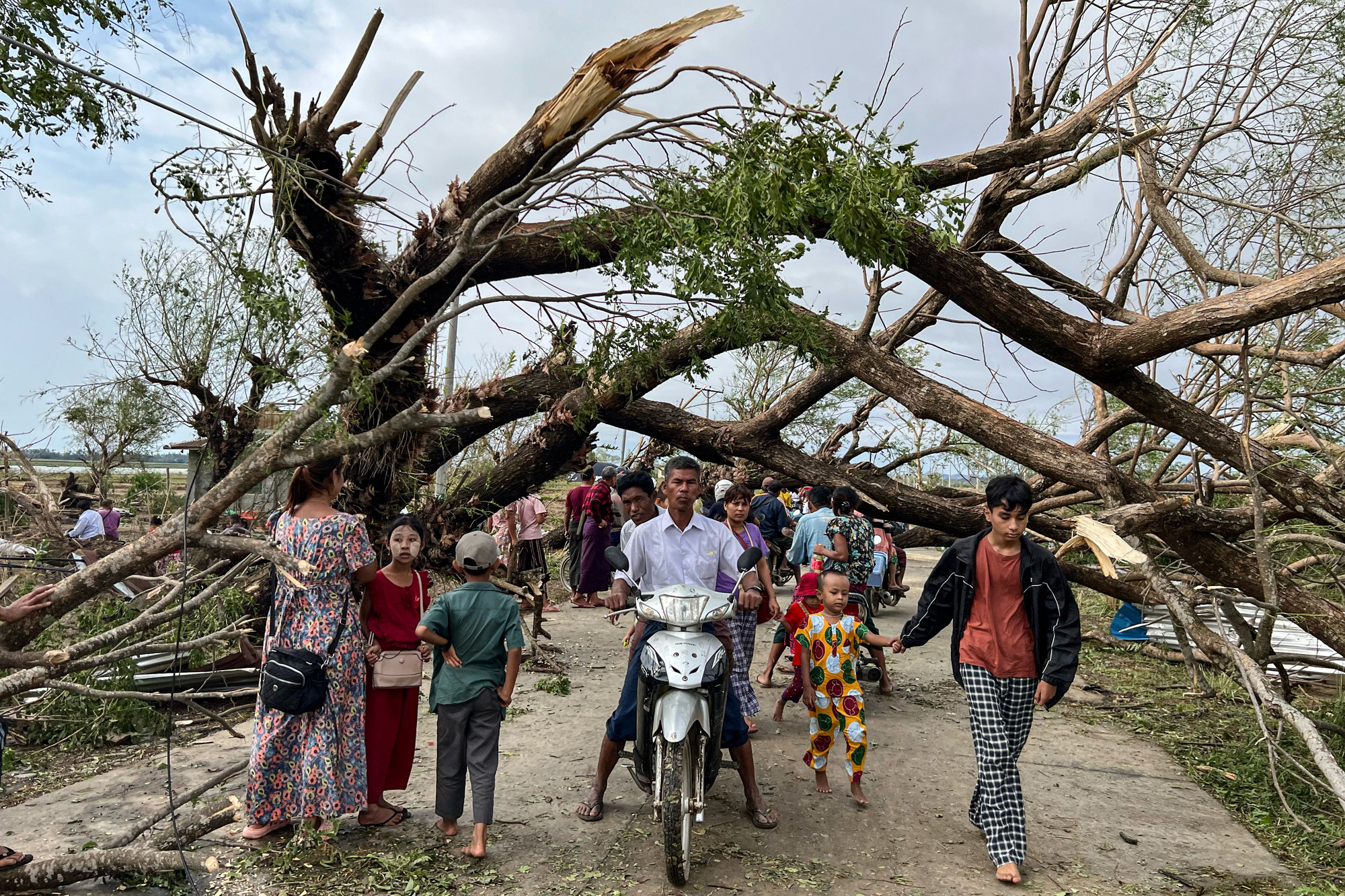 Trees fell after Typhoon Mocha in Myanmar on May 15 – Photo: AFP
Specifically, the WMO report on May 22 published statistics on 11,778 extreme weather-related disasters that occurred from 1970 to 2021. Disasters are on the rise.
More than 90% of people killed by natural disasters are in developing countries. "Unfortunately, the most vulnerable communities are impacted by weather, climate and water-related hazards," WMO director Petteri Taalas was quoted as saying by Al Jazeera radio.
However, the annual death toll has dropped dramatically, from over 50,000 a year half a century ago to over 20,000 a year in recent years, thanks to early warning systems and disaster management. In 2020 and 2021, approximately 22,600 people died from natural disasters worldwide.
Economically, the damage has multiplied and rich countries are most affected. For example, the United States suffered the most, losing about $1.7 trillion.
But in terms of the size of the economy, small countries suffer the most, while for most rich countries, disaster losses amount to less than 0.1% of GDP.
Last week, the WMO predicted a 66% chance that, over the next five years, the Earth's average temperature will be 1.5 degrees Celsius warmer than in the mid-19th century, reaching the limit set in the Paris agreement on climate changes. .
As a result, WMO aims to have access to disaster early warning systems for everyone in the world by 2027. To date, only half of the world's countries have such systems in place.
Half of the loss of life is in Asia
According to the WMO report, Asia faces more than 3,600 disasters, claiming the lives of almost 1 million people and causing economic losses of US$ 1.4 trillion.
Then Africa suffered more than 1,800 disasters and more than 733,000 deaths related to extreme weather. Nearly 1,500 disasters have occurred in the Southwest Pacific, killing 66,951 people and causing economic losses of $185 billion. South America had 943 disasters that killed 58,484 people and caused economic losses of over US$115 billion.
More than 2,100 disasters in North America, Central America and the Caribbean have resulted in 77,454 deaths and US$2 trillion in economic losses. Europe has witnessed almost 1,800 disasters that killed 166,492 people and caused economic losses of 562 billion dollars.