The image of rickshaw pullers – a means of transport powered by human force – is not always pleasant. In feudal and colonial times, rickshaws were widely used as a means of transportation for the elite and ruling classes. But few know that, in some parts of the world, this work has become a minor cultural trait that still holds.
The origin of rickshaws probably started in Japan with the name Jinrikisha (far human – vehicle powered by human power) around the 19th century. Before that, from the 17th century under the Tokugawa shogunate, rickshaws had Bolos were banned in Japan, then the popular means of transportation for the nobility was a palanquin.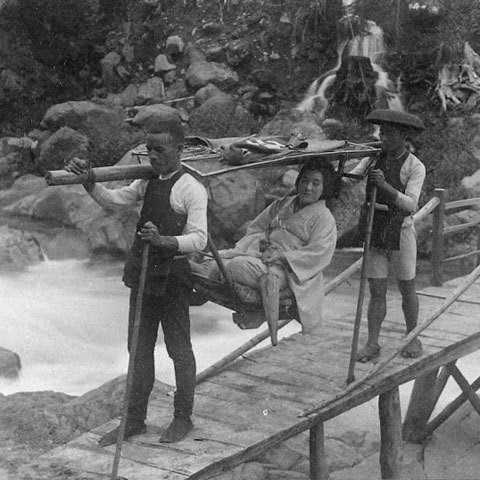 At the end of the Edo period and beginning of the Meiji period in 1868, the ban was lifted and almost immediately, in 1869, the rickshaw was invented in Tokyo. Today it is still unclear who actually invented it, although many theories have been put forward.
Anyway, nowadays it is still possible to ride a rickshaw in Japan in traditional tourist areas like Asakusa (Tokyo) or Higashiyama (Kyoto). Modern shafus (xa phu – like rickshaw drivers in Japan) also act as guides, often with cheerful and hospitable personalities.
To learn more about this special profession, Kokoro has an interview with Mr. Tsunenobu Taira, a shafu of the Ebisuya Company.
Hello, could you introduce yourself to the readers?
My name is Tsunenobu Taira! I have been working as a rickshaw driver in Ebisuya for over 10 years and I started this job in Kyoto.
Why did you decide to start this job?
There's really no reason to be too serious. I live in Kyoto near the Gion district. One day a friend and I were walking when we saw a trailer. My friend said, "This is the best job for you!" because I didn't have a job at the time. I figured it was something I could do and signed up for an interview the next day.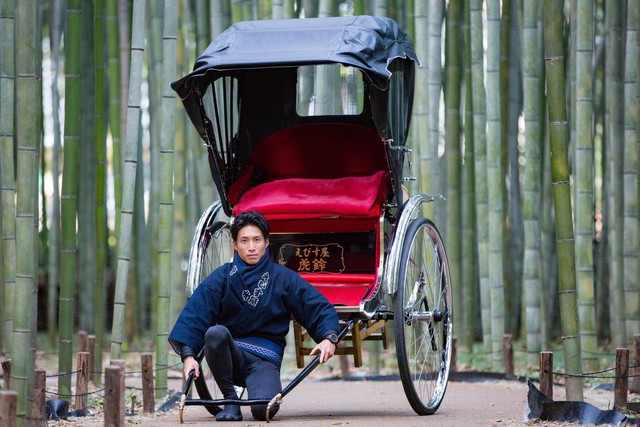 It turns out that it all started with a friend's joke?
Half joke, half real. Like "Let's do this, why not?". To me, it seems like a good job because it's good for my body and I want to lead a healthy lifestyle (although I don't like working out or running a marathon). But it looks good, you know! I wanted to do physical work, something different.
How to start as a rickshaw driver?
I started this work in 2008. I started working near Kiyomizu Temple, a place with very mountainous terrain. I'll go up the hill, down the hill every day. It is physically demanding work. But after starting to do this work I find it very fun, because after the trip the customer is very satisfied. It's very different from anything I've done so far. Before that, I had other jobs, like working in a restaurant, but I didn't feel like I was making customers happy like I do now.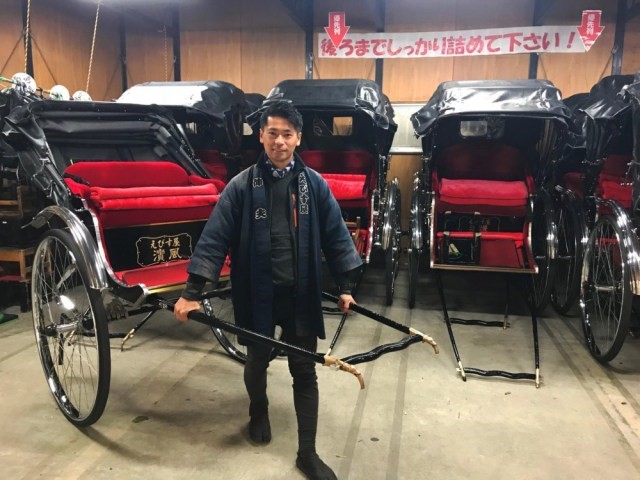 Mr. Taira in the company trailer garage.
How is a typical day for you?
It depends on the location, but in Asakusa we usually start at 9 am and finish at 4 or 5. The number of customers depends on the date; If it rains or snows, we won't have many customers. Normally, I mentor about a dozen people. The minimum trip is one kilometer and can be up to 2,3,4 hours or more.
We use pedometers and I take 30,000 to 40,000 steps a day, which is about 20 or 30 kilometers. Basically, my job is to run (laughs)! But I stop and explain each attraction or point of interest. I also take pictures of clients in beautiful places. Our main goal is to make people who come to Asakusa happier by giving them good memories of their trip to Japan and especially this neighborhood of Asakusa.
But he does all this by pulling really hard! By the way, how much does a trailer weigh?
A trailer of around 90kg does not carry passengers. If there are passengers, about 200kg. But you know, it's not as hard as it looks. In Asakusa, we currently have up to 5 female drivers (2020). They are a bit rare, so female drivers are very popular with customers (laughs).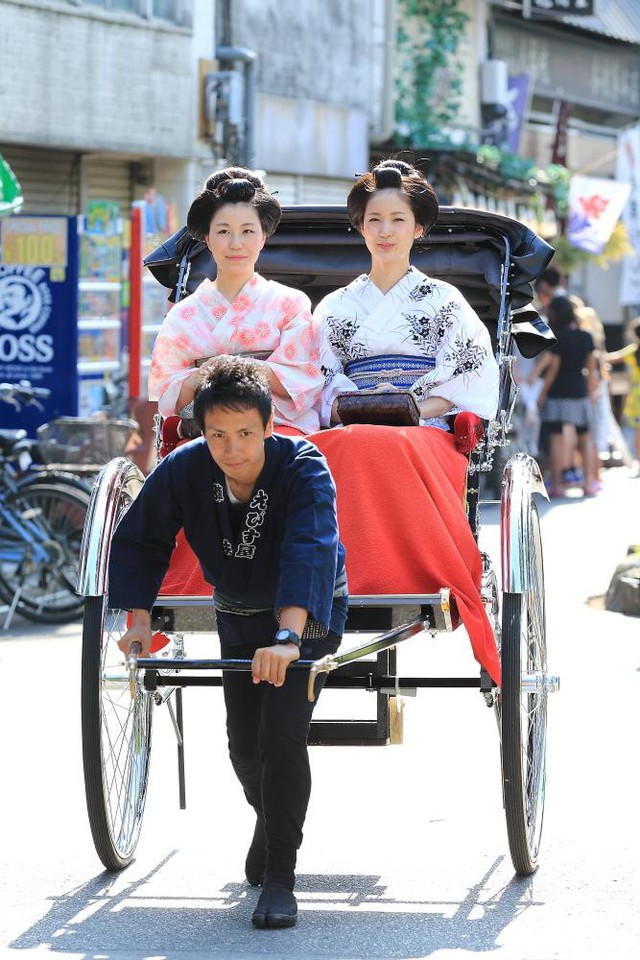 How much heavier can you pull?
About 260kg max… You know, a long time ago, all the riders were talking about this topic and sharing their stories about how much they pulled. Everyone is talking about 250 or 260kg. You know, a rickshaw is not very big, because it was made to transport Japanese people since the Meiji period (whose body is not very tall).
Sometimes (clients with big bodies) it's not easy to fit in. I remember one day I had two clients in Kyoto. I think they're twice as big as I am, and their hips are on the armrests! But I took a 30 minute tour with them and it was amazing. They are also very happy.
What are the good and bad sides of your job?
Working is pure pleasure! It's hard to explain to anyone who has never done this, but I'm very happy to serve a customer and deliver the most satisfying trip possible. Also, I love Asakusa and wanted to share stories about this neighborhood.
That's the good side. On the other hand, the bad sides… (He paused and thought for a moment). When it rains or snows, and we have to wait because there are less customers. However, in Asakusa, we never had a day without guests.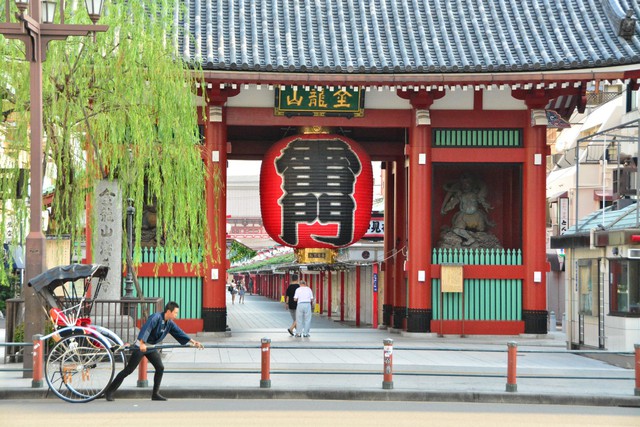 A rickshaw puller stands in front of Kaminarimon Gate, a symbolic site in Asakusa.
Speaking of the bad sides, it is a well-known fact that rickshaw driving was considered the most dangerous job during the Meiji period as there were many accidents. Is it still a dangerous job?
(Laughter) No, not at all! I know rickshaw drivers who are very proud of their work. They go from Ueno to Nikko (about 110 km) in 14.5 hours.
Nowadays, you have to go through training before becoming a rickshaw puller. You have to master the technique to be able to talk and run at the same time. In Ebisuya, training lasts for about a month, after which you have to pass two exams, a technical exam and a knowledge exam, before you are allowed to become a rickshaw driver.
The first thing you should do is stop the trailer in an emergency, because people, especially children, can suddenly get in the way. Also, when you turn left or right you should be able to see everything. You cannot be distracted even if you are talking to a customer and having fun.
What are the advantages of visiting somewhere in an RV?
I think riding a rickshaw will change your perception of the sights. You will remember all the places like Skytree or Kaminarimon and Asakusa, seeing them from the rickshaw is very different from walking around. Another thing is the people. Personally, I love to travel and visit. I don't always miss buildings and gardens and the like. But I miss the people. So the most important thing is communication. Have someone to talk to, in Asakusa, about the story or about yourself.
When he goes to work, he meets people from all over the world, the experience must be very rich. Do you have a specific experience that left a strong impression?
3 months after starting this job, I thought I was 25 or 26 years old… it was summer. And there's this family. An elderly lady with her daughter and son. At that time, I was near Kiyomizu Temple in Kyoto, and as I said, there was a slope. They told me "Just go up, just 10 minutes!". But actually everyone has to respect the temple, so we couldn't stop exactly in front of the gate and stairs (with the rickshaw). So I told them that if they wanted to get there quickly, they'd better walk.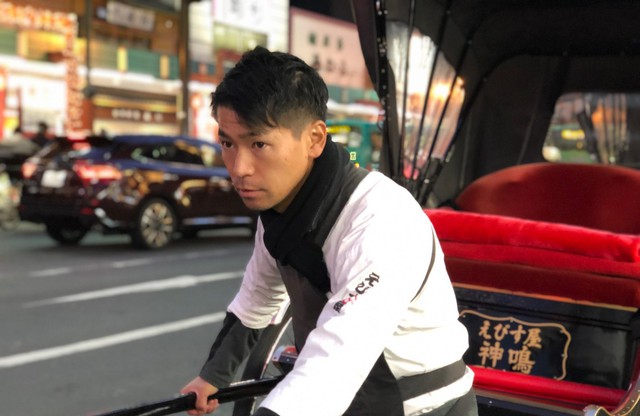 Mr. Taira while working.
But they said "No problem". Only the elderly woman took the rickshaw, which took 10 minutes. So I agreed: I pulled the cart, taught her how to make the Japanese peace sign when taking pictures, how to say hello… and then I said goodbye to her.
A few days later I received a letter from my daughter. She said, "Thank you so much for this day. My mom is really happy. She's actually in the hospital." She was very sick and in a lot of pain, but surgery or no surgery could not be decided, because she might not survive. The ratio is fifty to fifty. So they took her to Kyoto to help her feel better.
The letter said: "The rickshaw driver (me), was very happy, very energetic… And in the end she decided to have the surgery. Thank you very much." I read it and thought, "Oh my God. I have to take this job seriously. I changed her life." I will always remember this customer. I also have a photo. I sent a letter thanking her for the trip and wishing her all the best. But I don't know what happened after that.
I hope she's okay… But you know, every rickshaw puller has stories like that.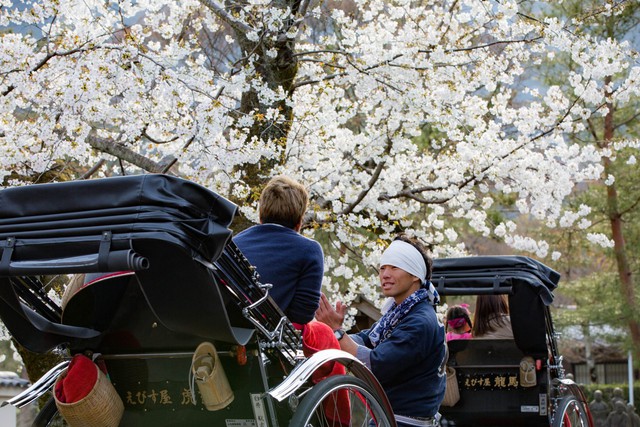 Do you have a final message for readers?
First, thank you very much for your interest in Japan and for reading this article. Japan has a very different culture, a lot of history and delicious food… The world is so big and there are so many interesting places around the world. I will be happy if you are interested in Tokyo and Asakusa. If that's the case then thank you very, very much. And I hope you have a lot of fun when you come to Japan and Tokyo one day.