Lillian Smith is a young American woman with a passion for traveling and discovering new lands. Last year this girl spent up to 8 months traveling the world, to countries like France, Morocco, Japan, Korea. The destination this time is Bangkok, Thailand. And to pay for her travels, Lillian decided not to rent a hotel. In return, she applied to a local resident's house and took on the job of cleaning the house, tending to the trees, and walking their pets. And so she didn't waste a penny to rent a room in every tourist destination.
Lillian Smith, a tourist from the USA, said: "In total, I saved about 11,000 USD on accommodation. If divided, I saved an average of 130 USD per night. This service is even more valuable in expensive cities like France or Japan. Because in these places hotel rent is much more expensive than in other areas of Southeast Asia. The money I save is spent on food, explorations, tours."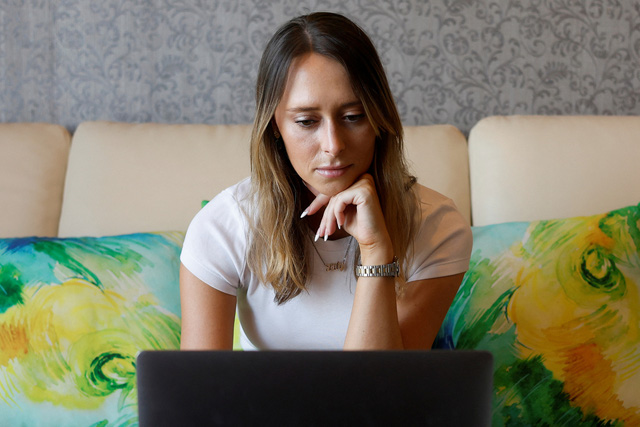 Tourist Lillian Smith uses the app to search for suitable homes to stay in her new destination. (Photo: Reuters)
Smith is already doing this free home care in 6 countries. The platform providing this service is TrustedHousesitters, based in the United Kingdom. The service says its registered members grew 12% to 160,000 in the last quarter alone.
Lillian Smith said: "I go on the app to search for suitable homes for location and length of stay, as well as the jobs I have to do to get free accommodation. Depending on the house, sometimes I just move in. clean, there are times when I have to take care of plants and pets."
Many travelers, like Lillian, are opting for cheaper alternatives to mainstream options like expensive accommodations and hotels. According to hotel and short-term rental analytics companies AirDNA and STR, average daily rates for short-term rentals and hotels in the US are about 37% and 19%, respectively, higher than in April 2019 As for displacement, many tourists even choose to travel a long time by road instead of taking a plane.
The trend of doing housework in exchange for accommodation is expected to become very popular. In Paris there is the Nomador platform, and in the USA there is HomeExchange, all with very high growth in membership, over 60% in the first quarter of the year.