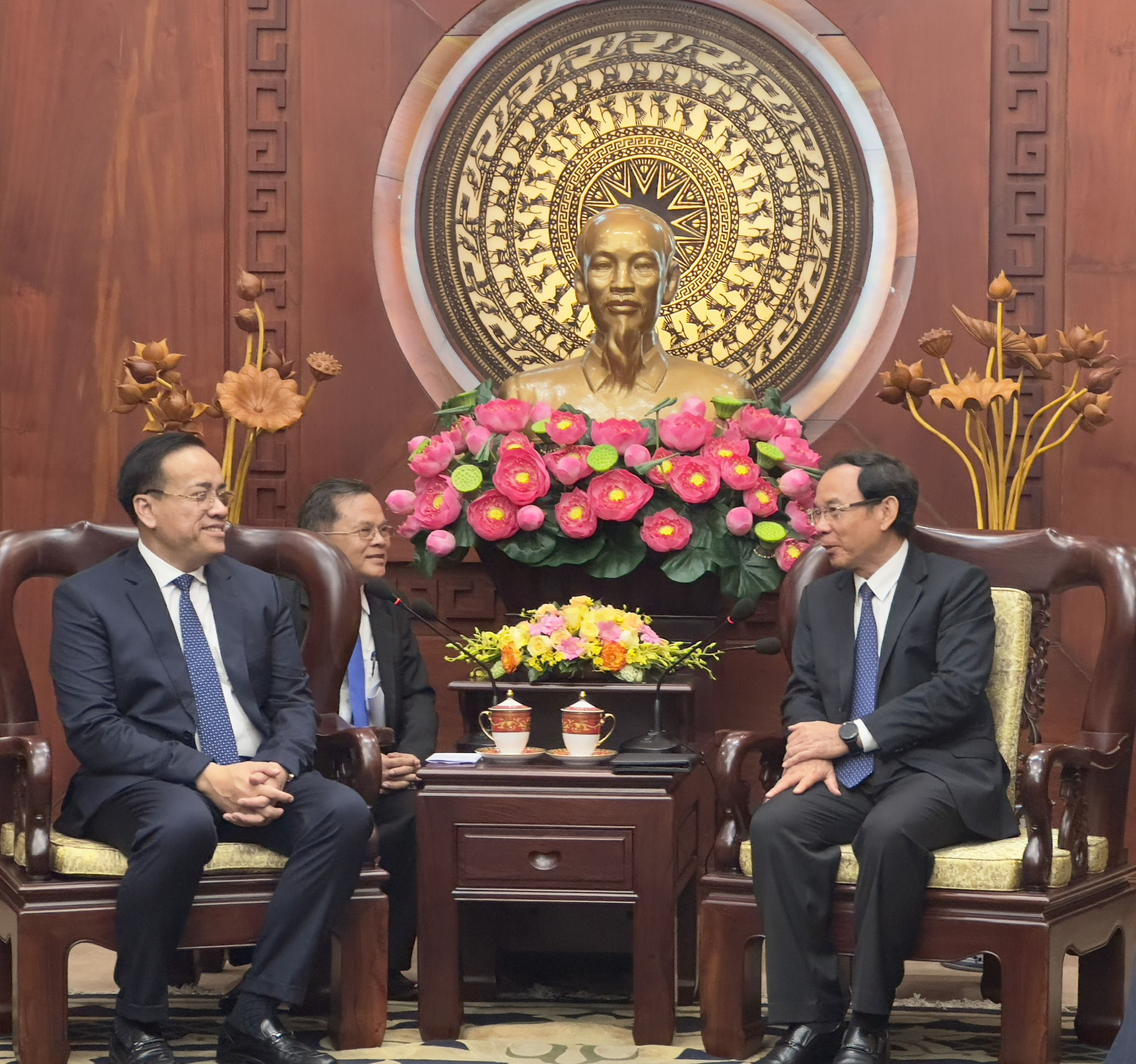 City Party Committee Secretary Nguyen Van Nen (right) welcomes Cambodian Consul General Chan Sorykan on the morning of May 24 – Photo: MINH KHI
At the reception, the new Consul General of Cambodia, Chan Sorykan, said that he officially received a new assignment in Ho Chi Minh City on April 11th.
Mr. Sorykan thanked Ho Chi Minh City for creating favorable conditions for Cambodian companies to operate, as well as Cambodian students studying in the city.
According to Mr. Chan Sorykan, bilateral trade between Cambodia and Vietnam in 2022 will reach 10 billion US dollars. This is the basis for actively strengthening cooperation between Cambodia and Vietnam, and also between locations such as Phnom Penh and Ho Chi Minh City.
In response, City Party Committee Secretary Nguyen Van Nen said that the two countries have gone through a long journey of 56 years to establish diplomatic relations (June 24, 1967 – June 24, 2023).
For the relationship between the two countries to have the potential and position it has today, many previous generations exchanged blood and bones to build. Therefore, the next generation has a duty to deepen the affection between the two countries.
Mr. Should said that the world is currently facing many difficulties and changes, but the two countries' solidarity can help each other overcome challenges and continue to develop. In which, Ho Chi Minh City is ready to follow the lead of the leaders of the two countries to promote cooperation.
He said that the concern of the current city hall is how to connect the young generations of the two countries, to understand the history and mission of their parents, thus developing a stronger relationship.
Mr. Should sends its best wishes to Prime Minister Hun Sen as well as Cambodian leaders. I wish Cambodia's upcoming elections a great success.
Trade cooperation between Vietnam and Cambodia
In 2022, Vietnam and Cambodia celebrated 55 years of establishing diplomatic relations. Since the official establishment of diplomatic relations on June 24, 1967, economic cooperation between the two countries has been gradually expanded.
So far, Vietnam has 188 valid investment projects in Cambodia with a total registered capital of USD 2.8 billion, maintaining its leading position in ASEAN and among the top 5 countries with the highest direct investment in Cambodia.
In the first nine months of 2022, Vietnam's trade volume with Cambodia reached nearly US$8.45 billion, an increase of 16.7% over the same period in 2021.
For Ho Chi Minh City, in October 2021, bilateral trade revenue between Ho Chi Minh City and Cambodia reached more than US$230 million, an increase of 12.7% over the same period last year; imports reached more than USD 35.7 million, an increase of 25.6% over the same period of the previous year.
As of April 2022, Cambodia has 12 investment projects with a total capital of US$3.04 million, ranking 53rd out of 116 countries and territories investing in Ho Chi Minh City.
For many years, Vietnam has always been the country with the highest number of visitors to Cambodia. In the first quarter of 2022, Vietnamese tourists topped Cambodia's tourism market list with over 46,000 visitors.