Having a garden full of trees and fruits is the dream of many people. Therefore, every time Nguyen Thi Thao (29 years old, living in Dak Lak) shares photos of his family's green garden, netizens leave many comments: "Dream garden", "So beautiful! A real sense of peace", " Looking at the pictures, everything is so simple, associated with such joy and happiness", "I imagine the clean, fresh air of the garden" ..
The garden is full of fruits
But nothing comes naturally, to own a garden like the present one, Thao and her husband have gone through many hesitations, difficulties and even moments when they want to give up.
Buying wasteland for gardening because I can only hold my phone in my spare time
Previously, Thao and her husband had a house in the city street, near the market near the school, so it was very convenient for business. But in return, the land is crowded with people, and the house is close to the house, so she always feels suffocated and cramped.
"I stay at home all day, my kids can't go out to run and jump because there's a big road in front of the house, the cars are noisy and dusty. In my free time, I just hold my cell phone, go up and down the house, life is very boring. Every day I hope time passes quickly by the end of the day. Also, I think life is very dependent on money, I have to buy what I want to eat, but I don't know if it's safe for my health or not", Thao recounts her previous life.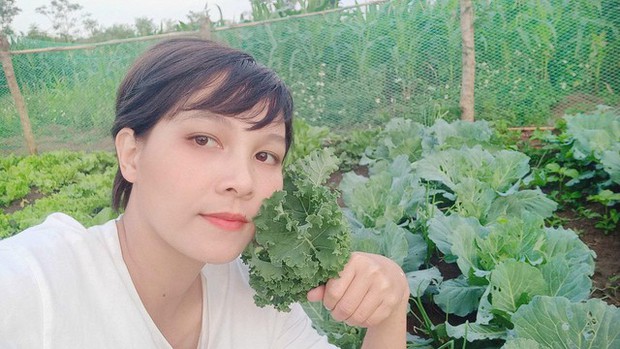 When they could no longer bear the suffocating life, Thao and her husband decided to move to a spacious place to do the things they love. However, it is not always possible to do it right away because the life and work that the couple has is also very convenient. She said:
"My husband and I have been thinking a lot because we cannot afford to buy a large and densely populated land, we can only buy land away from residential areas, few people pass by. With that, we will have to give up our existing business. But as they enjoyed a free and comfortable life so much, both took a risk and said to each other: 'let's do some farming, whoever hires can do it and earn money'.
After that, Thao and her husband sold the house on the street and bought a plot of land 3 floors wide (about 1,500m2). As this land has been abandoned for a long time, the dense undergrowth is like a forest, so the couple put all their work aside to clean it up. From cutting down trees, digging up roots, digging up soil to make roads, pulling electrical wires, building water wells, repairing the old owner's existing small house, … everything that can be done, both try to save money.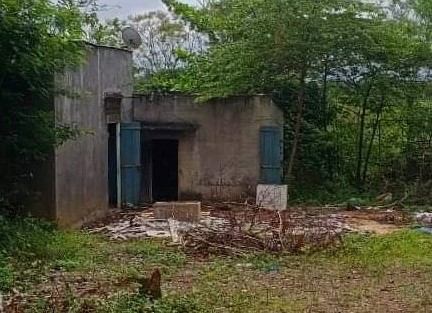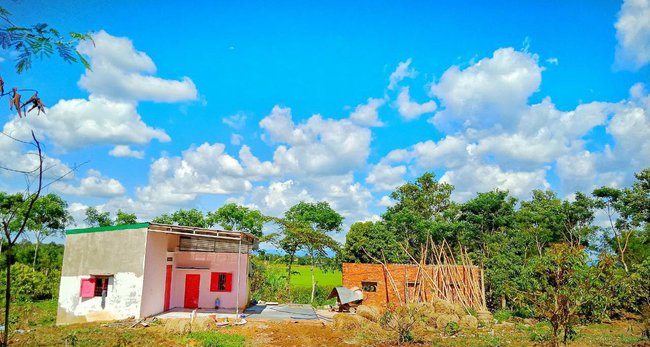 Small house in the garden before and after renovation
Dark from gardening, but I feel at peace
After the move, every day Thao and her husband improved the garden little by little, planting more trees to raise another child to have clean food for the family. Half specialize in growing long-term fruit trees and the other half in short-term crops such as vegetables and flowers.
"Now I rarely have to go to the market, only about 1-2 times a week because there are a lot of vegetables and chickens in the garden, so I can change meals continuously. In the old days, if you didn't go to the market that day, you wouldn't even have an onion stalk to cook that day. Thanks to this, the money spent is also reduced a lot."
When life is a little stable, Thao often shares photos of the garden and trees around the house on social media and is loved by many people, asking to buy fruits and vegetables. "If I have something at home, I sell it, so I also have a steady income from baby diapers. In addition, my husband also sells seasonal fruits. The couple's work and income only revolve around the garden, not being rich or having any money" – Thao answered a question about how to resolve the burden of food and money.
But like many people who decide to garden, the young couple's journey has not always been smooth. The garden is big, the work is so much that the grass doesn't stop growing. She confided a lot when it was sunny, just looking at the grass made me tired. "In addition, children are still small, they do not always sit well and let themselves work. So trees don't need to be planted to grow well, but they can encounter pests, disease and die. That's why sometimes it's boring, fortunately, husband and wife encourage each other to overcome" – added Thao.
As for Thao, the return to gardening has completely changed her. If the spirit is happy and comfortable, the appearance "goes down" so much. "I feel like I'm getting older and darker, to the point where I haven't been able to take pictures for a long time. My children are also black, but in return, mother and daughter are very happy and love this quiet life."
The rice and food trays are all from Thao and her husband's garden.