This Thursday afternoon (05/25), the Under-17 team under the guidance of coach Hoang Anh Tuan played a friendly against Kaisanan High School Club (Japan). This is the first match of a training trip that includes 4 friendlies in the Land of the Rising Sun to help Vietnam U-17 advance to the 2023 AFC U-17 Championship.
With a powerful attack, the U-17 of Vietnam played overwhelmingly against the Japanese team. As a result, the students of coach Hoang Anh Tuan won quite easily with a score of 3-1. Le Huynh Trieu was the highlight of the match with two goals, while the other was scored by striker Hoang Cong Hau.
Le Huynh Trieu is a young adult striker from Dong Thap Furnace, his strong kicks behind attackers. The striker has already shown his talent by wearing the under-16 shirt in Vietnam and promises to be the main striker for the under-17s in the next Asian tournament. However, Cong Hau also promises to be a powerful weapon in the hands of coach Hoang Anh Tuan.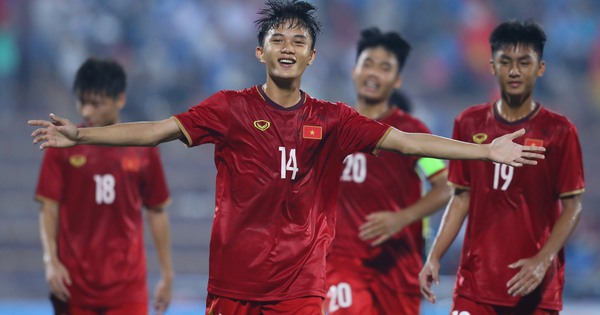 Vietnam U-17 had an impressive performance ahead of the Asian tournament
After the first victory against Kaisanan High School Club, Vietnam under-17 will have 3 more friendlies in Japan on May 28th, May 31st and June 2nd. Before that, Vietnam Under-17 also held a training session in Qatar, highlighting the 2-0 victory over the home team, with goals from Huynh Trieu and Cong Phuong.
The friendlies in Qatar and Japan will be a very important step in preparing Vietnam U-17 towards the Asian tournament (starting next July) – an arena where Vietnam U-17 should be in a very difficult group, together with Japan, India and Uzbekistan.
According to experts, the current under-17 generation has an impressive figure, with 15 players over 1.75 m tall, only 3 players under 1.69 m. According to coach Hoang Anh Tuan, in addition to the good body, the players are also improving professionally every day and this is the basis for the whole team to achieve good results in participation in the continental arena.