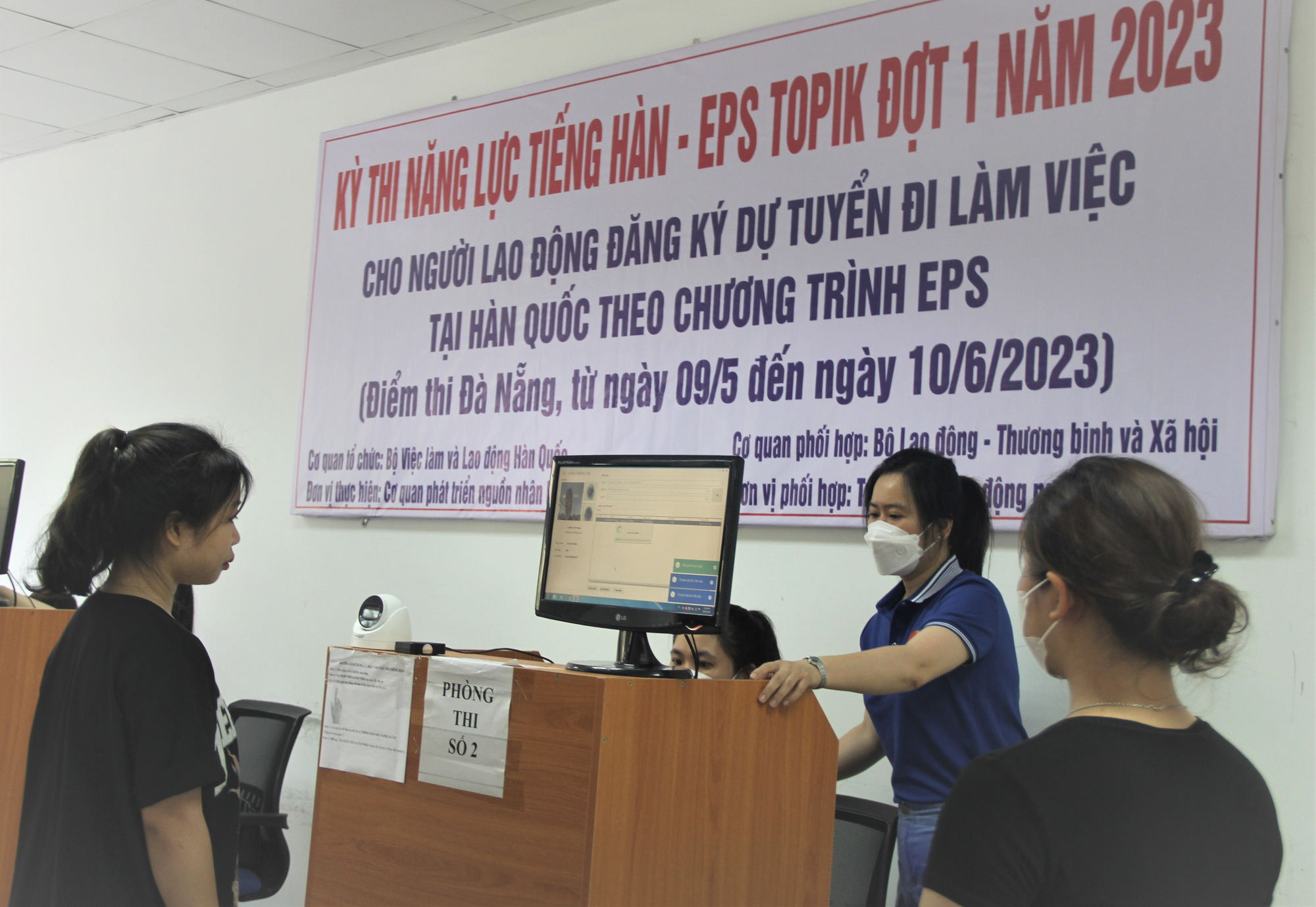 2023 first phase EPS program candidates in Da Nang, the highest test score with more than 23,400 registered employees – Photo: TRUONG TRUNG
Talking with Tuoi Tre, Mr. NGUYEN GIA LIEM – Deputy Director of the Overseas Labor Management Department (Ministry of Labour, Disability and Social Affairs) – said:
– Along with solutions to limit worker flight, we are negotiating with the Korean side to remove the request to suspend the recruitment of workers in 8 districts in 4 provinces.
many basic solutions
* With the information that Korea has temporarily stopped recruiting workers in 4 provinces, is there any solution to limit the situation of fleeing workers when the contract expires?
– We carry out many measurements synchronously, not only in the Korean labor market, but also in other markets. First, you need to do well in selecting and training workers before sending them out, from exams to foreign language training to post-employment orientation.
Coordinate with foreign partners to resolve emerging issues. In fact, there are also cases where, due to misunderstanding and discrimination, they escape to find new opportunities. The Overseas Labor Center, other units under the Ministry of Labour, Disability and Social Affairs, the Vietnamese Embassy in Korea and employment support centers on your side will coordinate regularly to resolve this issue.
It is important to propagate both in Vietnam and Korea. Information about host country policies and laws must be available to migrant workers and their families in order to complete their contract and return home on time. If you escape, you must voluntarily return to your home country to reduce illegal residency.
Korea has a contract extension policy, meaning that when you return home, you can still return to work with good compliance. In many cases, it is possible to switch visas for E7 workers, such as high-tech workers.
We forced the workers to go to Korea to deposit 100 million VND in the Social Policy Bank.
In addition, there are solutions to sanction administrative infractions and many other measures.
* Recruitment shutdown greatly affects people waiting for labor export in 4 provinces, how will this problem be resolved?
– We are currently negotiating with the Korean side to remove the regulation to stop recruiting workers in 8 districts and cities in the 4 provinces mentioned above because it is not suitable for the current situation. In the immediate future, in this first round of the EPS program, Korea is still enforcing the suspension.
I also just responded to the Korean press that it is no longer appropriate because it is a workers' right, it is not their fault that it is restricted. In addition, Vietnam's residence law is different from before.
By imposing this ban on local inhabitants, they can move their residence to another location because they have the right to reside in any part of the country, no one can forbid it, so it no longer fits.
Guidance to avoid disappointments
* The demand for labor export after COVID-19 is quite large. What are the requirements for the three biggest markets of Korea, Japan and Taiwan?
– For the Japanese labor market, they only recruit workers first, after recruited, they will train in languages, then go to Japan to study and improve their professional skills.
When coming to Japan, new workers can access technology transfers from their side, so they must register to participate and meet the requirements first.
With Taiwan, this market is not very strict about foreign language requirements, just need to know a little to communicate and serve the job. They are divided into groups of workers who are required to have a job and sometimes do not require work.
South Korea alone has many forms of cooperation, but following the EPS program it still accounts for the majority. You must study and pass the Korean language exam. For high-tech occupations, E7 visa workers must be certified and meet the requirements of the receiving party.
The first stage of the EPS program is a foreign language, the ability test is just for absorption and handling work, not very demanding.
* The number of companies from these three places located in Vietnam is also very large, how do you evaluate the opportunity to approach these companies after returning home?
– We thought about it when the employment contract expired. The Work Abroad Center is coordinating with units to help returning workers find jobs that match their skills and qualifications that were approached abroad.
How to find Korean or foreign companies in Vietnam with good earnings and conditions that suit your qualifications and skills.
We encourage it because, if done well, I believe many people also want to settle down with their lives and families in the countryside. Supporting workers after they return home is very important, it also avoids workers running away when their contract expires.
Da Nang is the highest test score in the EPS program
This year, there are 12,000 targets, but the number of employees enrolled for the first round of the EPS program for Korea is over 23,400 people. The contest will be held from May 9 to June 10 in Hanoi, Ho Chi Minh City and Da Nang. Wherein, in Da Nang, there are more than 12,000 competitors.
Deputy Minister of Labor – Disability and Social Affairs Nguyen Ba Hoan said that the Korean side has decided on the test results of the EPS program. "The exam is carried out very seriously, I confirm that no one can help workers pass the exam because everyone is released on the computer. Successful candidates can rest assured that they can go to Korea to work according to the procedures. other costs," said Mr. Hoan.