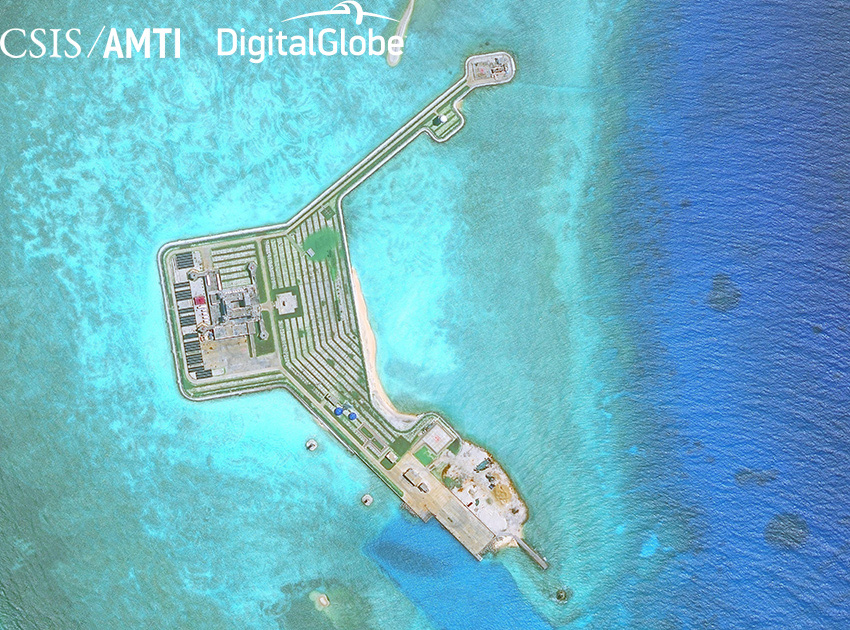 Gaven Reef, in the Spratly Islands, belongs to the sovereignty of Vietnam, but has been illegally occupied and claimed by China – Photo: CSIS/AMTI
On May 24, China's Ministry of Transport blatantly announced that it had deployed three marine beacons in the Spratly Islands under Vietnam's sovereignty.
Consequently, these illegal lighthouses were placed by the Maritime Safety Center under the Ministry of Transport of China near Gaven Reef, Sand Fish Reef and Three Head Reef. The Chinese side explained that these beacons aim to "ensure the safety" of the activities of ships passing through the area.
Responding to a question from Tuoi Tre Online about this on May 25, Vietnam's Ministry of Foreign Affairs Deputy Spokesperson Pham Thu Hang emphasized: "The installation of flags and beacons on entities in the Spratly Archipelago without the Vietnam's consent is a violation of Vietnam's sovereignty over this archipelago, so it has no legal value".
The representative of the Ministry of Foreign Affairs stated that Vietnam has complete legal basis and historical evidence to assert its sovereignty over the Truong Sa Archipelago as well as the Hoang Sa Archipelago in accordance with international law.
Therefore, Vietnam "requires the relevant parties not to take measures to complicate the situation, to respect Vietnam's sovereignty, to respect international law, the 1982 United Nations Convention on the Law of the Sea, the Declaration on the Conduct of Parties in East Sea (DOC), preserving the environment of peace, stability and cooperation in the East Sea".
China's move follows similar actions from the Philippines in mid-May.
The Manila government then launched navigation buoys with the national flag on them. Resources that the Philippines floats on include Ba Dau Reef in the Survival Cluster of the Spratlys.
During a press conference on 18 May, the Vietnamese Ministry of Foreign Affairs resolutely opposed actions that infringed on Vietnam's sovereignty in the Spratlys.
Vietnam's sovereignty over Truong Sa and Hoang Sa is in accordance with international law
In recent times, many countries have taken unilateral measures in the East Sea, infringing on Vietnam's sovereignty, sovereign rights and jurisdiction. These movements have always been opposed by the Vietnamese Ministry of Foreign Affairs and asked to stop and not be repeated.
Vietnam also asserted its sovereignty, sovereign rights and jurisdiction in the waters of the East Sea, as well as the two archipelagos of Hoang Sa and Truong Sa established under international law.
The Ministry of Foreign Affairs stated that Vietnam always closely monitors the situation and takes measures in accordance with international and national laws to guarantee Vietnam's legitimate and legitimate rights and interests.