The above opinion was shared by Prof. Associate Dr. Nguyen Xuan Thanh, Director of Secondary Education in the program "Training Rapporteurs to Train Teachers to Use Textbooks for Grades 4, 8 and 11 Canh Kieu Book Sets". may 25th.
In the training session, Mr. Thanh echoed the editors' and editors-in-chief's note: "If you want to change students' ability, teachers need to innovate teaching methods." Active teaching methods are specific, detailed instructions in the new general education curriculum.
Teachers participate in training on the use of new textbooks.
The Ministry of Education and Training has also repeatedly issued guidelines on these methods for teachers to easily apply. In it, the teacher plays the role of organizing teaching and guiding the student. And the children do the task of reading the materials, exchanging with teachers and friends. Therefore, when designing lesson plans in accordance with new textbooks and general education programs, teachers should pay attention to this spirit and method of teaching, suggested the Director.
Many teachers who prepare lesson plans just generally write "equipment for teaching today's lesson, including: textbooks, pictures, graphics …". If so, it can be applied to hundreds of lessons in different subjects. He noted that when preparing lesson plans, they need to be detailed, such as the content of lesson A using accompanying illustration A, lesson B with picture B…
According to this leader, the lesson plan is a very important document to unfold the content and knowledge of the lecture. Teachers are based on the requirements to be met according to the curriculum structure to organize the knowledge in the textbooks accordingly. "During the test, I once saw a very funny English lesson plan. This teacher composed up to 40 slides (pages) of teaching presentations in a 45-minute lesson, that is, about 1 minute/slide. be taught," Thanh said.
Taking part in the training, the Deputy Minister of Education and Training, Nguyen Huu Do, said that, following the project to reform general education curricula and manuals, it is the publishers whose manuals are selected by the localities, a service to be coordinated with the Ministry of Education and Training, local education and training sectors to organize training courses on the use of textbooks for teachers.
Thus, publishers are coordinating with the Ministry of Education and Training to organize training for reporters, selected among specialists and scientists who are directly involved in compiling programs, and editors of books, didactics, … for reporters.
Deputy Minister Do emphasized that reporters are people selected from among experts, scientists, people directly involved in compiling the program, textbook editors, etc. teach in schools from the 2023-2024 school year.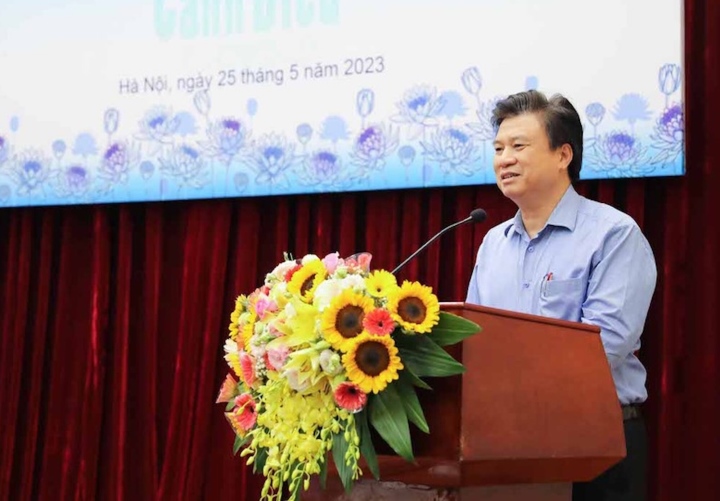 Deputy Minister of Education and Training Nguyen Huu Do.
To bring new textbooks to teaching and learning activities in general education institutions, training teachers in the use of textbooks is a fundamental and decisive step.
Therefore, it is necessary to train in the spirit that all reporters understand this deeply, from the idea of ​​building lessons that have been tested and guaranteed to reflect the spirit of the educational program popularized in the book," said Deputy Minister Nguyen Huu Do.
According to the Deputy Minister, the Kite Book series has already selected excellent specialists and after completion of training, these specialists will be held in the localities for teacher training.
Canh Kieu textbook set under the new general education program by 4 units, including: University of Pedagogy Publishing House, Ho Chi Minh City University of Education Publishing House, Hue University Publishing House and Investment Company Publishing – Vietnam Educational Equipment (VEPIC) cooperates , organizes the compilation and publication.