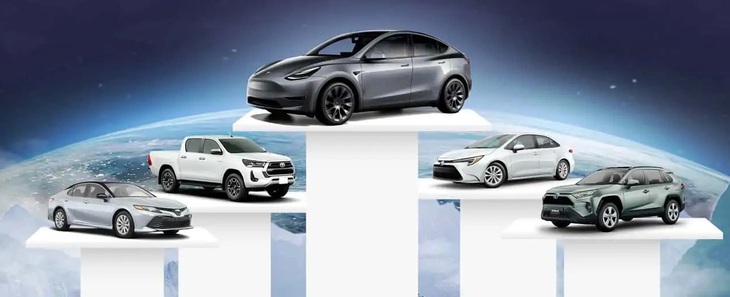 In the first 3 months of 2023, for the first time in history, an electric car model rose to the number 1 position in sales globally – Photo: Motor1
According to a survey by JATO, a UK-based automotive research and analysis company, in the first quarter of 2023, electric vehicles rose to the number one position in the world for the first time. The specific name is Tesla's Model Y mid-size SUV.
This information certainly leaves Mr. Elon Musk, CEO of Tesla, happy. Because in August 2022, the American billionaire promised Tesla shareholders that the Model Y would become the best-selling car in the world by 2023. This goal was considered too optimistic.
In 2022, Model Y sales reached 747,500 units, up 91% from 2021, but still behind two Toyota models, Corolla (992,000 units) and RAV4 (1,016 million units).
However, a series of price cuts combined with Tesla's efforts to expand its influence globally put the Model Y in first place.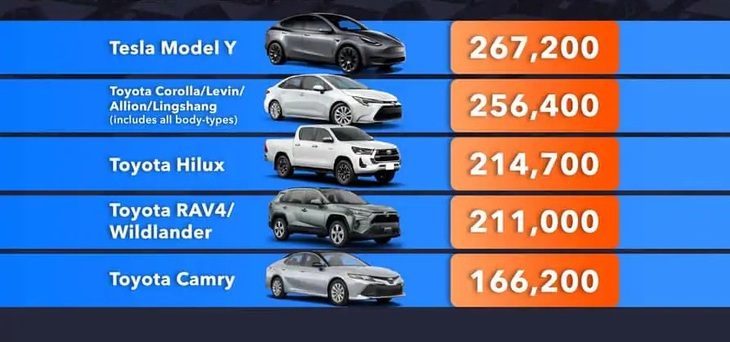 5 best-selling cars in the first quarter of 2023 – Photo: Motor1
Specifically, in the first quarter of 2023, the Tesla Model Y sold 267,200 vehicles, equivalent to a 69% growth compared to the same period in 2022, which was already quite impressive. All three of the world's biggest car markets, China, US and Europe, are very fond of the Tesla Model Y.
Meanwhile, the Toyota Corolla showed signs of decline, reaching just 256,400 sales. Hilux reached 214.7 thousand vehicles. The RAV4 dropped to 4th place with 211,000 units delivered to customers, and finally the Camry with 166,200 vehicles.
But to be fair, the Tesla Model Y is just a "mutation phenomenon" when all 4/5 of the best selling models in the world are still internal combustion engine cars.
In order to maintain the No. 1 position in sales, the Tesla Model Y needs to do more. Currently, the US electric car company has great influence in developed markets such as Europe, North America and China, and it needs to rapidly expand to developing countries and regions, if not, electric car companies.