Reuters said the incident happened at 12:45 pm on May 26 (local time) on an Asiana Airlines flight. The Airbus A321 carrying 194 passengers took off from Jeju Island and experienced problems preparing to land at Daegu Airport.
"A passenger sitting near the left exit door removed the cover and pulled the lever, causing the door to open at a height of about 200 meters above the ground. Passengers were wearing seat belts at that time" – person " No one was injured in the incident, but nine people were hospitalized with difficulty breathing," an Asiana Airlines spokesman said.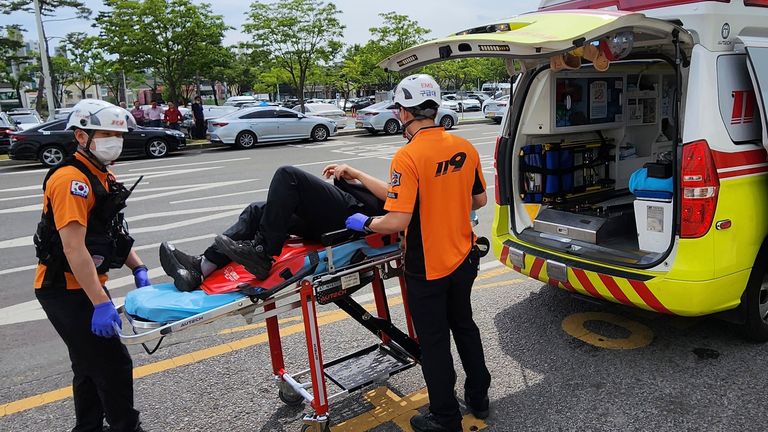 Rescuers transfer a passenger on a stretcher to an ambulance during an emergency door opening on a plane in Daegu. Photo: AP
The flight had 48 middle and high school students en route to attend the national sports festival in the city of Ulsan, about 70 kilometers southeast of Daegu. Of the nine victims admitted, eight were students.
"Everything was chaotic. People sitting near the exit seemed to faint one after another," a 44-year-old passenger told Reuters along the aisle. In my head, I thought the plane was going to explode and I was going to die. ."
Another parent on the same flight shared: "The children were shaking and crying in panic. The children sitting near the exit door were probably the most shocked."
Another witness described the man looking like he wanted to jump out after opening the door: "The flight attendants shouted loudly, calling for other passengers to help grab him and pull him inside."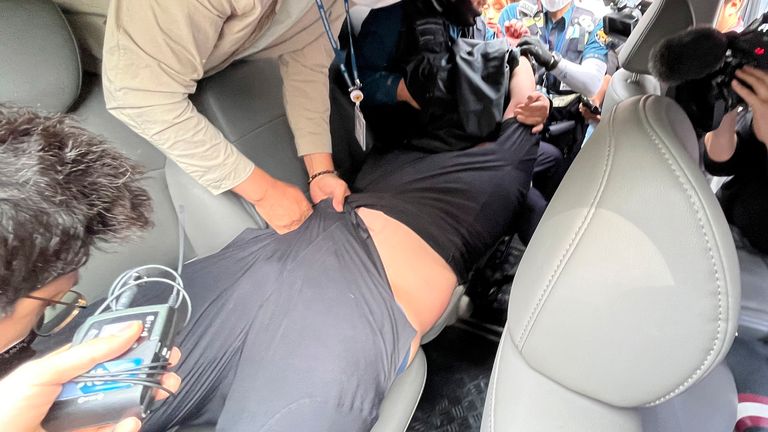 Plainclothes police arrest a passenger opening an emergency exit at Daegu International Airport. Photo: AP
South Korean police arrested and questioned the passenger. Initially, it was determined that the passenger was traveling alone and was not intoxicated when he was arrested.
"It's very difficult to have a normal conversation with the passenger," said one officer. "We will investigate the motive and punish this person."
Bang Hung