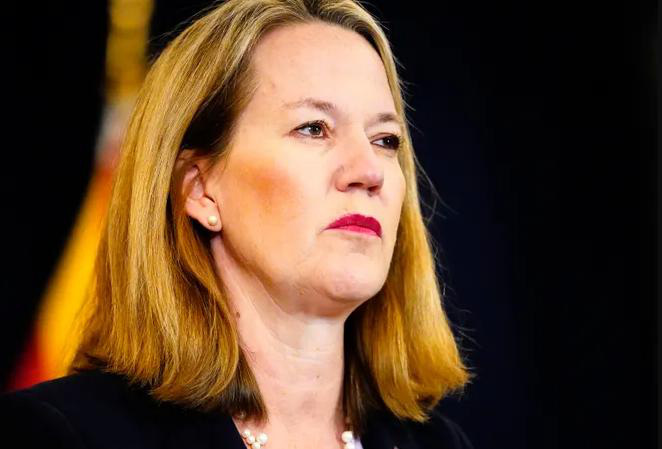 Arizona Attorney General Kris Mayes – Photo: THE REPUBLIC
According to the AP news agency, the lawsuit over this 141-page automated call has been filed in the district court of Phoenix, Arizona, where Avid Telecom is located.
The company's owners are Mr. Michael D. Lansky and the company's vice president, Ms. Stacey S. Reeves.
Robocalls are telephone calls that use a computerized autodialer to send pre-recorded messages to the telephone user.
New York Attorney General Letitia James stated: "Americans are fed up with their phones constantly ringing with fraudulent automated calls. Senior citizens and vulnerable consumers have been robbed of millions of dollars because of these illegal automated calls."
Arizona Attorney General Kris Mayes said that nearly 197 million automated calls were made to phone numbers in Arizona between December 2018 and January 2023.
The lawsuit alleges that Mr. Lansky and Mrs. Reeves violated the Telephone Consumer Protection Act.
According to the charges filed in court, the Avid Telecom Company allowed fake callers to use invalid identification numbers to make 8.4 million calls impersonating governments, law enforcement agencies and private companies.
The complaint also alleges that the company sent or transmitted fraudulent calls on behalf of the Social Security Administration, Medicare, Amazon and DirecTV, as well as car warranties, jobs and reduced card interest rates.
Neil Ende, legal counsel for Avid Telecom, said, "Contrary to the allegations in the complaint, Avid Telecom operates in compliance with all applicable state and federal laws and regulations."
The company said it has never been found by any court or regulatory body to transmit illegal traffic and is ready to meet with attorneys general, as it has done many times before, to demonstrate its good faith, will and legal conduct.
Robocalls are also an issue in the recent US elections. During the 2020 election, voters across the United States received anonymous automated phone calls in the weeks leading up to Election Day urging them to "stay safe and stay home".