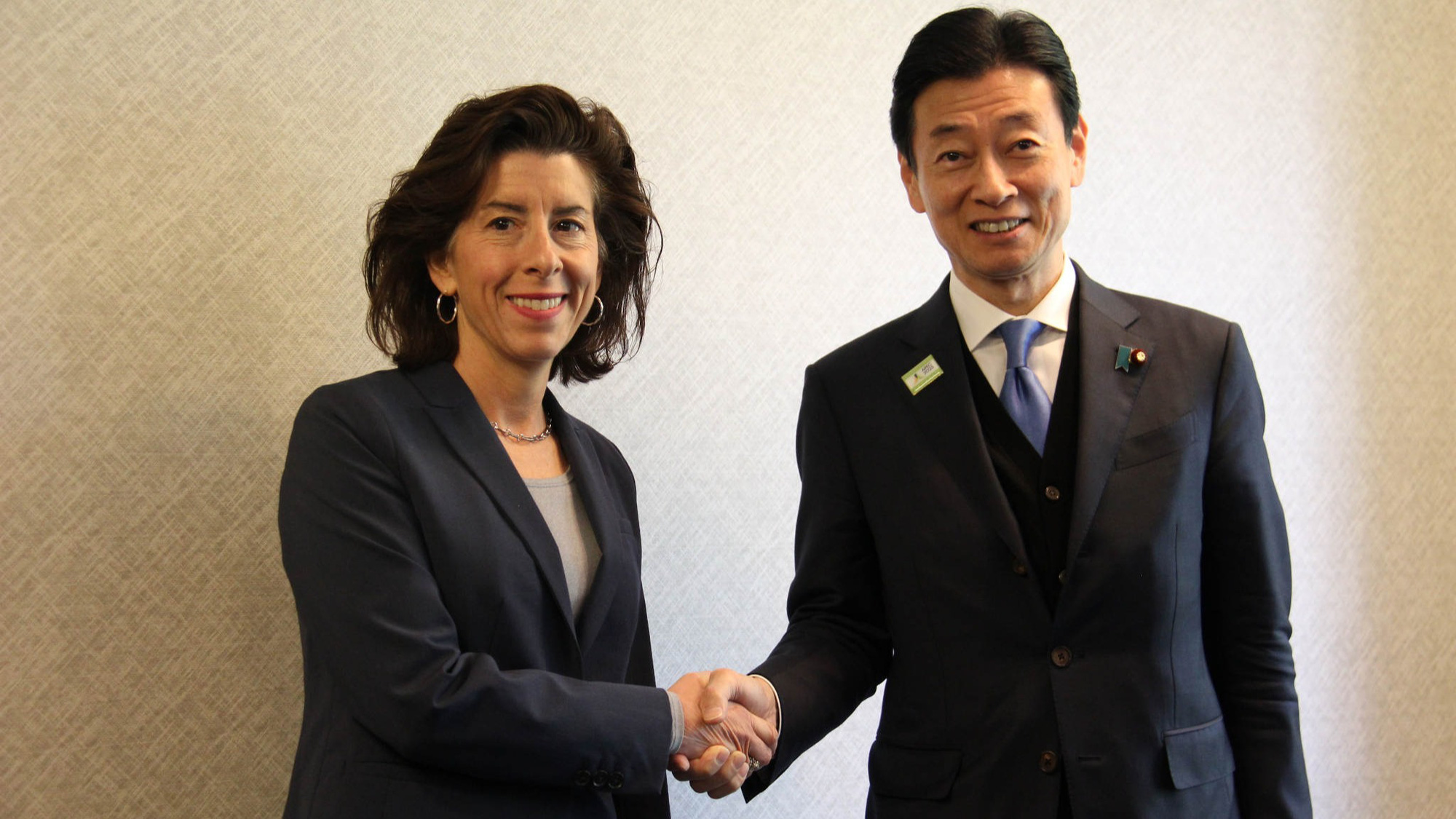 Japan's Economy, Trade and Industry Minister Yasutoshi Nishimura (right) meets with US Commerce Secretary Gina Raimondo in Detroit on May 26 to discuss chip cooperation.
In a joint statement on May 26, the two allies agreed to intensify cooperation between research and development centers in the field of chips.
Accordingly, the United States and Japan will work together "to identify and address the geographic concentration of production that undermines the resilience of semiconductor supply chains."
The two countries are also committed to strengthening supply chains, collaborating with emerging and developing countries.
Additionally, the collaboration spans the field of quantum computing and further discussion of artificial intelligence.
The statement was made after Japan's Minister of Economy, Trade and Industry, Yasutoshi Nishimura, met with US Secretary of Commerce, Gina Raimondo.
The shift comes as Washington and Tokyo seek to reduce China's influence and work together to expand chip production to ensure economic growth.
Faced with concerns about Beijing's growing technological prowess and technological constraint on the technology supply chain, the United States, Japan and other members of the G7 group of countries agreed last week to "reduce … the risk", but not to separate from Beijing.
According to Reuters news agency, Japan has established a new chip maker, Rapidus, and the maker is working with American company International Business Machines to develop modern logic semiconductors.
Tokyo also supported US memory chip maker Micron Technology to expand production in Japan.
Since the beginning of this year, Japan, along with the Netherlands, has also agreed to join the US in implementing export control measures aimed at restricting the sale of certain chip-making tools to China.
According to the Nikkei, starting in July 2023, Tokyo will add 23 chip production equipment to the list of controlled exports to China.
In response, China criticized this measure for not following international free trade and affecting the interests of companies in both countries, as well as the semiconductor supply chain.
Earlier, Beijing complained to the World Trade Organization (WTO) about chip-related export restrictions against China.