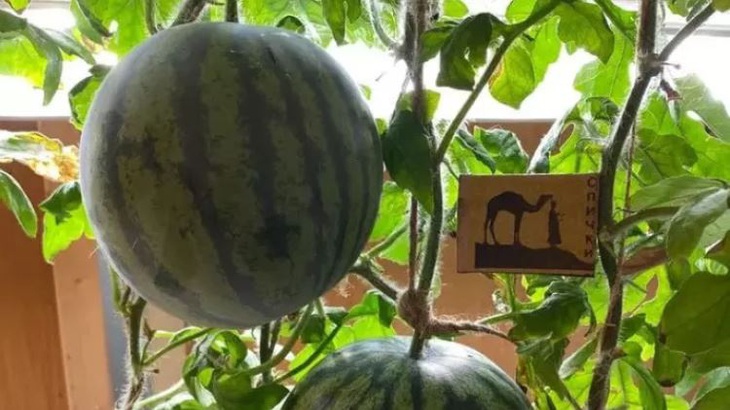 The above information was announced by Russia's Arctic and Antarctic Research Institute (AARI), as reported by Russia Today radio on July 31.
Vostok Station is a Russian research station that operates throughout the year at the Pole of Cold, the coldest place on Earth with a recorded minimum temperature of −89.2 °C.
"The results are impressive. We have grown watermelons at the South Pole in extreme conditions. The best of Antarctica. It tastes no less than the ones we have here," said Andrey Teplyakov, principal geophysicist at AARI and project leader at the Vostok station. Home! Here watermelons are up to 13 cm in diameter and 1 kg in weight."
This watermelon experiment is a collaborative project between AARI and the Institute of Agricultural Physics and Biomedical Problems of the Russian Academy of Sciences.
AARI states that favorable conditions (such as temperature and air humidity) for watermelons were created by the scientists with the help of a "Plant Engineering Complex" – a combination specially designed for the Vostok station by the Agricultural Physics Institute.
"When growing plants, people use soil substitutes, nutrient solutions and specially selected lighting. Two early-ripening varieties of watermelon – have the ability to adapt to conditions of low atmospheric pressure and lack of oxygen. – Planted from the beginning of April.
The flowers are pollinated by hand in late May. By July, the polar explorers were able to taste the first watermelons. The entire process took 103 days," AARI reported.
AARI director Alexander Makarov said that in addition to the scientific and practical benefits of keeping fresh fruits and vegetables, the joint project has "many other important benefits".
"The greenhouse at the station has a positive effect on the emotional state of polar explorers," said Alexander Makarov.
Makarov said: "The introduction of the method of planting trees at all Russian polar stations has been discussed for a long time, but this requires accurate calculations of the effectiveness and cost of the project."
The experiment, called "Plant", was carried out at Vostok station in February 2020. Since then, scientists have successfully studied systems for growing 80 types of vegetables, including tomatoes, peppers, dill, spinach, collard greens, and others. The next goal of the scientists is to develop techniques for growing raspberries, blueberries and strawberries.
(tagstotranslate) nga