According to the Food and Agriculture Organization (FAO) of the United Nations, world rice prices in July were 19.7% higher than the same period last year, reaching the highest level since September 2011. The biggest price increase came from Thailand – the world's second largest rice exporter.
One of the main reasons cited by FAO is India's ban on export of common rice from July 20 to curb food inflation in the country.
However, the share of common rice in rice exports is only a fraction, as India accounts for more than 40% of the global rice trade, "raising concerns about food security for a large segment of the population." According to the world FAO.
The next reason is extreme climate. "Concerns about the potential impact of El Niño have pushed prices higher," the FAO report said.
Recently, the Thai government recommended that farmers reduce rice crops due to the growing concern of water scarcity. The price of Thailand's 5% broken white rice – considered Asia's benchmark rice price – soared this week to $648 a tonne.
El Nino – which is forecast to intensify in the last months of the year – could raise risks to global production in major rice reserves in Asia such as Thailand, Pakistan and Vietnam.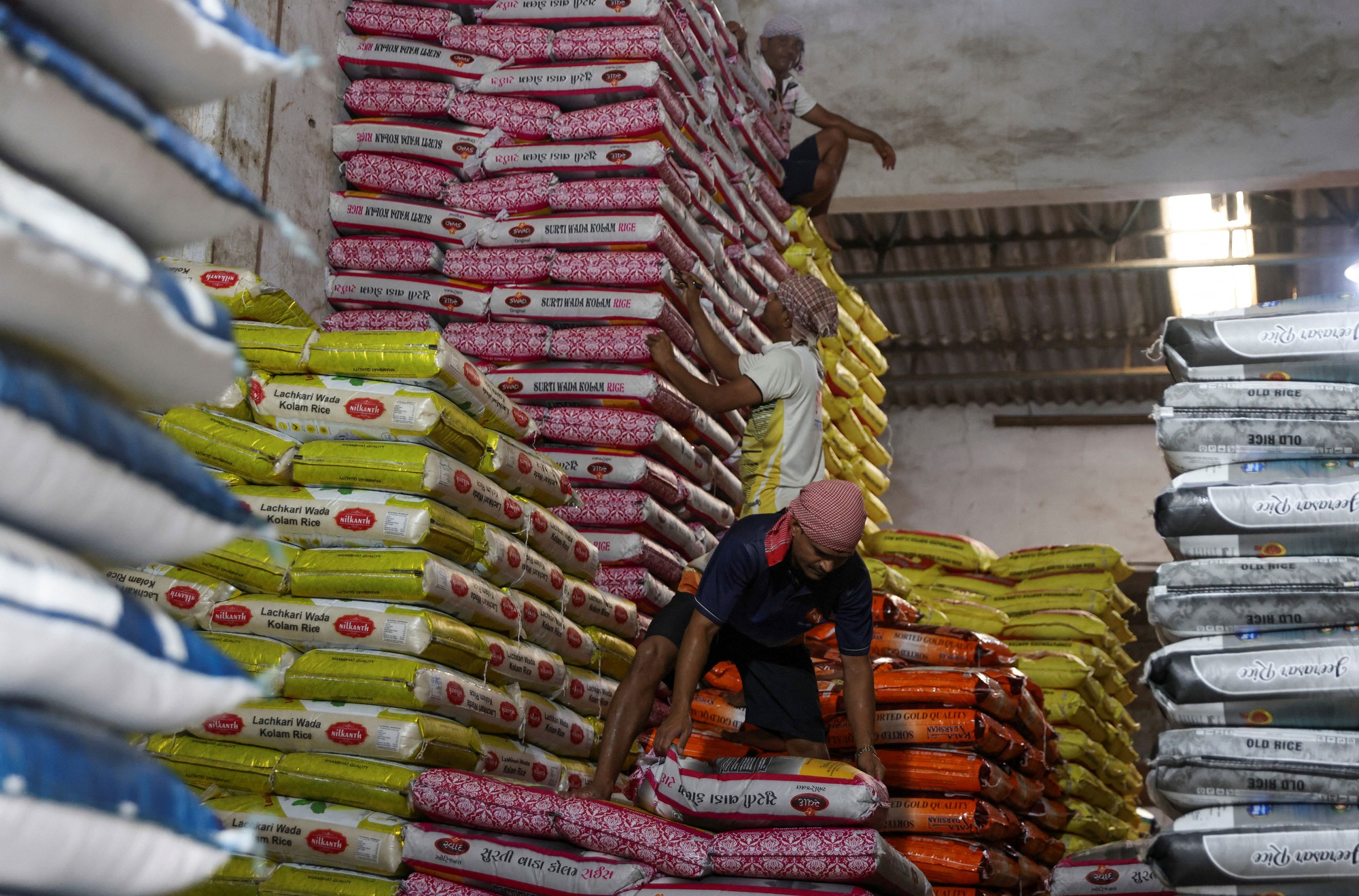 Workers work in a rice warehouse at a market in Navi Mumbai, India on August 4. Photo: Reuters
"Over the next few months, the direction of global rice prices will be determined by the influence of El Nino," Oscar Tjakara, senior analyst at Rabobank Global Food and Agriculture Bank, told the channel. cnbc,
Meanwhile, Mr Samarendu Mohanty, Asia Regional Director, International Potato Centre, said that if importing countries try to stockpile rice to ensure food security and other exporting countries crack down on exports, rice prices will go up. There may be more.
theo BloombergRice is a particularly important staple food for billions of people in Asia and Africa, accounting for up to 60% of total calories in diets in Southeast Asia and Africa, and even up to 70% in some countries such as Bangladesh. The latest price hike has added to pressure on global food markets that are already grappling with inclement weather and escalating conflict in Ukraine.
Mr. Peter Timmer – Professor Emeritus at Harvard University, food security expert – forecasts that rice prices could rise to USD 100/tonne in the next 6-12 months. To ease price pressure, there is a need for coordination with the government's tighter price control measures and subsidy policy, said Chua Hak Bin, senior economist at Maybank Investment Banking Group (Singapore). Food in countries that consume a lot of rice.
Not just rice prices, analysts are warning of a new era of volatility in global food prices.
sheet wise the new York TimesThere are many other factors affecting food prices in general, including rising labor costs as labor prices try to keep up with inflation. Food producers may also raise prices further to increase profits. Compared to the beginning of 2020, food prices have increased by almost 30% in Europe and 23% in the US.
Rising prices and food system disruptions primarily affect farmers and people in low-income countries, and leave the world vulnerable to future instability. According to the United Nations, more than 700 million people faced hunger last year and 2.4 billion people did not have access to enough and nutritious food throughout the year.