The meeting took place on 10 August at the CPP party headquarters in the Chamkar Mon district of the Phnom Penh capital under the chairmanship of party chairman and outgoing Prime Minister Hun Sen.
Days after the king of Cambodia appointed Hun Manet as the new prime minister, Hun Sen released a photo of the new cabinet headed by Hun Manet.
A series of photographs of a meeting between outgoing ministers and their successors in the new government was posted by Hun Sen on Telegram. In particular, they contain a photo of the new Prime Minister Hun Manet, along with about 30 new cabinet members.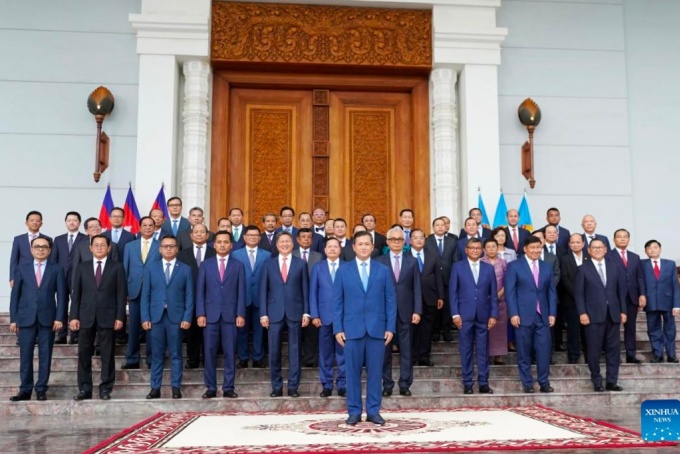 Succeed Prime Minister Hun Manet (first) and new cabinet members in Phnom Penh on 10 August. Photo: Xinhua News Agency
Prime Minister Hun Manet said that the most important factor in the transition period is that the CPP must retain its past, present and future victories, so that the party can maintain internal unity and solidarity.
khmer times Hun Manet later commented on social media about photos of Hun Sen meeting with members of the old and new government as CPP chairman.
The ruling CPP party won a landslide victory in the July parliamentary elections, winning 120 out of 125 parliamentary seats. Mr. Hun Sen said that the percentage of voters who voted for the CPP shows that they have confidence in the ruling party and have chosen Mr. Hun Manet as the next leader.
On the same day, Mr. Hun Sen shared that he would still serve in other positions until at least 2033.
According to rules, Hun Manet, 45, must pass a vote of confidence in the National Assembly on August 22 before he can officially take power.
After stepping down as Prime Minister, Mr. Hun Sen is expected to be appointed President of the Privy Council of Cambodia and take over as President of the Senate. As Chairman of the CPP, Mr. Hun Sen will continue to be the policy director of the new government.
Bang Hung (according to the Khmer Times, Xinhua news agency)