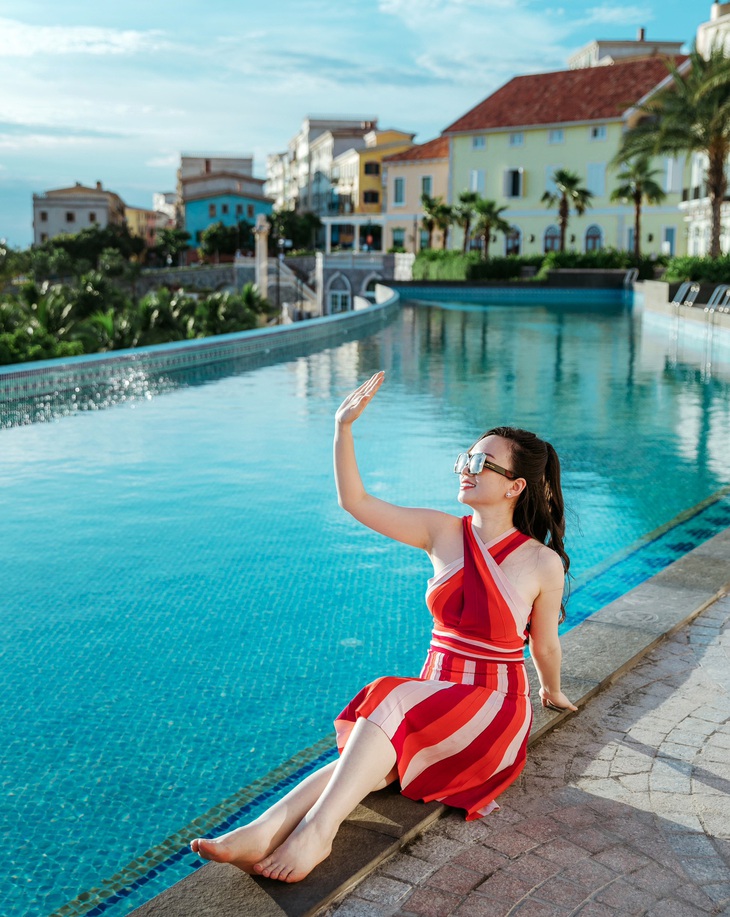 "At any age, we can shine in our own way. As long as you stick to the goal set, you can surely become the beauty queen of your life" – Ms. Do Thi Nam Phuong (lives in Ho Chi Minh City Hai) shared it on Facebook on his 33rd birthday.
The "key" to help women become beautiful and self-confident.
These very confident words are accompanied by "hot" pictures. The photo received many comments below such as "beautiful without age", "beautiful like a model"… not only through the photos posted on Facebook, many people have admired, many friends and acquaintances, partners Always have to admire it every time they meet him. To stay confident at any age, she's gathered some tips and applications in her own life.
Nam Phuong shared, "Exercise is one of the most effective beauty methods, more so than any expensive cosmetic, because it helps both inside and out."
She chose yoga and continued to practice for 1 hour daily for 5 years. Yoga helps the practitioner to have a youthful spirit, not only helps to make the body supple and flexible, but also helps to make the spirit of the practitioner more youthful and dynamic.
As far as diet goes, she limits her intake of fats and starches and eats a lot of green vegetables. She has a vegetable garden at home which she grows herself. Every morning, she drinks a glass of warm nut milk with a variety of grains such as lotus seeds, corn, green beans, black beans, among others…
She also learns and shapes her style of dress and makeup. "Knowing how to enhance personal beauty will be the key to helping every woman become more beautiful and confident about herself," she added.
Phuong believes that financial independence is also necessary for a woman to always be confident. Women should always have a plan in place to safeguard their health and finances for the future. A woman is most beautiful when she is free to take all the decisions of her personal life herself. Although she is now married and has two children, she feels that her soul mate is always the beauty queen of her life, at the age of 18!
love is energy
Similar to Phuong, Ms. NKN (lives in District 1, Ho Chi Minh City) despite being 40 years old, still maintains the youthful beauty and a standard body that many people dream of. People are always impressed by her when they meet her, remember her for a long time as she smiles a lot and has a warm heart, full of tolerance and love for the people around her.
Ms. Ann believes that "As long as you are healthy, happy, always loving, enthusiastic to help your loved ones as well as those around you, your soul and life will always blossom . Beautiful".
She had a difficult family life from a young age, but her father often let her go with him when he worked far away. On the way, his father tells him about his father's dreams, even the little joys of this life. She was full of optimistic spirit from her father. Don't be afraid of difficulties. In any situation you can see positive rays.
As she grew up, Ms. Life became more comfortable, prosperous and always ready to help others. He organized many charity events to help the poor and the underprivileged.
She believes that "we have come in this life to share, help, love others", so when she helps someone, she feels great joy in her heart.
Meeting them, conversing, everyone feels they are energized with positive energy, sharing the love. In everyone's eyes, she is a talented and beautiful woman, and in everyone's heart, she is a friendly and sweet "Miss".
(TagstoTranslate)women