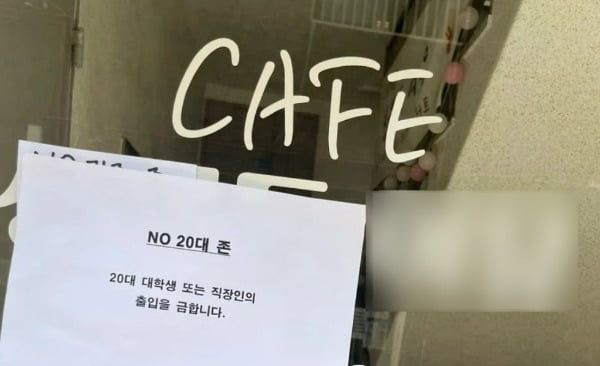 Cutting off power from electrical outlets, arranging uncomfortable chairs, and turning on low-temperature air conditioners are all measures coffee shop owners in Korea take to "catch" guests who sit for long periods of time in cafes. Just buy a cup of coffee.
"After quenching my thirst with a cold cup of coffee, I started my work. Initially, I planned to stay at the shop for about three hours to complete the unfinished work, but in the end, I finished my work. I only had to leave after an hour because it was too cold," Kim Min Chang, 20, told the Korea Herald.
The "great trick" of adjusting the temperature of the air-conditioners really low is seen as a measure to help cafe owners in Korea "long" the hours for guests to take advantage of work or study. Can be prevented from sitting. Practice.
Meng (20 years old), a student who just graduated from high school, said that some coffee shops also "recognize" customers by using very few tables and chairs, which is inconvenient if customers stay for a long time. Can't even sit.
"The coffee shop near my school uses very low tables and chairs, so I always have to bend over and lower my head to read. Not only low, but the tables and chairs here are also very hard , Which makes me feel uncomfortable. It seems that the owner did this intentionally to prevent customers from sitting for too long," Meng said.
Meanwhile, Kim (22 years old) talked about a coffee shop where music played too loud or songs with fast beats, which made her unable to concentrate on work.
Kim said, "I don't have noise-canceling headphones, so I've almost given up on reading books with songs like that. I can't even talk on the phone with friends."
Previously, coffee shop owners in Korea were angered when several customers, most of whom were students and office workers, "used up" electricity and charged all of the shop's electronic equipment to enjoy a cup of coffee. took the time to take
Earlier this week, on Kimchi Land's social network, a post suddenly appeared about a cafe in the center of Seoul hanging a sign banning students and office workers over the age of 20, causing Many heated debates took place.
Ms. Choi, the owner of the above-mentioned cafe, told the Korea Herald: "Although I have been "fired" by another owner for bringing a computer into the shop to work by myself, as the owner of the shop, I Can't agree that many people sit at the bar for four hours even to buy a cup of coffee."
(tagstotranslate)seoul capital