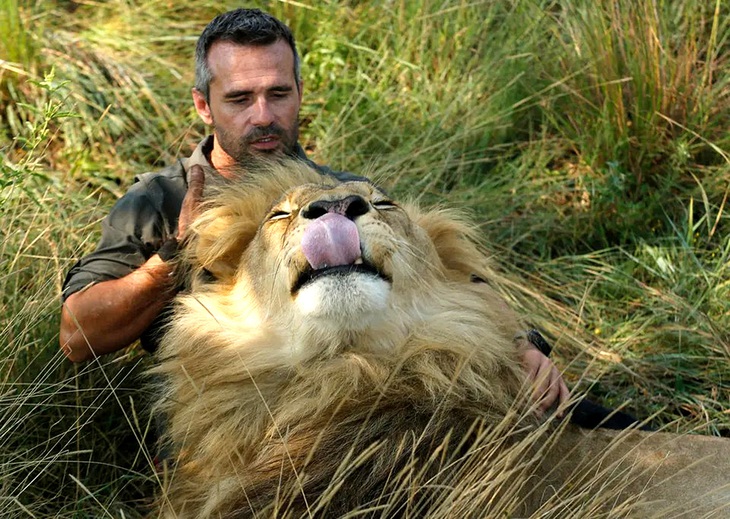 Just then, wildlife conservationist Kevin Richardson started growling to attract the lion's attention. The big cat responded with a low purr and ran over to stroke him by its hair.
He has been friendly with animals since childhood
It was one of many acts of affection Richardson received not only from the king of the jungle, but also from tigers, jaguars and hyenas—the predators he cared for at his sanctuary.
The wildlife advocate spent his childhood in the Orange Grove neighborhood in South Africa. From an early age, his ability to interact with animals was evident. As he grew up, his love for him also increased.
When Kevin was 3 years old, he became friends with a cricket and a frog. He even named his friend "Paddatji", which means little frog. This act of a young boy showed a deep connection with animals and his homeland South Africa. He also started caring for animals when his father, Kevin, helped him nurse an injured baby bird.
From there, young Kevin goes to work feeding and caring for all the different types of birds in his neighborhood. Neighbors immediately recognized his talent and affectionately called him "The Bird Boy of Orange Grove".
He started his career in Lion Park when he was growing up. Here, he does physical therapy for a variety of animals. Kevin also gets to know Rodney Fuhr, the owner of the Lion Park. His friendship with the owner inspired him to spend more time with the animals being rehabilitated at the center. So even though he was only 23 at the time, he was entrusted with the care of two six-month-old lion cubs named "Tau" and "Napoleon".
According to Richardson, this priceless opportunity inspired him to "enter the real world of lions". They spent a lot of time with the lion cubs and since then their bond has become even stronger.
But when they grow up, they will be slowly kicked out of the park. Some were taken to livestock farms, others were sold to the hunting industry, and the rest seem to have disappeared without reason. It was then that Richardson realized the truly pitiable fate of these animals.
Due to this, Richardson had to leave the job. At that time, he cherished plans for himself to open a large sanctuary, providing a real habitat for hunters.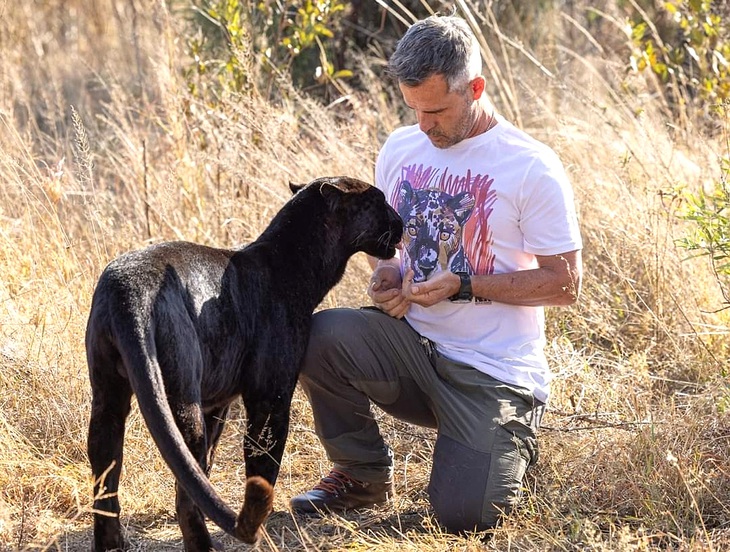 Build a safe shelter for wildlife
Years later, in 2013, he was finally able to establish the "Kevin Richardson Wildlife Sanctuary" at the Veldgedach Reserve in South Africa. It is believed to be home to many animals transferred from the Lion Park and is located in an area of ​​1,200 hectares. This land not only gives Kevin the chance to care for his beloved animals in his own way, but it also gives them the freedom they deserve.
Although it is a job that Kevin is passionate about, he is aware of the risks he faces every day when dealing with wildlife. In the early years of his career, Kevin shared that his risk of injury, even death, was high because at that time he was familiar with everything without detailed instructions from anyone.
Fortunately, he did not face anything too serious for his life. And as more than two decades have passed, Kevin has also gradually become more experienced in dealing with the instincts of predators, but being careful to keep himself safe has always been one of his top priorities.
Kevin Richardson said he would be involved with the work for a long time, as he believes his mission is to protect animals and preserve the South African ecosystem. The focus of this sanctuary is not only on lions but also on many other carnivorous animals. Therefore, the task they have set for themselves is to raise public awareness of the risks these animals face through education, tourism and communication.
The reserve occupies a prime location for visitors and local people to easily access its natural environment. Kevin's unique relationship with this predator has opened up many opportunities to attract the attention of visitors from around the world.
As visitors come to see and learn about this place, they realize they too can make a difference in protecting the natural world. In addition, helping Richardson maintain a steady financial source from tourists also helps him create better conditions to care for the wildlife here.
After a long period of seriousness towards his activities, Kevin decided to expand the area of ​​the reserve to ensure that they would enjoy the best habitat. Because of this, the tasks Richardson had to perform were not simple, ranging from maintaining roads and bridges across the river to provide easy access to all areas of the reserve, checking fire protection systems, general cleaning and maintenance of the farm, and preparing food. Till the preparation for the animals here.
These jobs are not only physically difficult, but they also challenge passion, because if his love for animals is not strong enough, it will easily lead to frustration.
Kevin knows that there is still a lot of work to be done to stop the decline in lion numbers due to hunting and deforestation activities. She hopes that with the help of volunteers and collaboration between scientists and researchers, her work can continue to expand to more people so that she can bring to the world new insights into these unique animals and South Africa's natural biodiversity.
"The whole world is becoming more aware of animals and our connection with nature. Gone are the days when we thought it was normal to keep animals in cages, feed and water them, treat them with a predatory instinct should go." , and to do that, it's important to give them a real home."
Marjan de Blok has no training in engineering, architecture or hydrology, but she has led a movement to help urban residents cope with the effects of rising sea levels and climate change.
Apart from being a wildlife supporter, Kevin also established his own YouTube channel named "The Lion Whisperer" with over 1.84 million subscribers. His YouTube channel not only gives viewers dramatic, sometimes heart-wrenching behind-the-scenes footage of Kevin's stunts, but also insight into the king of the jungle as well as the animals that feed on him.
Kevin is also the author of the book share of pride (Part of the Wilds) and documentary filmmaker with several of his films including: Lions on the Move, Killer IQ: Lion vs Hyena 2014 and Wildcats 3D.