For generations, the Bodhi tree on Front Street has been a gathering place for the people of Lahaina town, according to the AP news agency. The magnificent trunk of this 18 meter tall banyan tree casts a shadow over the historic city like the Hawaiian sun.
For the past 150 years, this ancient tree has been the place where people hold community events and is considered by many to be the "heart of the waterfront community."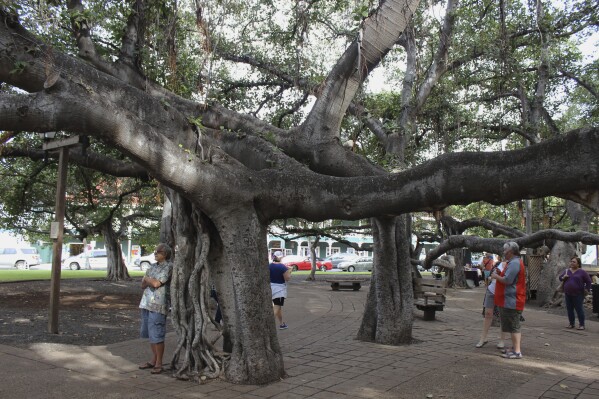 The giant Bodhi tree in Lahaina before the fire. Photo: AP
Gradually this ancient tree became a landmark of Hawaii.
Planted in 1873, the Bodhi tree was about 2 meters tall at that time. It is a gift from India to commemorate the 50th anniversary of the first Protestant movement in Lahaina. 25 years after this point, the Hawaiian Islands became a territory of the United States.
Lahaina was declared the capital of the Kingdom of Hawaii by King Kamehameha between 1802–1845.
An account on X (formerly Twitter) named Hawaii Delilah said, "Nothing mourns more than a banyan tree in my hometown of Lahaina today." "We will rebuild everything and Maui's natural beauty will always be there."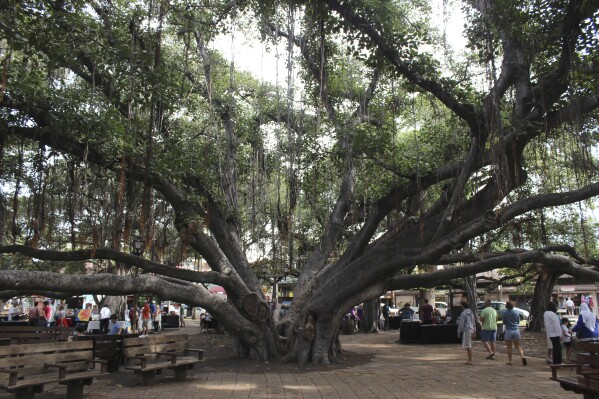 The banyan tree has been in existence for the last 150 years. Photo: AP Photo
A local woman, Tiffany Kidder Winn, who came to Lahaina herself to survey the damage on August 9, told the AP that the giant banyan tree was still alive, even though its branches were charred to ashes.
Tiffany Kidder Winn said, "The tree was burned, but when I saw the trunk and roots, I thought it would survive."
This ancient tree has many trunks. The pendulous branches have significant aerial roots and when they reach the ground, they become new stems that spread over an area of ​​about 4,000 m.2, The spreading branches of trees are home to flocks of starlings.
It is said that Shakyamuni Buddha attained enlightenment under the Bodhi banyan tree.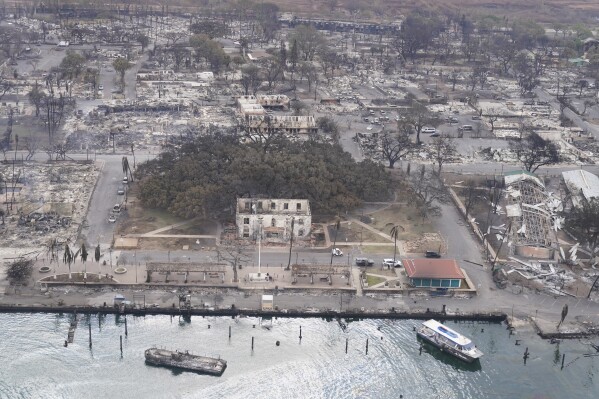 The branches and leaves of the banyan tree spread over an area of ​​about 4,000 m2, Photo: AP
John Sandbach, a resident who has lived in the town for nearly two decades, said, "The banyan tree in Lahaina is associated with many historical values ​​as well as the experiences of everyone who has come here."
Mr. Sandbach monitored the fire from Colorado. He was unable to return home to Maui because flights there had been cancelled. Luckily, their three children are safe in Maui.
It is not clear what caused the wildfire that broke out in the town of Lahaina earlier this week. Strong winds and dry vegetation on the surrounding hills caused the fire to spread very quickly. The houses of the people here are made of wood, so they burn quickly.
As of August 12, 80 people have died in the wildfire disaster in Hawaii.