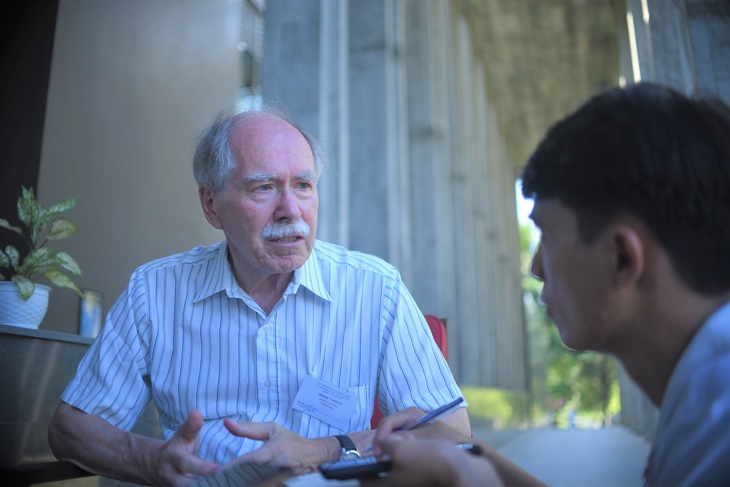 He gave talks to the youth.
curious about vietnam
* Professor, you are coming back to Vietnam for the third time, what is your opinion?
– I came to Vietnam for the first time in 2017. Prior to this, I only knew that Vietnam was a country that had gone through many fierce wars. That's why I am very curious about this place. When I reached here, I found that your country is very beautiful, vibrant and has a lot to learn.
After coming to Vietnam, I got the opportunity to meet many famous scientists of the world. It was a lucky chance. After two visits to Vietnam (2017 and 2018), the COVID-19 pandemic broke out. For the past several years I have not been able to visit Vietnam.
This year, when I had the opportunity to visit your country and come to ICISE again, I was overjoyed and immediately hit the road. I want to come here to know how Vietnam is after the COVID-19 pandemic. And this time, Vietnam is still so beautiful, peaceful and wonderful. I am very impressed with the people and culture of your country. In particular, your seafood is delicious!
* This retreat, what will the professor share with young people, scientific researchers in Vietnam?
This time, I want to inspire the youth to become better at something which is not necessarily scientific research.
You can be good and passionate about music, painting, dancing, sports, art… If you want to dedicate your youth and youth to the country, you must devote your whole heart to the new passion. this is beautiful.
You love art, learn from the best. Hear them, feel them and imbibe them. And if you want to do scientific research, conferences like this are your best opportunity to exchange and learn from world leading professors and researchers.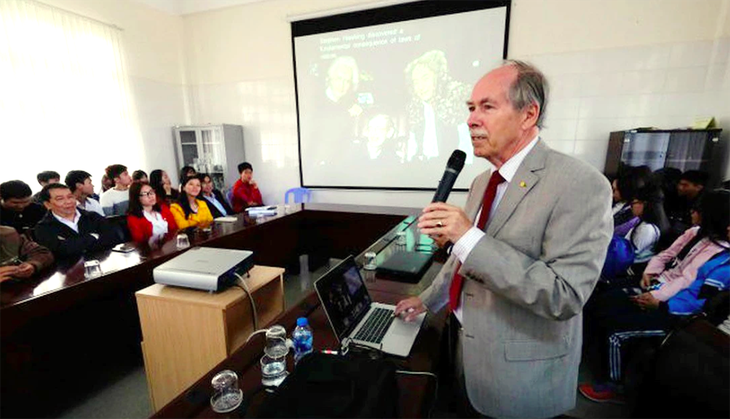 tenacity and passion
* According to the professor, where should young people start to be able to do scientific research? What is the role of school and family?
– The youth have nothing to fear or be afraid of when it comes to scientific research. Because you don't need to be very smart or brilliant to walk the path of scientific research.
To walk on this path, first of all you must have passion for it and must be persistent. Maybe when you were a child you were fond of singing, painting… that child can grow up to achieve amazing achievements with that passion. Scientific research is the same, as long as you have extreme persistence and passion.
Youth can begin to research independently or in groups on topics that interest them. You should have basic knowledge about that issue. Now scientific knowledge has expanded.
All the stories and knowledge will be complementary and linked together. Therefore, young people need to learn through multiple information channels, gather knowledge in many different ways, synthesize and analyze problems.
Schools, teachers or parents should inculcate the passion for learning and research in students from an early age. In my country (the Netherlands) teachers and parents are friends of the students and their children. The school is the children's playground.
They are free to play. As kids grow up, they will learn what they like. In the Netherlands, students are taught to study all subjects such as language, religion… not necessarily just a few subjects of science, math and physics.
* From his experience, what do professors share with young people who want to be successful and embark on the path of scientific research?
I advise the youth to have the spirit of learning. Learn from talented people who are excelling in their field. But it is necessary to be very serious about the evaluation.
Evaluate what you read, what you see. You have to find out what you are curious about and verify yourself whether it is true or not. It is more important to know how to think about everything analytically and even more important than knowing how to evaluate your capabilities.
I can do anything but obviously doing science is not always smooth and easy. There are many other factors of scientific research, but it is better to enthusiastically search for what you like, understand what you like, rather than let others choose.
The youth need to be extremely patient in whatever they do. Because now science is becoming more complex and research takes time to achieve the goal of contributing something new to science.
Although this does not apply to all subjects, most scientific research is extremely patient and challenging work. Like my industry, being able to do research requires being very good at maths.
Young people should remember that Vietnam still has equal status and opportunities compared to other countries. Now we can all learn everything and everyone has the ability to be able to do new research.
Opportunities and development prospects
* After talking with students, pupils and young Vietnamese scientific researchers, how do you evaluate the scientific research development potential of young Vietnamese people?
Today young Vietnamese as well as Southeast Asian countries have the same opportunities and abilities to develop scientific research as Western youth. The distance between the West and Vietnam is no longer as unequal as before. Because now there is internet, we can connect and learn knowledge quickly.
Vietnam has many world-renowned professors and scientific researchers. After three visits to Vietnam, I saw that young Vietnamese scientists and researchers have great passion for science and work hard to learn. If you follow your passion for scientific research to the end, I think you will make high achievements.
leading expert in quantum mechanics
Professor Gerard 't' Hooft (Dutch) is a world leading expert in the field of quantum mechanics, his work focusing on measure theory, black holes and quantum gravity. In 1999, he won the Nobel Prize in Physics "for elucidating the quantum structure of electronic interactions".
Apart from the Nobel Prize, he also received many other awards. In 1995, he became one of the first recipients of the Spinoza Premier Prize, the highest award for Dutch scientists. In the same year, he received the Franklin Medal.
(tagstotranslate)Nobel VT Lee 1999