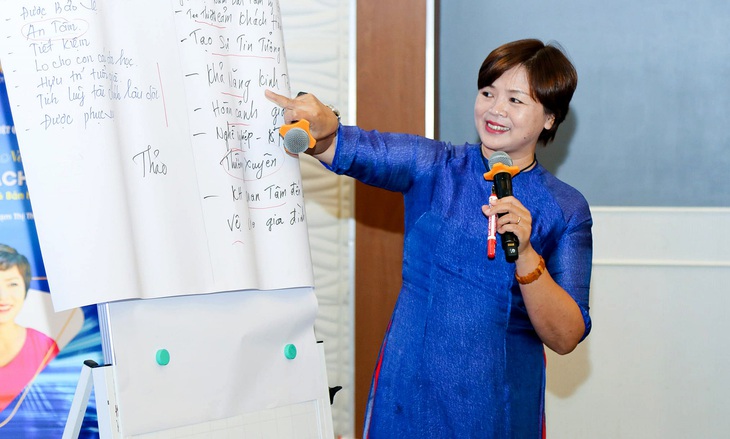 However, it is a quality that is not only natural but on the contrary, parents need to cooperate a lot in educating their children.
The family discussed with Dr. Pham Thi Thuy, a lecturer in sociology at the Ho Chi Minh City Academy of Administration, about cultivating honesty, integrity, and tolerance in children.
Thuy talks about the need for honesty and integrity in life:
Honesty represents four things: one is honesty, two is fairness and transparency, three is humility, four is kindness. In fact the meaning of honesty is very broad, but in the most general sense it is an expression of honesty. It must be said that integrity is one of the moral virtues, an essential quality of man.
* How do we practice honesty and integrity for our children so that they develop good character?
Before thinking about teaching children, we have to understand one principle: To teach children about virtues and virtues, parents must teach their children in the same way. This means that parents should be honest people in order to teach their children what honesty is.
A parent's integrity can be shown through words, deeds, and actions in the process of raising children from childhood to adulthood.
However, the question is, are parents willing to help children see honesty through their simple actions? Do parents maintain their credibility through what they say and do in parent-child relationships, parents with each other, and the people around them?
If they do, it means that the parent is allowing the child to live and grow up in an atmosphere of honesty. From there an honest personality is formed in the children in a very natural way.
In addition, parents also need to pay attention to their children's actions and words, see if the child ever lies or shows signs of hiding. Also, try to understand the source of the cover-up first, rather than scolding or getting angry.
When parents have this observation and know how to make the necessary adjustments, guide their children to change that fear, help them speak confidently and act consistently. Self-control, listening and guiding children patiently, this is how to train children with integrity.
In addition, there is one thing that is quite difficult but has an impact on the integrity training of children, is to observe a consistent quality of integrity among the people around them, especially parents and those closest to them.
* As for endurance, what do you think about "hitting those who run, not those who follow"?
In the narrow sense, tolerance is forgiveness. But in a broader sense, tolerance is also understanding yourself, when you know who and what you are, you will be confident and ready to understand and tolerate others.
People who are confident but don't understand who they are tend to be very tolerant of others. So tolerance is not only forgiving others, but also accepting others and helping others to change.
It has to start with yourself first. If he knows how to recognize his mistakes, he can forgive and change and overcome his mistakes, then only he will be able to accept and forgive others.
One great experience I found in being tolerant with students is that, when commenting on the students' products, I will often praise the advantages they have achieved, that is, I encourage and encourage them in what they do. very nice.
Then, at the points they do wrong or are not right, I will show them how to do better, that is, how to correct the mistake, not criticize or punish the mistake. This is how we highlight other people's mistakes to support each other for the betterment, this is true tolerance, as the saying goes "hit those who run, no one hits those who run back". .
* Due to the pressure of achievement many times in education, many teachers also violate the principle of integrity, what do you think about this?
In the present context, people easily get caught in the normal machines of the social environment. Sometimes we realize that it is not right, but out of respect or fear, we choose to remain silent. Therefore, you also need to doubt your sincerity.
The pressure to perform is real, even if it is a university environment, the imitation seems to be less than on the outside, the pressure of achievement is still present. And as long as this pressure remains, lies and dishonesty will keep on re-emerging.
Thus, it is essential for a teacher like me, or especially me, to recognize that dishonesty, regulate it, moderate it, and overcome it as much as possible within the student's ability. Me.
The virtue of integrity brings three benefits to the righteous person himself and the people around him:
*An honest person always has a very high reputation in all activities of life and work. Because they are always honest, respect the truth, consistent in their thoughts, words and actions, before and after alike, instilling conviction and confidence in others.
* An honest person is always honest and he gets love from many people.
* Another benefit of honesty lies in the quality of life. Because righteous people are always honest, they don't often spend their energy lying, hiding and being insecure because of their actions, since then they live in peace.