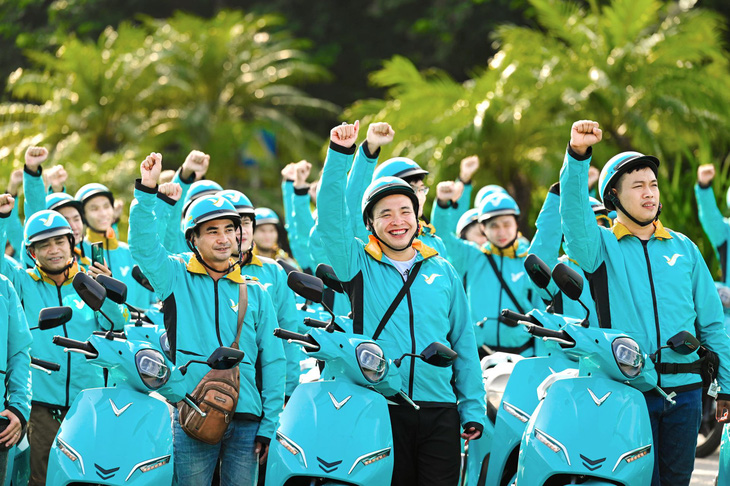 Accordingly, from 14:00 on 14 August, the SM Bike Green Transportation Service officially went into operation in the first location, Hanoi.
It is a passenger transportation service by VinFast electric motorbike of GSM company, launched only 4 months after the implementation of Xanh SM Taxi and Xanh SM Luxury, which is a step towards promoting green transportation and eco-friendly in Vietnam. important step.
In the first phase, the service will synchronously use the Vinfast Feliz S electric motorbike series painted in the blue SM's distinctive cyan blue colour. In the next phase, Xanh SM plans to add VinFast Evo200, an electric motorcycle model.
With Green SM Bikes, commuters will be served by a team of friendly and professional drivers and will travel on smart and modern electric scooters.
The departure price for the first 2 km of the Green SM bike service is 13,800 VND (equivalent to 6,900 VND/km). From the 3rd km onwards, the applicable fare is 4,800 VND/km. Customers in Hanoi can conveniently order Green SM bike service through the SM Green app on the iOS App Store and Android Google Play.
In particular, Xanh SM offers "Green 2 School" service specializing in transporting students and students to school according to flexible hours with SM Bike Electric Motorbikes or fixed routes with Green SM Taxis and Xanh Electric Cars . SM Luxury.
This new service provides peace of mind to parents due to the navigation system in the vehicle, real-time itinerary updates and a rigorous reporting process immediately after dropping passengers at school. Customers can easily register for "Green 2 Schools" service through the nationwide switchboard 1900 2088.
According to Mr. Nguyen Van Thanh, General Director of GSM Company, this launch event holds an important meaning for GSM.
"After only 4 months of operation, we have become the world's leading all-electric transportation service company. In parallel with the plan to expand electric taxi service to 27 provinces and 3 countries, Xanh SM has launched electric motorbike services in 5 provinces and cities with vehicle numbers up to 60,000 units in 2023," Mr Than said.
According to experts, the implementation of mobility solutions by electric motorbikes is a strong step by Green SM in promoting the government's goal of reaching net zero emissions by 2050.
Also, for each trip that customers choose to travel with a Green SM bike, Green SM commits to contribute 100 dong to the Green Future Fund to finance environmental programs.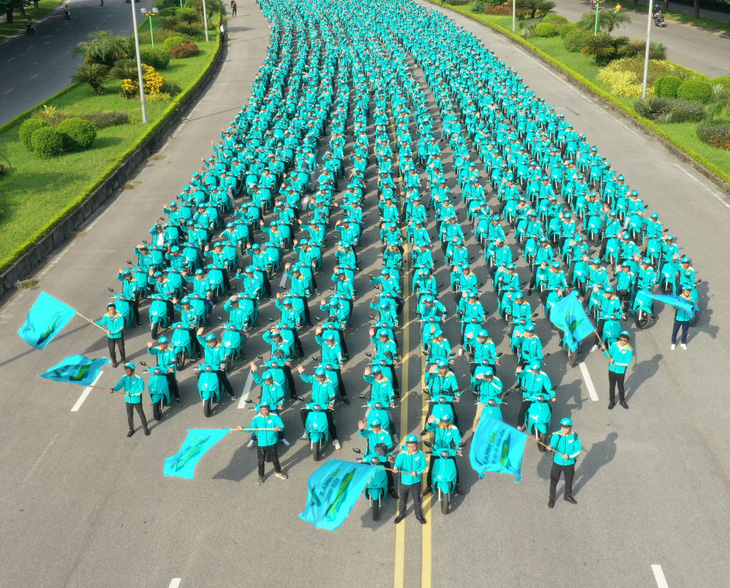 Along with Green SM Taxi and Green SM Luxury, Green SM Bike Service aims to redefine public transport services, spread the trend of green living and popularize the habit of using electric vehicles in the community. This is the generation of vehicles that do not smell of gasoline, do not make engine noise, are good for the health of the user and are friendly to the environment.
On the occasion of the launch, Xanh SM Bikes will be giving meaningful gratitude gifts to the first customers to use the service. Old
Specifically, from August 14 to the end of August 16, customers who book a car in the time frames of 6am to 8am, 12pm to 13pm and 5pm to 7pm will receive a first-time discount of 8,000 VND Will enjoy the same price. 4 kms to the next km on the quoted price.
In addition, from August 14 to the end of August 31, customers who download and use the SM Xanh application will receive a 25% discount code for bike rides to experience the electric motorbike calling service. Promotion is not valid with other promotions.
for more detailed information about Green Services SM Bike, Blue SM Taxi and Blue SM Luxury, Customer can access the website https://www.xanhsm.com/ Or download the SM Blue app here: https://taxixanhsm.page.link/newsletter
(TagstoTranslate)green sm bike