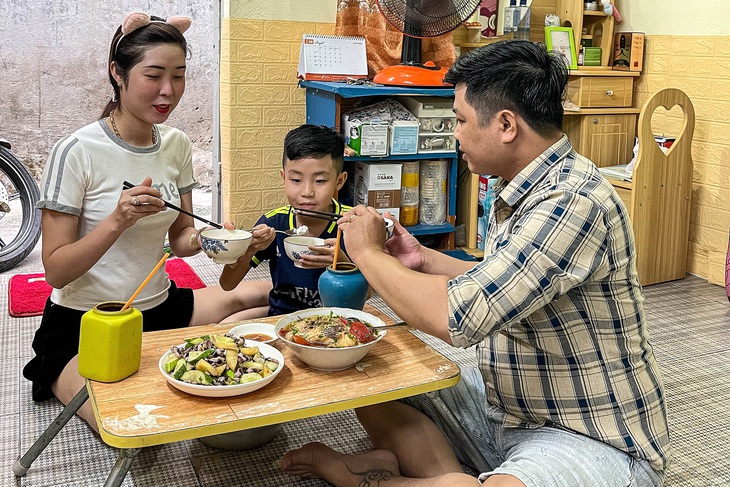 "Hello everyone, I'm Trang – this is a worker. What will you guys eat with rice this afternoon, and I'll have sour soup…", Trang went to her room and started cooking. Meanwhile, her sister Thu Hien filmed a close-up of a worker's meal.
After 16:00, after the shift, Tran Thi Thu Trang (23 years old, Cang Long District, Tra Vinh) went to the market to buy fish. It was a typical day for two young girls: going to work, going to the market, making cooking videos, editing and posting clips every few days.
"Earlier, we had a clip that got over 1.5 million views about stuffed corn and talked about how trying to manage a salary of 5 million VND was going on," Trang said.
Telling the life of a worker by phone
On the TikTok channel Hien Trang TV, the two sisters' two-minute clips are mostly based on topics: working life, food, sharing love… They always get thousands of views because of their style. The witty narration "It's me again" with simple, catchy visuals.
They often cook rustic dishes: braised gobies with black pepper, field crab soup, boiled snakehead fish sauce… There is a clip that suggests "What can we buy for 50,000 VND?" With a view of picking shrimp to cook papaya soup.
Page shared with viewers: "No matter how busy we are, we cook for ourselves the meals we want. On the weekend, we often visit family and cook delicious dishes for our parents." Along with the cooking clips are rural scenes, scenes of climbing green mango trees, and funny, optimistic quotes.
With more than 52,000 followers, Phuong Nhi (25 years old, hometown Dak Lak) is famous for her clips about the activist's life. "I saw a video of people coming home from work and then cooking, and I thought it was cool, so I wanted to try it. It was only a few months after I learned how to edit the clip that I filmed The first one," she said.
In particular, the girl who lives in Nhon Trach district (Dong Nai) likes to make snacks like ice cream, jam, etc. She happily said: "I do it myself, not because I regret money, sometimes money can buy everything." thing. Is it more expensive than buying ice cream? But if I make it myself, it's healthy and tastes good."
As for intestine jam, as it was grown in her hometown, she took advantage of it and "at that time I used to make it for my mother and younger brothers to eat".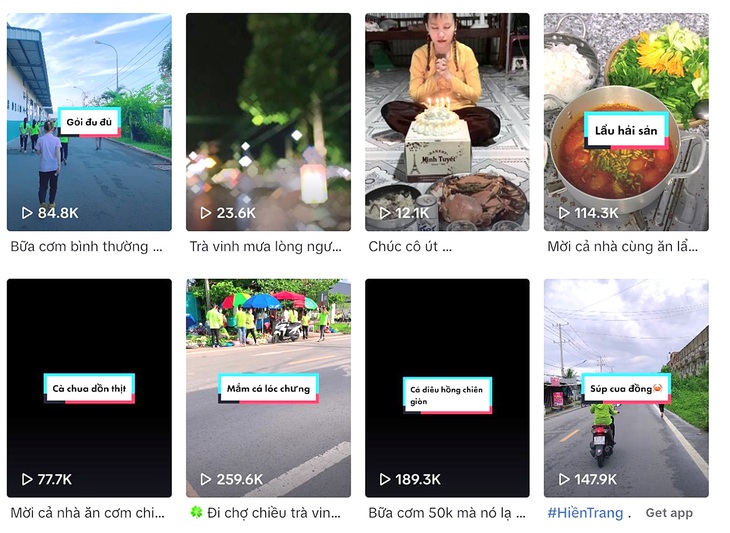 learn to shoot and edit
Currently, there are many TikTok and Facebook channels owned by employees with a high number of followers. In addition to entertainment content, recently popular channel to re-sing popular songs, sharing about daily life.
The rustic and intimate look makes these clips engaging. Talking about how to do it, Nihi explained: "I set the phone up to record and then put it back together. The editing process is fairly quick, but it takes a while to insert the music. I often put on music about family, parents or songs from the 8X era. , 9X".
Working the night shift from 22:00 to 6:00 in the morning, when she returned, she worked hard to cook, bathe, and then take advantage of sleep to regain strength. Usually she releases a video every few days. The particular clip about life away from home, posted in May with 2.8 million views, said: "At the time, the video had only been around for a few days, then a friend shared it on a workgroup . Around 5′ clock, at the end of the shift, I went on TikTok and saw a lot of followers. I was surprised."
Similarly, the clip from Hien Trang TV has almost no special effects, the voice is not edited. Dressed in the company's pink uniform with a humorous expression, Trang always appeared with a bright smile.
As for Nguyen Duc Hoa (from Dong Thap, who lives in Thuan An city, Binh Duong), a few months ago he became cautious when going to the market after work, instead of giving priority to buying cheap and delicious food as before. They went. Because not only did he eat for himself, but he also recorded clips for his 16,000-plus followers on TikTok to see.
Creating shoes is not an easy task, but he still regularly releases clips. When he reached the door, he was tired, but he always put his phone out first to record the scene of the 33-year-old man with a bag of vegetables and a piece of meat hanging behind him. Picking vegetables, cutting meat, cooking rice… all the scenes were filmed by him with a "fake" phone that he had been using for more than four years.
Since the COVID-19 pandemic, he was stuck in Binh Duong, so in his spare time, he often makes clips to share his life. In the last few months, the number of his followers has increased a lot, due to which he is very happy.
The picture may be hazy, the voice still unclear, but the stories they shared across the dining table are absolutely real. Sometimes those stories are also tears in the lives of the workers.
"I am an activist, just completed 9th standard, I can't write a script or stage it. What I share are things I have experienced, sometimes everyday activities. To be shared, to be heard is already happiness for those who seek food," he confided.
try to find a new way
While rehearsing to shoot a clip two years ago, Mr. Huynh Ngoc Banh (Binh Duong) shared what at the time was a worker's confession before a chaotic, sometimes dead-end life. With a 7-year-old son, the couple, although engrossed in the sewing machine, have not yet produced shoes, but only change them during the day.
"For the past few months, my working hours have been cut down, my family is struggling with the problem of rice. I also want to find a new direction, but due to my lack of education, I am nothing but labor can do." Said.
When the clips got a good response on Facebook, they realized this was an opportunity. He started watching how other content creators were working and learned how to shoot, edit, record…
He said his goal is to leverage the social network to improve his life. In the cramped motel room, the couple, though tired after a long day, cooked their regular dinner. The meal was full of laughter and jokes which spread to more people.
"At least it's one of the new ways I can do in these difficult times. I know it's hard, but give it a try. If it doesn't work, try it as a way to preserve family memories." Family," she believed.
seriously learn how to
In order not to get caught up in the trend, some people focus on learning to clip while they are not yet proficient. Some attend a course on building a sales channel at a cost of 300,000 VND. For example, Ms. Linh Hue (from Soc Trang) is still livestreaming at around 11am, selling goods and guiding how to keep the livestream time reasonable. Accordingly, expensive sellers can "wind up" a lot, otherwise it would take about 90 minutes. She encourages the viewers to keep doing this, slowly we will know.
Practice making money from your channel
With lofty ideas, some TikTokers are activists who have thought of earning money.
According to Mr. Ngok Ban, a brand of fish sauce in food he shared on the channel contacted the ad. The first amount earned was only about 1 million dong, but this helped him to invest boldly in each clip. Determined to earn money from the social network, he is now paid several million dong for the clips in which he promotes products.
Thu Trang of Hien Trang TV Channel shared that from the original intention of entertainment, now her sisters care more about the video. "When it got to everyone, some sisters sent messages to encourage us to sell on TikTok and then they will support. Later, if we have time, we will think about it…", she Said.