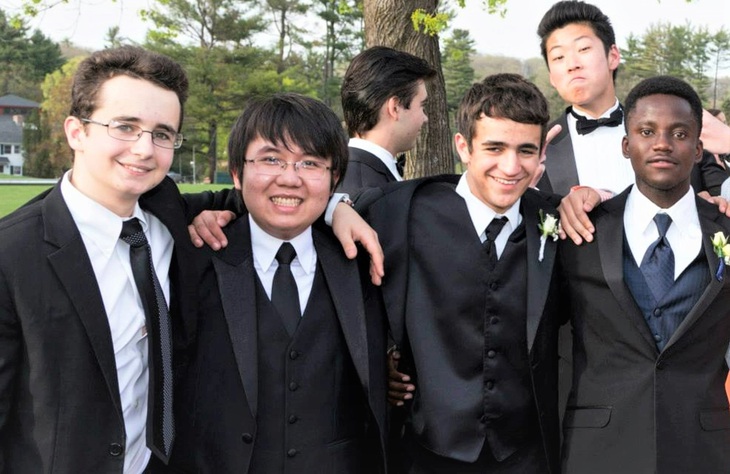 But behind that score, the gifted high school (National University of Ho Chi Minh City) alumnus also has many unexpected stories.
first failure of life
As an only child, Thien Minh's education received much attention from his parents. Although her family is not very rich, Minh was taught English from grade 1 onwards. The boy said that he always realized the hard work of his parents so that he gets the best in life. And they are a mirror for him to see himself in every day, never letting himself stop trying.
Always top of his class in English from elementary school through middle and high school, he admitted that he became interested in English when his mother asked him to watch foreign documentaries.
Because I still don't understand what they say. Minh recalls, "Fortunately, then my mother let me choose what I liked. I chose Myth Busters, a material that combines both educational and entertainment while listening to be more suitable and effective." Could."
Along with studies, he spends a lot of time in community activities by joining some student groups. He said he was happy because each activity he participated in could bring value to others, and he himself learned a lot of good things.
However, the most "difficult" experience for him was failing out of the A*STAR scholarship, which pays almost all the cost of high school in Singapore.
This will reduce the burden on the family when Minh wants to study abroad. However, despite studying day and night in class 9th, neglecting the entrance exam of class 10th, the results were really disappointing.
"That result made me sad and dejected. But I learned a great lesson that always have a backup plan, try to mitigate the risks before taking important decisions in life. If not encouragement, with all the support from relatives and friends Plus, it would be difficult for me to enter 10th grade that year," Minh said.
miss the native language
But the dream of studying abroad never stops. And when the opportunity arose, Minh chose to study in New Hampshire (USA). Because he thought speaking was most difficult, he wanted to integrate and immerse himself in American culture, so Minh chose a school in a remote location with few Vietnamese people. It's a small mountain town about a two-hour drive from the nearest city, Boston.
That 9X boy didn't expect that some rash decision of his would make him miss Vietnamese so much. Minh recalled, "Only a few months after I went to school, I missed the Vietnamese language very much. Every week I called home for only a few minutes to speak Vietnamese, a feeling of nostalgia hard to pin down." "
The first flight back home from Boston, Minh Bao was extremely unforgettable, all exotic. But the closer I got to Vietnam, the more feelings I felt in my heart.
On a connecting flight from Hong Kong to Ho Chi Minh City, Minh heard the Vietnamese language, a familiarity and an indescribable feeling. And that is why Thien Minh decided to return home to work after four years of study in the United States.
Thien Minh shared, "Besides my parents, my first role model is Mr. Nguyen Chi Hieu, a son from the central region, I am overwhelmed by his efforts and achievements. Majors like Oxford (UK), Stanford (USA) university."
The "Secret" to Getting 9.0 IELTS.
Tran Thien Minh tentatively calls some of the "secrets" he has stored for himself about learning English and wants to share it with young people. He often watches Discovery with content on life science, technology and history to practice listening skills as this helps him significantly to update his vocabulary and life skills. In the beginning listening is quite challenging, requires a lot of concentration, but you will get used to it slowly.
In writing skills, he practiced writing a lot, often trying to read major American newspapers as his writing standards are very high with the standard writing style. Minh said that reading is "mental food" to help improve writing skills.
Along with reading skills, Minh applies the English method of thinking, linearthinking, to understand the main idea of ​​the article, avoid misinterpreting the topic, and getting confused in the jungle of information. This method is effective even when the reader does not fully understand the vocabulary in the text. Finally, if you get the opportunity to practice with native speakers as much as possible, it will help you improve your speaking skills.
(Tagstotranslate) IELTS score