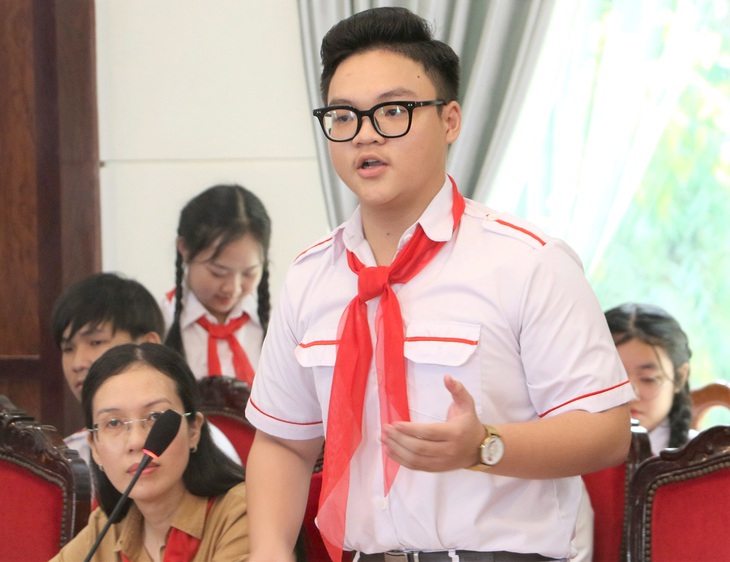 This session is also in preparation for the upcoming imaginary "National Assembly of Children" meeting for the first time. It is not only a safe living environment in family, school and society but also you are concerned about online violence against children.
Many comments say that confession sites can increase cyberbullying. Many of you choose to resolve disputes by anonymously posting content that attacks your friends. Worryingly, many students do not tell their parents about their stories of violence at school, so they feel trapped, isolated and choose negative solutions.
Nguyen Ngoc Le Hanh (Grade 5, Tran Thi Ngoc Hanh Primary School, Nha Bay District) conducted training on Information and Communication Technology for students with parental involvement to provide knowledge about Information and Communication Technology proposed. Security in Cyberspace. In addition, there should be more products and platforms for children to share authoritative, positive information. Encourage students to share with parents and teachers if they experience school violence.
But the stream of criticism said that what happened by sharing, but the matter does not go anywhere. Phan Anh Mai (Grade 8, Le Que Don Secondary School, District 3) said she was a victim of school violence. But tell your parents, you were advised to stop trying because they couldn't make a bigger deal out of it or ask to change teachers.
Lawyer Tran Thi Ngoc Nu (Ho Chi Minh City Children's Rights Protection Association) said that many parents want their children to share but do not empathize and do not trust their children, so pour your heart out for the children. Difficult to open.
"We often preach that parents listen to their children because when children are abused, abused, the psychological trauma is very severe. Parents need to help their children understand that It's just an unwanted accident. And the kids need to continue to be with their friends, study and move on," Ms Nu said.
You also told a completely new story about racial discrimination among children. Son Thuy (7th grade, An Lac Secondary School, Binh Tan District) says she is Khmer and it is often misunderstood that she is not of Vietnamese blood. Thu said, "There are other friends who have the same situation. Although we know that sometimes it is just a joke, we still feel that it has an offensive meaning."
Trinh Thi Hien Tran – deputy secretary to Thanh Doan, chair of the City Team Council – said she would coordinate with the Department of Education and Training and the Women's Association to equip parents with knowledge about child psychology and technology. Ability to listen to children because care, education and protection of children should be a joint effort of the whole society.
(TagstoTranslate) cyber violence