The Japan Meteorological Agency (JMA) has warned of heavy rain, landslides and strong winds as Typhoon Lan approaches central Japan on the morning of August 15.
This is the second typhoon to hit Japan in less than a week. After making landfall, Typhoon Lan headed straight for Osaka, a city in western Japan and also the country's second largest megacity. Lan may receive up to 400 mm of rain in some areas with maximum winds of 144 km/h in 24 hours till 6 am of August 15.
According to NHK, a Level 3 evacuation order (Level 5 is the highest) was issued for about 26,000 elderly residents in a city in Wakayama Prefecture. Japan's two largest airlines, Japan Airlines (JAL) and ANA Holdings Inc., announced flight disruptions, with JAL canceling more than 250 flights on 14 and 15 August.
Many high-speed trains belonging to the two companies Central Japan Railway and West Japan Railway were partially suspended on 15 August, most notably the line between Osaka and Nagoya. Typhoon Lan threatens to disrupt the Obon summer holiday, one of Japan's busiest tourist seasons.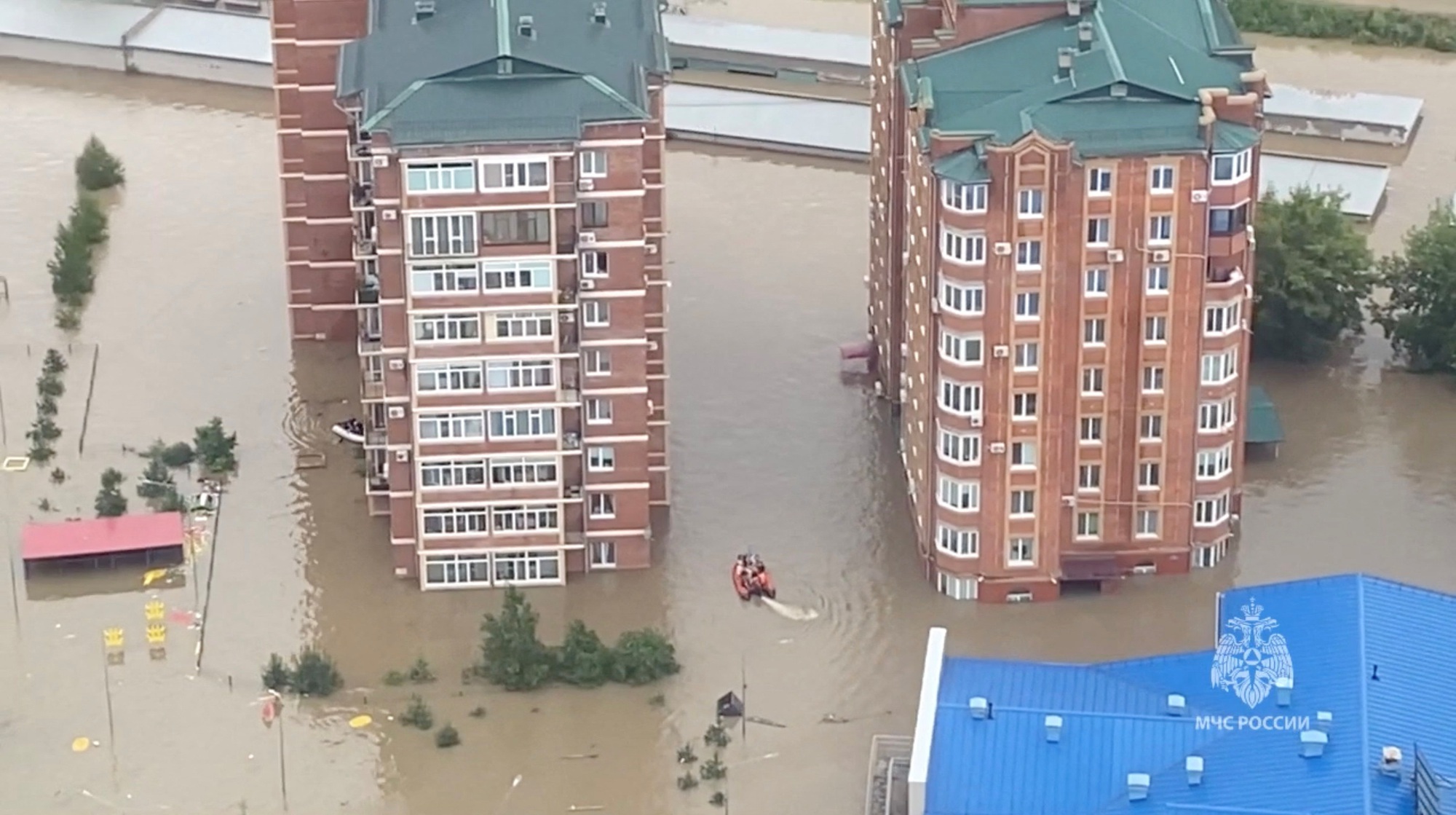 Rescuers pull people out of waterlogged areas in the city of Ussuriysk, Russia, following the effects of Typhoon Khanun on August 12. Photo: Russian Emergencies Ministry/Reuters
Less than a week ago, Typhoon Khanun made landfall in Japan twice before hitting the Korean Peninsula.
Heavy rains forced the evacuation of more than 2,500 people in Russia's Far East on August 14, after flooding divided 28 residential areas and submerged 15 towns. .
Although it has weakened into a tropical depression since landfall in China's Liaoning Province on the night of August 11, Khanun still causes flooding in China and Russia.
According to China Central Television (CCTV), 21 people were killed and six went missing in a landslide in northwest China's Xi'an city on August 13.
Overnight rainfall in Liaoning reached 52 mm per hour, with 4 reservoirs exceeding flood limits. Khanun landed when China was still grappling with the aftermath of Doxuri. Together, the two storms heavily damaged hundreds of thousands of hectares of crops in Heilongjiang province.
According to CCTV, China continues emergency response to floods in provinces and cities such as Tianjin, Beijing, Hebei, Heilongjiang, Jilin, Liaoning.
Meanwhile, two weeks of torrential rains caused by an excessive monsoon have killed at least 55 people and affected more than one million in Bangladesh, where floods and landslides ravaged the southeast. The most intense rainfall was recorded on 7 August up to 312 mm. Hundreds of villages are still full of water.
Monsoon rains coupled with melting glaciers in the Himalayan region in the Indian region also triggered landslides and killed at least 18 people over the weekend, leaving dozens trapped or missing.
Landslides leveled houses, buses and cars dangled from the edge of cliffs in the state of Himachal Pradesh, hundreds waited for rescue… At least nine bodies were lost as a large temple collapsed in state capital Shimla. Went. to be found.
In the US, the death toll from wildfires on the island of Maui in Hawaii has risen to 96 as of noon (local time) on August 14, while sniffer dogs are still sifting through the debris, searching for many people . Relative . It is estimated that hundreds of people are still missing. reuters,
Temporarily tourists are asked to avoid visiting Maui, as many hotels that have not been demolished are now serving as temporary shelters for residents and rescuers. About 46,000 residents and visitors boarded planes leaving Maui after the disaster.