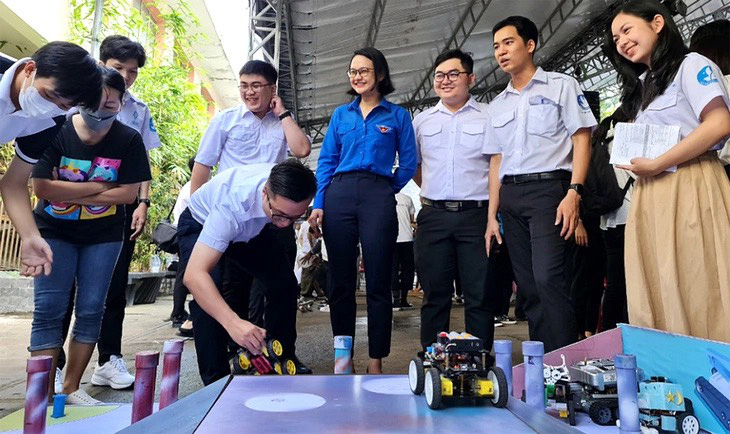 The above content is derived from the plan to recruit civil servants and officials from the source of excellent graduates and young scientists in 2023, released by the People's Committee of Ho Chi Minh City.
Specifically, the People's Committee of Ho Chi Minh City will recruit 12 civil servants and 51 public employees through two rounds, including selection of academic and research results (if any) and direct interviews regarding professional qualifications. Estimated time of recruitment in City Academy of Cadres in September.
The successful candidate should have an interview score of 50 marks or more in order from highest to lowest till the recruitment quota is exhausted. If there are two or more people with the same interview score, then the person with the higher academic score of the entire course will be admitted.
The People's Committee of Ho Chi Minh City appointed the Department of Home Affairs as the permanent agency of the Recruitment Council, which submits the list of qualified candidates to the Chairman of the City People's Committee for approval.
According to the plan, subjects applying for admission are university graduates with excellent grades in domestic or foreign universities; shall be recognized as equivalent with reference to the prescribed diplomas and certificates. Having achieved excellent academic and training results in the university years, within the specified age range. Also, one of the criteria has to be fulfilled to win the exam.
Such as winning three or more individual prizes in a provincial competition to select outstanding students. Consolation Prizes in the National Examinations for Outstanding Students to be selected in any one of the Natural Sciences (Mathematics, Physics, Chemistry), Biology, Informatics) and Social Sciences (Linguistics, History, Geography) OR Merit or higher award in international competitions. foreign languages ​​at the higher secondary level).
Won three or more individual prizes in national or international science and technology competitions during high school or university studies.
Winning three or more individual prizes in an Olympic competition in Mathematics, Physics, Chemistry, Mechanics, Informatics or one of the other major subjects during the study period at a university level recognized by the Ministry of Education and Training.
Master's Degree, Level-I Specialist Doctor, Resident Doctor, or Level-I Specialist Pharmacist, Graduate in Medicine or Pharmacology; People with Doctorate Degree, Level II Specialist Doctor, Level II Specialist Pharmacist in Medicine, Pharmacy etc. are also eligible to apply.
In which unit recruit 63 civil servants and public servants?
Of the 12 civil servants and 51 civil servants that the city needs to recruit, there are 7 civil servants in departments and regions (Industry and Trade Department: 3 people, Tourism Department: 1 person and Health Department: 3 people).
5 district civil servants (People's Committee of District 12, Binh Chanh District and Cu Chi District jointly recruited 1 person, People's Committee of Nha Bey District recruited 2 people)
43 officials from the Education and Training Department, 6 officials from the National History-Culture Park Management Board and 2 officials from the Trade and Investment Promotion Center.
(tagstotranslate) excellent student