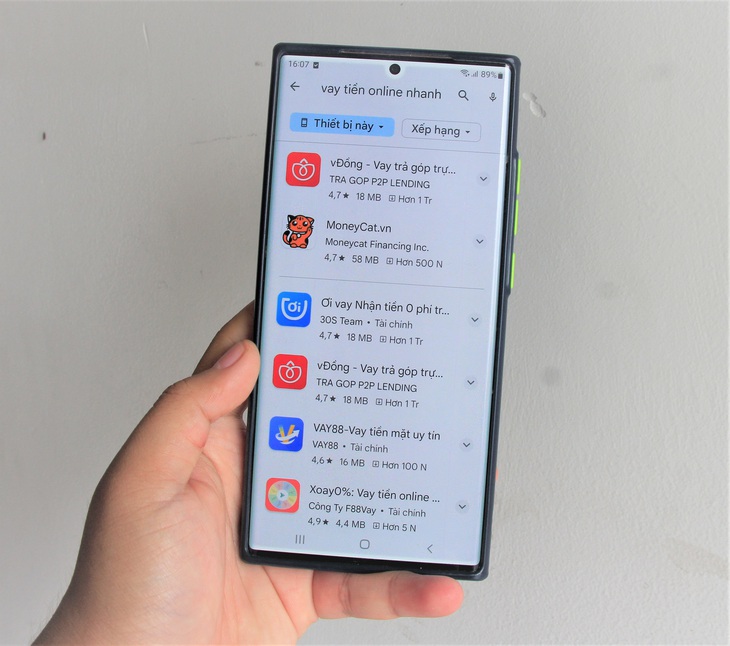 This is the result of a survey on the living, employment and salary conditions of employees in 2023, which was conducted by the Department of Policy and Law in cooperation with the Institute of Workers and Trade Unions (Vietnam General Confederation of Labour). 3,000 people in 6 provinces and cities across the country were announced last week.
For workers, especially unskilled workers, bridging the existing job gap is not easy. Faced with difficulties, many people look for a credit package to pay "with a smile".
They know that those loans will not make things better, but in the current situation, there is hardly any other option.
Download the app Hello is Money
Just keyword loan, borrow money, dozens of related apps appear instantly. The offers are extremely attractive: loan up to 20 million, installments, no pre-fees, full loan, low cost; Simple application, automated review, instant disbursement…
H. worked as a footwear worker at Tan Tao Industrial Park (Binh Tan District, Ho Chi Minh City). Sleepy in the corner of the cafe despite his glass of water being dry, H. said he was unemployed, owed three months' rent, and had to look after his parents in the countryside. Secretly he got the loan app.
No bail, despite being unemployed his application was approved in "minutes". After about 15 minutes of completing the application, the money was directly transferred to his account. 10 million VND, but the amount he actually received was only around 8.7 million VND. Another 1.3 million is included in the consultation fee (615,000 VND) and service fee (709,000 VND).
Of that, half pays for H.'s accommodation, 2 million is sent back to his parents in Qiangiang, the rest eats and drinks throughout the day. The story really began when H. bounced around to find a job and managed to pay the interest. Unfortunately, once while crossing the road, H. was bulldozed by people. Fortunately, the collision was mild, only spraining his leg but requiring him to rest for about two weeks.
Secretly, H. has to find another app to borrow another 4 million to "make up for it". The total debt of the two loans was 14 million, each month paying both principal and interest was about 2 million. "Take a loan for financial support and then find a job, pay immediately, but it doesn't work. Earning is very difficult, mother's interest, child's interest, not even a month came out, two days late someone came to the room , It was terrible.", said H.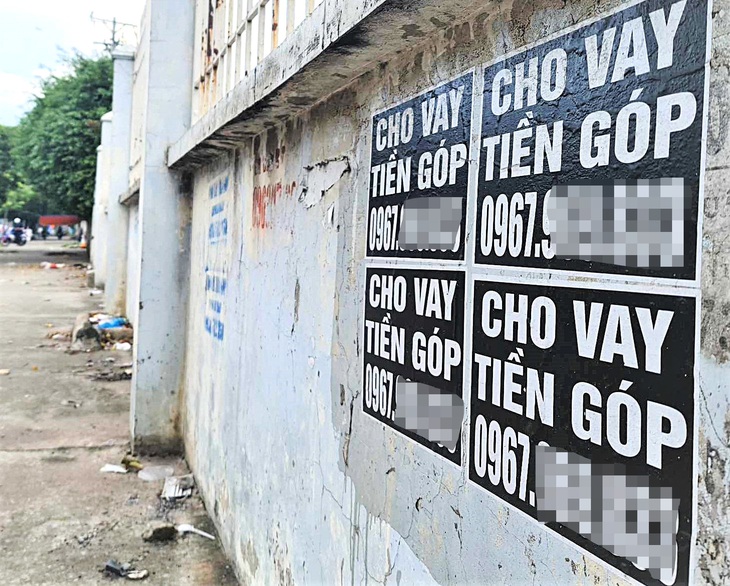 bad circle
Many said this convenience, "after-a-smile" disbursements, even to people with bad credit, is no problem, leaving them even more trapped in the vicious cycle. Some people started crying stating that it is the end of the world, they have found all kinds of new ways to get that loan.
Mr. Ngo Thang (28 years old) admitted that he was running around to pay off his credit loans. To buy a motorcycle in his name, he got credit group information from the information posted on the electric pole in front of the motel room. At just a call, they come to the room, a driver's license and civilian identification are required to complete the process. Signing a pen, Thang immediately received a loan of 16 million VND, just like the "deliver after a smile" offer.
Employee salary is calculated to be around 8 million VND/month, frugal spending and contribution of 2.3 million per month is also "breathe easy". Unexpectedly, after only two months of borrowing, he lost his job. Without a single penny deposited, now with no salary to pay interest, everything seems lost.
In that case, he was forced to bring the car papers to collect 3 million dong while contributing an extra month. He stuffed the remaining few hundred thousand into his fuel bag to drive a motorcycle taxi. "I don't have a car, so I can't register to drive Grab so I have to drive a motorcycle taxi, whoever hires it has money to pay interest both ways for a month", Mr. Thang patted.
Mr Phan Van Thoi (27 years old) – a freelance worker in Binh Tan District (HCMC) – said he never had a job in his hometown, so he went to the city but could not find any company. Mr. Thoi said, "When I came to pay the rent, my head was dizzy, and then I was "stuck" on "black credit" and got a hot loan for a few days."
To borrow 5 million, Mr. Thoi needs to present the family's original household registration book, vehicle registration certificate, civil ID card and rental agreement. They lend in packages and they chose a 26-day package with a contribution of 250,000 VND each day. But as soon as I received the money, a service charge of 10% was deducted immediately. The lender then takes the deposit two days in advance to "take the pressure off you". So the amount of money in the pocket is exactly 4 million dong.
To raise money to contribute to the debt, Mr. Thoi applied to work as an iron and handyman. No experience, strength equal to none, so daily wage is given 300,000 VND. "One day, busy with work, forgot to pay, immediately called "Fire". After closing a few hours, I was called by both my parents in the rural area, really sad, just want to pay in full was," Mr. Thoi Ngao said. I'm bored.
grab something you can grab
In addition to looking to pawn shops and credit loans, many workers also look to "online marketplaces" to pawn, sell, buy and sell insurance books. The case of Ms. Cam (a leather shoe worker in Dong Nai) is an example. Unemployed since the beginning of 2023, her child fell ill last month, and she had no money, forcing her to keep a social insurance book. He has paid for 6 years and 4 months, a relative has kept it with him for 10 million, 10% interest/month.
Ms. Cam said that instead of hot loans, "black credit" has many potential risks it's safe to keep anyway, with the book most owners are familiar with. "Despite the high interest rate, money is real, and if you want to borrow at a high cost, the interest is high. Keep it temporarily to take care of urgent work, don't sell it, how do you take care of your kids And then alive?", Ms Cam said.
Meet only 45% of spending requirements
In the survey on living, employment and salary of the above workers, 24.5% workers said that salary and income is sufficient to meet 100% living expenses.
The remaining 75.5% of respondents said that their current income does not cover their spending needs, with even some saying that their income only covers 45% of their spending needs. Only 8.1% of workers save from salary and income, 11.2% of the survey respondents said that they cannot live enough and they have to do other work outside the working time in the enterprise to earn more income .
(TagstoTranslate)employee